Dog Doors? Will a Hav go through?
---
No Hav yet, just in a preparing stage of thought.

Ok, we are planning on doing some landscaping/porch or whatever we actually get to this summer on our list of things to do...but I have a question on doggy doors.

We have a doggy door in our attached garage that would be big enough for a Hav. We want to fence in a 'potty/safe area' somewhere in that area if we can figure out the landscaping, etc.

Will a Hav go through a 2-doored (exterior flap and interior flap) wall mounted door? I know that it will take some training, but has any experienced a Hav that will not, absolutely not, go through one?

Then we may have to rethink our landscaping/ fenced area to a different location.

Current plan is let the dog out by itself (not during the training/puppy stage of course) through the house door that leads into the attached garage, dog then goes about 15 feet to the doggy door, goes outside to a fenced in area to do it business, be outside for a bit, etc. Is this realistic for a Hav with training to do on its own? While not using the garage as its litterbox.

Any thoughts?
Katie
Join Date: Sep 2006
Location: Rocklin, CA
Posts: 2,217
Submit Photo: 1
Photo Submissions 18 Times in 14 Posts
I think I am the dog door queen~ We have 2 of them in our house. We recently installed a double-flap in-the-wall doggie door. My crew was using one that was installed in the sliding glass door. We took the slider doggy door out, and they started using the double-flap door right away with no problem!
I think using a doggy door is a pretty easy thing to train. Even dogs that I dog-sit that don't have a doggy door at home learn to use the door pretty quickly~
My only concern with your set up would be the dog using the garage as a potty area instead of going all the way outside. maybe you could use x-pens to make a "path" to the doggy door and not allow the pup access to the rest of the garage? You would have to escort the puppy out there each and every time to make sure that it understands to potty outside and in the garage...but I am sure it can be done! My neighbor has a lab/pit mix that has to go thru 3 doggy doors (laundry room, garage, outside garage)to get outside..and she was trained pretty easily!!
Best of luck!!
---
Katie
www.MopTopHavanese.com
Paws.....and reflect on what life has given you~
Amanda
Join Date: Nov 2006
Location: South Carolina
Posts: 9,576
Submit Photo: 2
Photo Submissions 31 Times in 22 Posts
I have a dog door and my hav uses it well but she was potty trained without one at first. We moved to a house with a dog door and now she goes in and out on her own. However, I would still bet you would have to put the work in for the dog to understand what is okay and what isn't. I also don't let her have outdoor access if I am not there.

Just my thoughts!
Amanda
Thanks Katie,

I know that it will take some training. Not figuring it will be completely 'learned' until about 1 year of age, maybe longer, until completly potty trained. But a friend has a terrier mix that absolutely refuses to go through one. It could be their training. Dog was well past 14 years when they put one in. They have to leave both doors off so it is just an open hole in the wall, their garage gets cold in the winter and a few mini snow drifts in the garage as well. Kind of funny, but if it was mine, I would be frustrated.
Katie
Join Date: Sep 2006
Location: Rocklin, CA
Posts: 2,217
Submit Photo: 1
Photo Submissions 18 Times in 14 Posts
My puppy, who is 4 months old, is completely house trained with the doggy door. She didn't even skip a beat when we put the new doggy door in the wall and pulled out the one in the sliding door. (and they are on different walls)~
I think if you start when they are young, then they learn pretty quickly.
Yes, I could understand a 14 year old dog having problems with a new door! hehe
---
Katie
www.MopTopHavanese.com
Paws.....and reflect on what life has given you~
My Dogs Mom
Join Date: Aug 2007
Location: Carlsbad, Ca
Posts: 3,476
Submit Photo: 2
Photo Submissions 13 Times in 11 Posts
Yes! Ours use one that automatically opens and closed for them. They wear a little magnet on their collar that makes it work. It's great. No body or animal can come in or out without the magic magnet! It keeps the cold or hot air out too.
---
Carole
Vinny, Lulu, Gabby and Richie too!
Be yourself, everyone else is taken.
Kubrick & Hitchcock's Mom
Join Date: Apr 2007
Location: New York, NY
Posts: 7,774
Submit Photo: 1
Photo Submissions 33 Times in 24 Posts
I don't personally have one, but Kubrick used one at his breeder's. When I went to visit my mom in California last September, he actually used the cat door they had when I closed the door on him and he wanted to follow me. Of course, he was a lot smaller then, LOL.

My point is that I think they can definitely be trained to use one and when we buy our own house I will probably get one myself.
---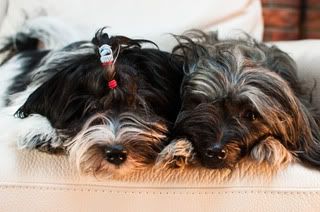 Visit
my blog

-----
Check out my
photos
-----
Photography (pets, people, weddings) -
TripleC Photography
Senior Member
Join Date: Aug 2006
Location: Lake Gaston, N.C.
Posts: 3,203
Submit Photo: 0
Photo Submissions 24 Times in 24 Posts
Ours wear out about 2 a year.
Benji and Lizzie's Mom
Join Date: Jun 2007
Location: New Jersey
Posts: 4,086
Submit Photo: 0
Photo Submissions 6 Times in 5 Posts
Doggie door set up
---
I have a doggy door wall unit . I found it very convenient as my breeder trains all her puppies for doggy door. I have a picture here of our set up when we brought Benji home last Feb. The out-door expen is connected to the indoor ex-pen area by the doggie door ( the white frame in the back). We have extended our deck now so the entire ex-pen with roof sits on the deck. We cover sides of the ex-pen with heavy duty vinyl shower curtain to keep it dry. I keep a piddle pad on the outdoor ex-pen.

Benji was potty trained by 6 months and even Lizzie has started to navigate from upstairs to downstairs to the family room to go outside when she needs to do her business.

Good luck with the doggy door training. It is very easy and these smart furbabies catch on fast!
---
Best, Poornima
---
Last edited by Poornima; 08-11-2010 at

07:23 AM

.
LINDA
Join Date: Jun 2007
Location: PA
Posts: 6,496
Submit Photo: 3
Photo Submissions 36 Times in 33 Posts
Posting Rules

You may not post new threads

You may not post replies

You may not post attachments

You may not edit your posts

---

HTML code is Off

---