Member
Join Date: Oct 2013
Location: Mönchengladbach, Germany
Posts: 54
Submit Photo: 0
Photo Submissions 2 Times in 2 Posts
How it came that I picked Hilda
---
I just wanted to tell you how it came that I picked Hilda when I was with the breeder although I actually went there to get a male Hav whose name I already had chosen: Zorro.
When I remember that day, I still can feel this touchy, heart warming and very special moment.
I visited "my breeder" Mira for the second time (I had visited her already once even before the puppies were born so that we could get to know each other). So this was the first time to see the puppies.
After the puppies woke up, I played with them. At some time I lay on the ground and all the puppies but one were playing on my back. All - but one - namely Hilda.
Hilda sat down directly in front of my nose and she looked at me putting her head to the left side and then to the right side - I felt if she could directly watch my soul. It really was a breath-taking moment. And I felt the bond between us, I really fell in love with her.
Then she suddenly went close to my nose, lifted her tiny, little paw and petted my nose twice.
That was the moment I was 100% sure, that I did not want to have a male puppy any longer but that it just had to be Hilda.
When the other puppies went to their dog baskets and fell asleep, Hilda still followed me although she was very sleepy, too. I picked her up and she directly fell asleep on my arms and this felt sooooo right.
Mira (the breeder) smiled and asked: Now, which puppy do you want to have?
I answered: without any doubts Hilda
Mira: YES that is right. I would not have given you any other puppy after what I saw here.
and we both smiled and were very happy.
And every single minute I experience that this decision was the best in my life. Hilda and I just belong together. One of my dog trainers just recently said: It is so heart warming to watch you two. There is a non speaking understanding between you as if there is an invisible bond.
And I said: Yes, that is true, there is an invisible bond: love and trust.
How should I have ever been able to resist such a look:
Hilda is the right puppy:
and now as "grown up"
---
Last edited by wildhilda; 10-19-2013 at

04:54 AM

.
Senior Member
Join Date: Aug 2013
Location: NC
Posts: 396
Submit Photo: 10
Photo Submissions 6 Times in 6 Posts
What a sweet story. I'm so happy you ended up together.
---
Traci & Ludo
*~*~*~*~**~*~*~*~*~*~*
The dog becomes your dream come true, the very thing you wanted.
- Maurice Sendack
Teresita
Join Date: Mar 2010
Location: Hainesport, New Jersey
Posts: 1,534
Submit Photo: 4
Photo Submissions 10 Times in 10 Posts
Aww Lovely! Hilda is beautiful.
---
Teresita
Ache and Yunque's mom
Henry 2006-2018/ Kordelia
Join Date: Jun 2007
Location: NJ/NYC metro.
Posts: 4,141
Submit Photo: 11
Photo Submissions 24 Times in 24 Posts
Thank you for sharing this wonderful story.
Hilda is a sweetie!
Flynn of Sir Winston fame
Join Date: Jan 2008
Location: Helen, Georgia
Posts: 2,745
Submit Photo: 22
Photo Submissions 9 Times in 9 Posts
OH my goodness, what a lovely, heartwarming thing to have happen to you! Hilda obviously chose you. She must have sensed something warm and good in you to have such trust and intuitive love for you. I think this makes me realize that there is a "right one" for all of us..we just need to forget about sex, color, age, and really "communicate" with the dogs. Thank you for sharing this, Wild Hilda is a darling little Havie!
---
Sir Winston sez "Non Basta Una Vita."

Flynn, lady-in-waiting to Sir Winston and Lady Mia
Metrowest, MA
Join Date: Jun 2009
Location: Massachusetts
Posts: 23,693
Submit Photo: 6
Photo Submissions 299 Times in 297 Posts
I also went to my breeder expecting to come home with a differwnt puppy, and had the experience of having Kodi "choose" me. I couldn't imagine leaving without him! So I know EXACTLY how you feel!!!
Ruth (me) Chester (dog)
Join Date: May 2013
Location: St. Louis area
Posts: 887
Submit Photo: 16
Photo Submissions 8 Times in 8 Posts
Thank you for sharing that beautiful story.
Hilda is a gorgeous Havanese.
---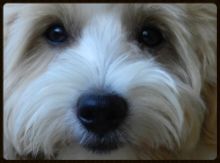 Hav to hav a Hav!!!
Ruth and Chester
(Chester's DOB - 4/04/13)
"Dogs are NOT stupid, they are smarter than you think."
Senior Member
Join Date: Jan 2012
Location: Oregon
Posts: 372
Submit Photo: 1
Photo Submissions 4 Times in 4 Posts
Awwwww...that was a great story and she is beautiful! No wonder you couldn't resist her
---
Colleen loves Ozzie
Member
Join Date: Oct 2013
Location: Mönchengladbach, Germany
Posts: 54
Submit Photo: 0
Photo Submissions 2 Times in 2 Posts
Thank you all for your really great comments.

I, too, think there is one for us all - one just has to follow his/her own heart and trust in the little puppies.

There is a sentence in the book: the little Prince . I do not know if my translation is correct, but I hope you can understand what I want to say:

One only sees well with the heart, the really important things are invisible for the eyes.
Posting Rules

You may not post new threads

You may not post replies

You may not post attachments

You may not edit your posts

---

HTML code is Off

---