Member
Join Date: Oct 2013
Location: Mönchengladbach, Germany
Posts: 54
Submit Photo: 0
Photo Submissions 2 Times in 2 Posts
Why Hilda is named "wild hilda"
---
After grooming Hilda drives totally crazy: she runs through the house in high speed, jumps onto the sofa, rolls on the carpet and so forth.
And that is, how she looks like afterwards:
that is why one never sees that Hilda is groomed every day
Senior Member
Join Date: May 2012
Location: KY
Posts: 642
Submit Photo: 2
Photo Submissions 3 Times in 3 Posts
That is hilarious!
---
Pat - AKA Kallie's & Abby's mom
Ruth (me) Chester (dog)
Join Date: May 2013
Location: St. Louis area
Posts: 887
Submit Photo: 16
Photo Submissions 8 Times in 8 Posts
Very wild indeed!
---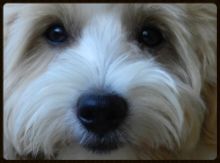 Hav to hav a Hav!!!
Ruth and Chester
(Chester's DOB - 4/04/13)
"Dogs are NOT stupid, they are smarter than you think."
Senior Member
Join Date: May 2012
Location: Seattle, WA
Posts: 701
Submit Photo: 3
Photo Submissions 8 Times in 8 Posts
Cute! My dog does that, too. Not so much after grooming, but after every bath. The funny thing is he now seems calm and relaxed during the bath, but always has to run around like a banshee afterwards anyway. They sure are little characters, aren't they?
---
Eileen and Benjamin
Senior Member
Join Date: Aug 2013
Location: NC
Posts: 396
Submit Photo: 10
Photo Submissions 6 Times in 6 Posts
Ha ha! I can appreciate that. It's a little how I look by the end of the day!
We had our yard seeded about three weeks ago (terrible timing, btw) and so the grass is TALLER than Ludo right now. Every single time he goes outside now he has to basically be re-groomed. It's wearing me out. On the bright side - he's more used to a hair dryer than even my children are!
She's precious and I'm glad she brings you so much joy.
---
Traci & Ludo
*~*~*~*~**~*~*~*~*~*~*
The dog becomes your dream come true, the very thing you wanted.
- Maurice Sendack
Posting Rules

You may not post new threads

You may not post replies

You may not post attachments

You may not edit your posts

---

HTML code is Off

---