Join Date: Feb 2008
Posts: 1
Submit Photo: 0
Photo Submissions 0 Times in 0 Posts
Really Looking for a Puppy!
---
Hi All,

I'm new here. I don't have a dog right now, but have really been looking for a puppy. We live in East Central Illinois, so a breeder from Indiana, Illinois, Missouri, Iowa or Nebraska (because we're from NE) would be ideal. I hate to have a puppy shipped, I would want to pick it up myself. I'm just having a hard time finding a puppy. I don't know if this is allowed, but if anyone could post a breeder in one of those states, I would really appreciate it. We are on a pretty limited budget, so I don't even know if I can afford a Havanese, but they are so incredible. I have really researched them a lot and spoken to a few breeders.

Thanks in advance for any help you can give me!

BTW: We are just looking for a pet, we don't want to show or breed.
Pablo&Chuy's momma
Join Date: Jul 2007
Location: Eden, NC
Posts: 4,286
Submit Photo: 11
Photo Submissions 9 Times in 8 Posts
Hey Kamhopk,
you came to the right place. Welcome to the forum. I'm sure some people will send you pm's with breeder recommendations. As for the price, be prepared to pay $1500-2500 for a puppy that comes from a reputable breeder! But they're more than worth it...
---
Kubrick & Hitchcock's Mom
Join Date: Apr 2007
Location: New York, NY
Posts: 7,774
Submit Photo: 1
Photo Submissions 33 Times in 24 Posts
I think Meghan and Leeann's (casperkeep and Leeann) breeder has two litters right now and I believe she lives in Indiana... maybe some of the puppies are available. I'm sure you can ask either of them for her contact information.
---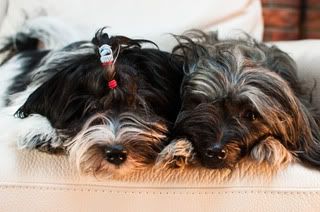 Visit
my blog

-----
Check out my
photos
-----
Photography (pets, people, weddings) -
TripleC Photography
Senior Member
Join Date: May 2007
Location: Indiana
Posts: 3,119
Submit Photo: 3
Photo Submissions 4 Times in 4 Posts
Hey there....I am in Indiana and my breeder does have some really really cute pups avaiable...just pm and I will give you some info....she is a really good breeder. Hope to hear from you!!!!
---
~~Mommy"s Little Angel~~
Senior Member
Join Date: Dec 2007
Location: New Jersey
Posts: 860
Submit Photo: 0
Photo Submissions 0 Times in 0 Posts
And don't forget the Rescues!
Lots of sweeties out there needing a loving, responsible home!
There are plenty of knowledgable people on this Forum who could probably give you details on that!
Hope you find a perfect pup real soon! Your life will be full of joy!
Maureen and Molly
Gucci's mom
Join Date: Feb 2007
Location: Virginia Beach, VA
Posts: 9,378
Submit Photo: 1
Photo Submissions 12 Times in 11 Posts
I am not familiar with the breeders in those states you mention, but good luck on your search! I'm certain there are people here that can point you in the right direction!
And they are SOOOOO worth the $. When you factor they live an average of 15 years, it breaks down to a small yearly cost. lol
Well, That's if you don't spoil them insanely rotten with toys, clothes, strollers and anything else to pamper these perfect dogs
hehe.
Kara
---
Super Moderator
click to join us: Havanese Forum on Facebook
Posting Rules

You may not post new threads

You may not post replies

You may not post attachments

You may not edit your posts

---

HTML code is Off

---