Joe
Join Date: Feb 2008
Location: canada
Posts: 814
Submit Photo: 0
Photo Submissions 4 Times in 2 Posts
quirks?
---
i'm guessing that with havs there are lots of little behaviour quirks...like mugsy is fearless and refuses to budge when i vacuum but he runs in terror at the sound of the toilet flushing!

any more?

joe
Lola's Mom
Join Date: Feb 2008
Location: San Francisco
Posts: 989
Submit Photo: 36
Photo Nominations 1 Time in 1 Post
The good, the bad and the ugly - mostly good!!!
---
Joe -

I think these things are pretty individual. Lola (7 mos) has a few. She can't handle floor mirrors - must be freaked out by the sight of a dog and not any scent. I have to hang a towel over it.

She wants to wrestle with the vacuum - growls like crazy. She always wants to get in the shower with me, so now I keep her shampoo in there and we shower together. She always chases her tail right after eating dinner. Not breakfast, just dinner.

And she licks any exposed skin I have. When I am dressing, she sees those fully exposed legs and it is party time! She wants to lick every inch.

Like most Havs - Lola is a velcro dog. Moves from one room to the next, from one end of the sofa to other if I move.

And the not so cute...she will eat her poop. But that's for another thread...

--Anne
Join Date: Dec 2007
Posts: 454
Submit Photo: 0
Photo Submissions 0 Times in 0 Posts
Bonnie goes NUTS for tummy rubs. As soon as she comes out of her crate, she throws herself on her back and begs for long rubs. DH and I LOVE to oblige! Funny thing, she did it for my mom tonight and my mom thought it was some weird submissive thing! LOL!
Lincoln and Scout's Mom
Join Date: Jun 2007
Location: San Francisco Bay Area, CA
Posts: 3,650
Submit Photo: 1
Photo Submissions 8 Times in 8 Posts
Lincoln will not walk over metal utility grates/panels in the sidewalk because they make a "noise" and shift under his feet. Anything that even resembles that, he walks around!
---
Jane
Kubrick & Hitchcock's Mom
Join Date: Apr 2007
Location: New York, NY
Posts: 7,774
Submit Photo: 1
Photo Submissions 33 Times in 24 Posts
Jane, that is so funny! Kubrick refuses to walk on grates too but I think it's because he thinks he will fall through them.
Kubrick has a weird fear of strollers and carts, basically anything on wheels, if no one is pushing it or no one is around them. He won't get near it for anything, but if there's someone standing next to it, he has no problem approaching the wheeled thing. I tell him he's silly.
---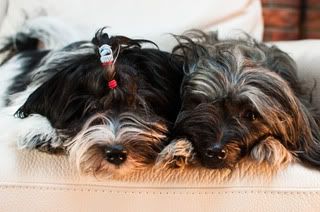 Visit
my blog

-----
Check out my
photos
-----
Photography (pets, people, weddings) -
TripleC Photography
Senior Member
Join Date: Nov 2006
Location: New Jersey
Posts: 9,794
Submit Photo: 2
Photo Submissions 28 Times in 20 Posts
Joe- that is just so funny - I guess he doesnt follow you into the bathroom.
Now Lexi just sees the vacume, without it even being on - and she books!!
But Logan, thinks it is a toy, and when you push it forward, he sticks his butt in the air, and barks at it to play with him!! All three of mine, have little things that they do, that the others dont. To me, that is what makes then so special!!

I am sure that Bonnie's "rollover" is a submissive sign, but that is a Good thing, not a bad thing - and personally I find it quite endearing!!
---
Lily, Lexi ,Logan, Laila & Lizzie's Mom
www.HillsboroughHavanese.com
(Gigi, Lucas, Dugan, Madeline,Reo,Alvin, Lucky, Lukey, Punch, Colby & Ben-(we will always Love you!!)
Joe
Join Date: Feb 2008
Location: canada
Posts: 814
Submit Photo: 0
Photo Submissions 4 Times in 2 Posts
laurie, he does follow me in there.
he will dance the orbit dance (head chasing tail), he will stand on his rear legs and walk around, he will just lie there and look up. but as soon as i go for the handle he bolts as fast as he can.
joe
Senior Member
Join Date: May 2007
Posts: 1,829
Submit Photo: 0
Photo Submissions 13 Times in 13 Posts
django runs when the vacumme comes out, finds a spot to lay down on, never walks in puddles of water, either jumps right over or goes around. takes refuge and sleeps under the coffee table and always buries himself behind the pillows on the couch, oh, and finds the highest point to sleep on the furniture. they are funny little animals!
Benji and Lizzie's Mom
Join Date: Jun 2007
Location: New Jersey
Posts: 4,086
Submit Photo: 0
Photo Submissions 6 Times in 5 Posts
Benji avoids puddles, has to eat an appetizer before he can eat his meal, goes limp like a sock when we want to pick him up and put him in the family room or in his crate when he knows we are going out, paws us when he wants us to play with him or wants treats, if he does somethng wrong, he says sorry by licking our faces and won't stop until HE feels he is pardoned.

Lizzie, grunts like a sea lion when she is hungry. She has different grunts depending on what she wants to communicate. She loves belly rubs and is ticklish at various spots and smiles when tickled.
---
Best, Poornima
My Dogs Mom
Join Date: Aug 2007
Location: Carlsbad, Ca
Posts: 3,476
Submit Photo: 2
Photo Submissions 13 Times in 11 Posts
When we come home Vinny has to RUN and get a toy and then races back to us kinda crying until we acknowledge that he has a nice toy.
---
Carole
Vinny, Lulu, Gabby and Richie too!
Be yourself, everyone else is taken.
Posting Rules

You may not post new threads

You may not post replies

You may not post attachments

You may not edit your posts

---

HTML code is Off

---