Motion sickness? Car rides, strollers, bikes?
---
Hello,

I was wondering if any of you had experience with taking your Hav on your bike with you? Does anyone on this forum do this?

Or are most Havs prone to motion sickness?

We would like to be able to take out dog with us whenever we can and bike rides are a great family time with us. Our previous dog, Maggie would take rides and had no problems. Just wondering if you can forsee a Hav taking a bike ride.

Any thoughts?
Does any one take their dog along on bikes? - Not talking motorcycle...pedal bike ;-)

Any thoughts even if you don't?
Join Date: Oct 2007
Posts: 1,482
Submit Photo: 0
Photo Submissions 2 Times in 2 Posts
Hi Kristy, Tessa came home in November so even if we wanted to, it's not been bike riding weather.
Motion sickness wouldn't be my biggest worry. Even people who are prone to motion sickness aren't usually bothered by bikes. But my thoughts are it would be dangerous if you took a tumble on the bike. I assume there are no doggie helmuts?
It would be a long fall for such a tiny dog. As a nurse, I've seen enough head injuries that I insisted on helmets for my kids.
We have a pull behind Burley trailer that is totally enclosed and 'tip' proof if bike falls, trailer stays upright.

I guess I never really thought that people don't get motion sickness on bikes. Silly me!
So, I guess putting motion sickness aside. Is may be a possibility? We just want to be able to spend as much time as a family as possible.

Doggy helmets would be cute though!
Join Date: Oct 2007
Posts: 1,482
Submit Photo: 0
Photo Submissions 2 Times in 2 Posts
Oh, gosh, if you have that kind of set-up I'd go for it! Like you we like to include Tessa in all we can! Have fun and I hope there's no
Oh, this is getting exciting. We don't have a Havanese yet. I have almost convinced my husband to try one. He is still stuck on the price. If we get another dog, a Hav is my 1st choice.

Oh...I think my decision has been made and I won't take another breed. Now we just have to figure out the best timing. Our youngest will be potty training sometime this year, I hope! So maybe after he is finished and 'trained' I can start all over with a new Havanese puppy!

Thanks for your insight. I really appreciate it.

So excited. Tee HEE!
Kubrick & Hitchcock's Mom
Join Date: Apr 2007
Location: New York, NY
Posts: 7,774
Submit Photo: 1
Photo Submissions 33 Times in 24 Posts
Kristy, I know that JimMontana takes his dogs on bikes. Perhaps you can PM him, he doesn't check the forum very often.
---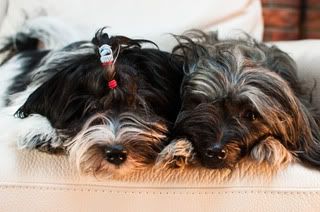 Visit
my blog

-----
Check out my
photos
-----
Photography (pets, people, weddings) -
TripleC Photography
Thanks Lina!

I will give that a try too.
Senior Member
Join Date: May 2007
Posts: 1,829
Submit Photo: 0
Photo Submissions 13 Times in 13 Posts
i've taken my pooch for a spin on my bicycle in a basket that hooks up to the front handlebars, specifically for dogs. i think i found it on the orvis website. the only catch is that you need to take a ride with a few phone books in the basket first then once you get the hang of it and use to the odd weight distribution on the front handle bars, then you can put your dog in there. DON'T DO IT BEFORE YOU CAN CONTROL YOUR BIKE WITH THE PHONEBOOKS. he wears a harness and is strapped in. it comes with a little sunvisor that goes over the basket for those extra sunny days. so far he hasn't had an issue with it.
Posting Rules

You may not post new threads

You may not post replies

You may not post attachments

You may not edit your posts

---

HTML code is Off

---