LINDA
Join Date: Jun 2007
Location: PA
Posts: 6,496
Submit Photo: 3
Photo Submissions 36 Times in 33 Posts
LINDA
Join Date: Jun 2007
Location: PA
Posts: 6,496
Submit Photo: 3
Photo Submissions 36 Times in 33 Posts
Jen, Timmy and Mae
Join Date: Sep 2011
Location: Philly Burbs
Posts: 1,672
Submit Photo: 21
Photo Submissions 16 Times in 16 Posts
Oh my goodness look at Kenny, he's so cute. That's so cool your gang has accepted him so quickly I'm sure that makes things easier. Are you planning on going to the playdate? If so I hope you're planning to bring the new guy so I can meet him.
---
Senior Member
Join Date: Feb 2011
Location: Fort St. John, BC
Posts: 2,113
Submit Photo: 2
Photo Submissions 10 Times in 10 Posts
Awww....Kenny is a sweetheart!
---
Tracy and Brody
A dog is the only thing on earth that loves you more than you love yourself.
- Josh Billings
Dave T
Join Date: Dec 2007
Location: Ontario Canada
Posts: 10,873
Submit Photo: 3
Photo Submissions 119 Times in 117 Posts
that's super, Linda I didn't know you fostered. Good for you. Make sure you don't keep him now.
---
Dave and Molly
Ian Dunbar was awarded the Outstanding Achievement Award from I.P.D.T.A. Here's a picture of me accepting the award on his behalf.
Member of IAABC ,International Association of Animal Behavior Consultants , Member of Pet Professional Guild
Beau's Mom
Join Date: Oct 2011
Location: Blue Bell, PA
Posts: 758
Submit Photo: 5
Photo Submissions 3 Times in 3 Posts
Kenny looks like a sweetie! Glad the trio doesn't mind becoming a quartet for a while. But then, Bella, Fred and the Scud-man are very hospitable!! Can't wait to meet Kenny!!!
---
They're not my dogs -- I'm their person
Lorraine
Ruth (me) Chester (dog)
Join Date: May 2013
Location: St. Louis area
Posts: 887
Submit Photo: 16
Photo Submissions 8 Times in 8 Posts
he is so cute glad he is accepted in the gang.
---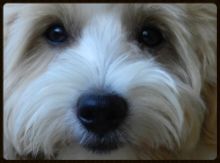 Hav to hav a Hav!!!
Ruth and Chester
(Chester's DOB - 4/04/13)
"Dogs are NOT stupid, they are smarter than you think."
Member
Join Date: Sep 2011
Location: Tampa, FL
Posts: 77
Submit Photo: 2
Photo Submissions 0 Times in 0 Posts
Kenny looks right at home!
Senior Member
Join Date: Jul 2008
Location: South Fla
Posts: 2,815
Submit Photo: 1
Photo Submissions 10 Times in 10 Posts
He's so cute and your "kids" seem to have really welcomed him!
---
Beth, Pixie Puff and MiG too
LINDA
Join Date: Jun 2007
Location: PA
Posts: 6,496
Submit Photo: 3
Photo Submissions 36 Times in 33 Posts
Posting Rules

You may not post new threads

You may not post replies

You may not post attachments

You may not edit your posts

---

HTML code is Off

---