fall photos
---
Today I was at a fundraiser for the local SPCA. It was a costumed dog walk at one of the local golf courses. Gemma was dressed as a peacock and Ruby was dressed as an Orca whale! The costumes didn't stay on very long. Here are some photos of my girls! It was a fun day even though it was very cold and there wasn't a big turn out.
Ruth (me) Chester (dog)
Join Date: May 2013
Location: St. Louis area
Posts: 887
Submit Photo: 16
Photo Submissions 8 Times in 8 Posts
Awww, they are the cutest orca and peacock i've ever seen! Last two pics are cute too
---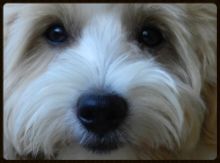 Hav to hav a Hav!!!
Ruth and Chester
(Chester's DOB - 4/04/13)
"Dogs are NOT stupid, they are smarter than you think."
Evelyn
Join Date: Apr 2010
Location: Chicago burbs
Posts: 4,652
Submit Photo: 4
Photo Submissions 30 Times in 28 Posts
just adorable!!! never met a dog that actually liked wearing a Halloween costume ! LOL At least not for very long.
---
Henry 2006-2018/ Kordelia
Join Date: Jun 2007
Location: NJ/NYC metro.
Posts: 4,140
Submit Photo: 11
Photo Submissions 24 Times in 24 Posts
Those are perfect costumes for Gemma and Ruby.
What fun!
Senior Member
Join Date: Aug 2012
Location: Cape Cod, MA
Posts: 2,550
Submit Photo: 9
Photo Submissions 19 Times in 19 Posts
What awesome costumes! I, too, was at a "Howloween Pawrade" today. We also did not have many show up as there were many such events in nearby towns and it was very cold and windy. Your dogs look absolutely great and certainly would have won first prize if I were the judge.
---

Mary (miss you, Bailey-1996-2011 and Tyler-1997-2015)
Senior Member
Join Date: Feb 2012
Location: Long Island
Posts: 822
Submit Photo: 2
Photo Submissions 8 Times in 8 Posts
Senior Member
Join Date: Apr 2007
Location: Connecticut
Posts: 1,234
Submit Photo: 0
Photo Submissions 14 Times in 14 Posts
Awww Gemma and Ruby look adorable, love their costumes.
---
Mom to Phoenix too
Metrowest, MA
Join Date: Jun 2009
Location: Massachusetts
Posts: 23,682
Submit Photo: 6
Photo Submissions 299 Times in 297 Posts
Adorable! (and they were VERY good sports!
) I like the "undressed" pictures even better... they are SUCH pretty girls!
Posting Rules

You may not post new threads

You may not post replies

You may not post attachments

You may not edit your posts

---

HTML code is Off

---