Katrina
Join Date: Aug 2007
Location: East Tennessee
Posts: 1,414
Submit Photo: 15
Photo Submissions 0 Times in 0 Posts
Who has the oldest Havi?
---
We do birthdays but I would like to know who has the oldest? So owners start posting ages.

My Lilly is only 14 months so I know I don't have the oldest.
---
Katrina
and Princess Furface ---Lilly
www.youravon.com/kpresnell
Senior Member
Join Date: Apr 2007
Location: SF area
Posts: 6,425
Submit Photo: 63
Photo Submissions 62 Times in 48 Posts
Oliver is 5 (will be 6 in May) Comet is 1(2 in May)
---
Sally,((Oliver)) Comet and Pennie too!
The best things in life are not things!
Senior Member
Join Date: Mar 2007
Posts: 841
Submit Photo: 0
Photo Submissions 0 Times in 0 Posts
Mirabel is also 14 months old. We just celebrated her 1 year anniversary yesterday. It's hard to believe we have only had her a year. She fit in so well it seems like forever. I would imagine one of the breeders would have the oldest as they have retired show dogs that now live the high life.
Izzy, Doc, and Kai's mom
Join Date: Jan 2007
Location: Monmouth, IL
Posts: 2,349
Submit Photo: 4
Photo Submissions 30 Times in 13 Posts
Izzy is 15 months and Doc is almost 5 months......Granddog Zoey is 20 months..
---
Doc
LINDA
Join Date: Jun 2007
Location: PA
Posts: 6,496
Submit Photo: 3
Photo Submissions 36 Times in 33 Posts
Senior Member
Join Date: Nov 2006
Location: Massachusetts
Posts: 11,746
Submit Photo: 27
Photo Submissions 48 Times in 35 Posts
Sally, I would never have guessed Oliver is 5!! he still looks like a puppy.
Jasper is 2 years and 2 months- Cash is 1 year and 4 months.




---
Missy, Jasper & Cash
Pablo&Chuy's momma
Join Date: Jul 2007
Location: Eden, NC
Posts: 4,286
Submit Photo: 11
Photo Submissions 9 Times in 8 Posts
Pablo isn't even half a year old, LOL. He's 5.5 months old like his brother Nico.
---
Sissygirl's Mom (Marie)
Join Date: Aug 2007
Location: Oklahoma
Posts: 2,738
Submit Photo: 5
Photo Submissions 4 Times in 3 Posts
I didn't know that Oliver was 5???? He has such a puppy face.

Sissy is 3yrs. 2 months.
---
Santa, Sissygirl
& Marie
Kubrick & Hitchcock's Mom
Join Date: Apr 2007
Location: New York, NY
Posts: 7,774
Submit Photo: 1
Photo Submissions 33 Times in 24 Posts
Sally, I think you win with the exception of some other breeders around here, perhaps.
Kubrick just turned 10 months old so he's still very much a baby!
---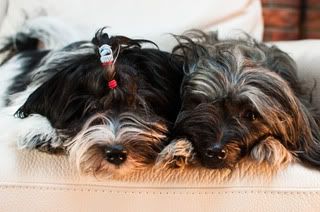 Visit
my blog

-----
Check out my
photos
-----
Photography (pets, people, weddings) -
TripleC Photography
Amanda
Join Date: Nov 2006
Location: South Carolina
Posts: 9,576
Submit Photo: 2
Photo Submissions 31 Times in 22 Posts
I wouldn't have guessed Oliver as 5 either!

My little girl is now 3 and I agree- time flies when you are having fun!
Posting Rules

You may not post new threads

You may not post replies

You may not post attachments

You may not edit your posts

---

HTML code is Off

---