Katie
Join Date: Sep 2006
Location: Rocklin, CA
Posts: 2,217
Submit Photo: 1
Photo Submissions 18 Times in 14 Posts
Aloha from Hawaii~!! (OT)
---
Aloha~!
We are having such a wonderful time here in Oahu. Although I miss my furbabies like crazy!
I thought you might enjoy a few pics from our stay~ I just love the beauty of Hawaii~
Mahalo!
---
Katie
www.MopTopHavanese.com
Paws.....and reflect on what life has given you~
---
Last edited by MopTop Havanese; 08-11-2010 at

01:05 AM

.
Pablo&Chuy's momma
Join Date: Jul 2007
Location: Eden, NC
Posts: 4,286
Submit Photo: 11
Photo Submissions 9 Times in 8 Posts
what lovely pictures Katie! Hope you enjoy your stay and lots of sun before you go back to work (aka puppy-play).
---
Benji and Lizzie's Mom
Join Date: Jun 2007
Location: New Jersey
Posts: 4,086
Submit Photo: 0
Photo Submissions 6 Times in 5 Posts
Hawaii looks so inviting. Lovely Pictures Katie! I hope Brooklyn's arm has healed and she is enjoying.
---
Best, Poornima
Amanda
Join Date: Nov 2006
Location: South Carolina
Posts: 9,576
Submit Photo: 2
Photo Submissions 31 Times in 22 Posts
This is making me miss Hawaii sooooo much! Right when we came in to Oahu, we went to the beach right away and went swimming, when one of the turtles popped it's head about 3 feet away from mine. I won't tell you my reaction at first but it made me love that island!
Join Date: Feb 2008
Posts: 92
Submit Photo: 0
Photo Submissions 0 Times in 0 Posts
Oh My God! I am sooo jealous!!
Those pictures are wonderful.
I'm sure you are having a fantastic time!!!
Lucky You,
Kubrick & Hitchcock's Mom
Join Date: Apr 2007
Location: New York, NY
Posts: 7,774
Submit Photo: 1
Photo Submissions 33 Times in 24 Posts
Those are gorgeous pictures Katie! I wish I was in Hawaii right now!
---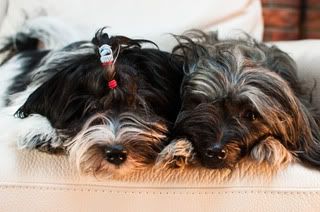 Visit
my blog

-----
Check out my
photos
-----
Photography (pets, people, weddings) -
TripleC Photography
Susan
Join Date: Feb 2007
Location: Near San Francisco Bay Area
Posts: 4,063
Submit Photo: 2
Photo Submissions 2 Times in 2 Posts
Beautiful photos, Katie. Thanks for sharing.
---
Susan
Quincy's Mom-Vinnie too!
Join Date: Feb 2007
Location: Ia.
Posts: 9,923
Submit Photo: 35
Photo Submissions 17 Times in 16 Posts
How beautiful! Fabulous photos Katie! Enjoy your time away......
---
Vincent-Quincy's playmate
"Behind every unstable dog is a lesson for the owner"-Cesar Millan
Luv My Biewer
Join Date: May 2007
Location: Rocklin, CA
Posts: 3,068
Submit Photo: 0
Photo Submissions 0 Times in 0 Posts
Katie - those are fabulous photos - you should enter them in a contest. enjoy the rest of your stay.
---
Northern California
Member BBCA (Biewerbci.org)



Home of VanLeigha Jr. Handlers
Valentino's Mom, Vicki
Join Date: Oct 2006
Location: Dallas, Texas
Posts: 2,590
Submit Photo: 0
Photo Nominations 1 Time in 1 Post
If I close my eyes really tight I am lying on the beach under a palm tree with the trade winds blowing a lovely relaxing breeze through my hair while I smell the ocean water mixed in with hawaiian tropic suntan lotion sipping my drink from a pineapple cut in half......oh wait a minute.....I'm still in Texas......bummer! Aloha & mahalo and hang 10! Enjoy Katie!
Posting Rules

You may not post new threads

You may not post replies

You may not post attachments

You may not edit your posts

---

HTML code is Off

---