Senior Member
Join Date: Nov 2012
Location: Delaware
Posts: 182
Submit Photo: 0
Photo Submissions 2 Times in 2 Posts
Julie is One
---
It's Julie's birthday and I can't believe how quickly the year has gone. It is impossible to imagine life without her. I am amazed at how the love and joy in our family has increased since she joined us.
I am grateful to all of you who share stories and know-how in the Forum.
Your advice helped us over the challenges of
* soft stools
* house breaking
* spay surgery
* harness selection
* ways to play
* socialization
* blowing coat/mats
just to name a few. THANK YOU THANK YOU THANK YOU
Senior Member
Join Date: Mar 2013
Location: Michigan
Posts: 133
Submit Photo: 0
Photo Nominations 1 Time in 1 Post
What a doll baby! Love her little picture with the head tilt. Congratulations on 1 year!
Senior Member
Join Date: Feb 2011
Location: Fort St. John, BC
Posts: 2,113
Submit Photo: 2
Photo Submissions 10 Times in 10 Posts
Happy Birthday!!
---
Tracy and Brody
A dog is the only thing on earth that loves you more than you love yourself.
- Josh Billings
Evelyn
Join Date: Apr 2010
Location: Chicago burbs
Posts: 4,652
Submit Photo: 4
Photo Submissions 30 Times in 28 Posts
Happy Birthday pretty girl!!
---
Jacqueline
Join Date: Mar 2010
Location: Oakland, CA
Posts: 1,090
Submit Photo: 6
Photo Submissions 13 Times in 13 Posts
Aw, happy bday. so sweet. but I'm gonna need more pics!
Ruth (me) Chester (dog)
Join Date: May 2013
Location: St. Louis area
Posts: 887
Submit Photo: 16
Photo Submissions 8 Times in 8 Posts
Happy Birthday Julie!
---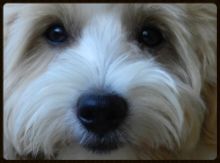 Hav to hav a Hav!!!
Ruth and Chester
(Chester's DOB - 4/04/13)
"Dogs are NOT stupid, they are smarter than you think."
Senior Member
Join Date: Aug 2012
Location: Cape Cod, MA
Posts: 2,550
Submit Photo: 9
Photo Submissions 19 Times in 19 Posts
Happy birthday big girl. You sure are a cutie. Hope you get lots of good things for your special day.
---

Mary (miss you, Bailey-1996-2011 and Tyler-1997-2015)
Julie
Join Date: Jul 2009
Location: New Jersey
Posts: 1,441
Submit Photo: 1
Photo Submissions 7 Times in 7 Posts
---
Julie, Piper and Riley
My little dog - a heartbeat at my feet. ~Edith Wharton
Senior Member
Join Date: Aug 2012
Location: North Carolina
Posts: 2,362
Submit Photo: 36
Photo Submissions 60 Times in 60 Posts
Henry 2006-2018/ Kordelia
Join Date: Jun 2007
Location: NJ/NYC metro.
Posts: 4,141
Submit Photo: 11
Photo Submissions 24 Times in 24 Posts
Happy Birthday Julie!
Posting Rules

You may not post new threads

You may not post replies

You may not post attachments

You may not edit your posts

---

HTML code is Off

---