Would you pass on a free Havanese?
---
Ok, this is like 6 degrees of Havanese....well actually only 4.

My cousin, has a friend that is taking care of a havanese for a friend (the owner). The owner of it just had a baby and can't keep up with a puppy and a baby and is going back to work full time. So her friend offered to take it for awhile. He would love to keep it but works long hours and isn't home much. - My cousin was asked if she wanted it as her dog passed away a couple years ago, but she doesn't want to go through the puppy thing again and she has a full time job and is a single mother. So her time is precious to her and wouldn't feel taking the dog to be in its best interest.

At christmas time, I was talking to her about the Havanese and how I was interested in the breed. She remembered that conversation and got a hold of me.

Not knowing much about the puppy other wise it was born in the fall...like Sep or October of 2007. It is in great health and has been kept up with all its vet wellness visits and vaccines to date. I don't think it is spayed yet. She was pretty sure that she didn't pay what the 'going rate' is for the Havanese from a reputable breeder, so probably a breeder that does no health testing.

If they can't find a home, they will be giving it to the shelter in their area.

Is it worth it to rescue this puppy from going from home to home just to end up in a shelter. Although I am sure it would be adopted quickly.

Would you pass on a puppy like this? Torn in my decision as the timing isn't perfect for us right now. But I am home most of the day (stay at home mom), just trying to get somethings done around the house. Nothing hazardous or dangerous, just cleaning out basement, closests, etc. for a rummage sale in May. then after that...pretty free for the rest of the year.

Plus we have a 16 year old dog that is ailing and having accidents in her gated area. 16 year old in on linoleum so it is quickly cleaned up and sanitized. I wouldn't want the 'new puppy' to get confused of the scents in the house that it is ok to go potty in the house.

Outside, not a problem, I can put up an expen for a potty area until we get a fenced in run put up.

** My senior dog has started defecating in her pillow this past week and has been pooping on our driveway and sidewalks. She has only gone in the grass up until this past fall. Now...when she has to go...she just goes wherever she is at that moment. She seems 'lost' and like she has forgotten all of her training. ** Vet said there was no medical problems for her defecating. Just old age. THough she does have other health problems non-related.

Oh, soooo confused. I just don't want the excitement of a puppy to overshadow some of the other things that it will come home to.
Senior Member
Join Date: Nov 2006
Location: Massachusetts
Posts: 11,746
Submit Photo: 27
Photo Submissions 48 Times in 35 Posts
Oh Dear Kristy, this is a tough one. I am sure others on here with experience with aging dogs can help you more than me-- I just wanted to offer you my support and say that my emotions kept changing as I read your post--- first it was yes, take the pup, then not so sure, yes again, and then not sure again. I feel your dilemma.




---
Missy, Jasper & Cash
Senior Member
Join Date: Mar 2007
Posts: 841
Submit Photo: 0
Photo Submissions 0 Times in 0 Posts
I think you have to look at your life and decide if the time is right. I would like to suggest that they not give it to a shelter. Tell them to go to
www.havaneserescue.com
and contact them regarding surrendering the puppy. It will be put into a loving foster home and will find a perfect furever family. I don't evny you having to make a decision. You knew what your time frames were and then this pops up.
Senior Member
Join Date: May 2007
Location: Indiana
Posts: 3,119
Submit Photo: 3
Photo Submissions 4 Times in 4 Posts
I think that it is a really hard decission to make. You know what your life is like right now....how would feel having a pup and an older dog failing at the same time...it would be hard on me I know....it would be bitter sweet. I am sure you will get better advice from other's here. Please keep us posted will be thinking about you
---
~~Mommy"s Little Angel~~
Senior Member
Join Date: Jan 2007
Location: Northern California
Posts: 370
Submit Photo: 0
Photo Submissions 0 Times in 0 Posts
This puppy sounds like it is 5 or 6 months old by now. Havanese adapt to new situations very quickly as long as they have not been abused. No matter what your decision is the dog should never be sent to the pound but the person should get a hold of the breeder first and then Havanese rescue. Did they get any papers with the dog when the original owner got it? If you can find out any information we can help you, hopefully, find out the linage and maybe some health history on the puppy. At this point it sounds like your older dog is deteriorating (? sp.) pretty quickly. The puppy would have to be kept away from your dog as all it will want to do is play and really would not mean to do any harm. Why don't you let your friend or cousin know that you would like to try the puppy out for a couple of weeks on a trial basis to see if it would fit in. I do have to warn you that once you bring a Havanese into your home things are never the same and unfortunately it is very hard to give back. You need to remember that it will be like bringing a toddler into your home and they have a habit of training you very quickly so you need to have the upper hand. What is cute at first becomes even cuter later and it is hard to get them back under control. Good luck with your decision and remember there are several of us on the list that can help you with a linage search if you can find out any information. Some dogs that get lost in the system, back yard breeders, we have a harder time with. Breeder, parents registered names, AKC or not, these would all help. Hopefully it was not from a broker that got the dogs from Europe.
---
Elaine
www.lilpawzhavanese.net
Kubrick & Hitchcock's Mom
Join Date: Apr 2007
Location: New York, NY
Posts: 7,774
Submit Photo: 1
Photo Submissions 33 Times in 24 Posts
I don't know, Kristy. I think you should take on the puppy and definitely keep her completely away from your older dog. If you will allow me to be frank, I know you posted about your older dog earlier, and I know how hard this decision is, but at this point is she really enjoying her life anymore? We had a cat once that lived to be 17 years and by the end he just had so many problems that we just had to let him go. He wasn't enjoying life at all any more and it just made us sad. I would never presume to tell you what to do, just giving you my honest opinion.
Whatever you do decide, please keep us updated! And if you don't decide to take the puppy, I would also agree that you ask the owners to turn her over to Havanese Rescue instead of a pound. Good luck in making this tough decision!
---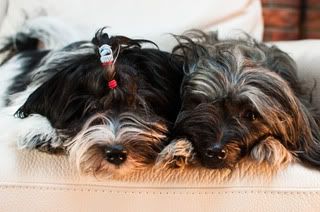 Visit
my blog

-----
Check out my
photos
-----
Photography (pets, people, weddings) -
TripleC Photography
Senior Member
Join Date: Nov 2006
Location: Long Island, NY
Posts: 8,619
Submit Photo: 3
Photo Submissions 19 Times in 19 Posts
I would take this pup in a NY minute. If you aren't interested in showing/breeding, then take the chance before it goes to a shelter. If it has been taken care of the way you say, then it should be OK. You can always take it to your vet for a complete check-up and ask questions.

If you are still not sure, please tell her about Havanese Rescue and not to bring it to a shelter. I wish I could take it, but it's not a good time for me.
---
Michele
Kodi & Shelby's Mom and Julian's Grandma
Mom to Dusty and Indie
Join Date: Oct 2006
Location: AZ
Posts: 1,181
Submit Photo: 1
Photo Submissions 4 Times in 4 Posts
Maybe there is someone who can foster this puppy for a while in a good home until you are able to take it?
---
~Joelle
Senior Member
Join Date: May 2007
Location: Indiana
Posts: 3,119
Submit Photo: 3
Photo Submissions 4 Times in 4 Posts
I would take her as well but then again i am getting my second next weekend so i think i will have my hands full....just make sure she does not go to the shelter!!!
---
~~Mommy"s Little Angel~~
Amanda
Join Date: Nov 2006
Location: South Carolina
Posts: 9,576
Submit Photo: 2
Photo Submissions 31 Times in 22 Posts
Could you meet the dog and really find out what type of personality it has? What training issues it is going to come with? This is what I would do for any adoption situation if possible. Be objective and don't fall in love. Really think if you can offer the best home.

Amanda
Posting Rules

You may not post new threads

You may not post replies

You may not post attachments

You may not edit your posts

---

HTML code is Off

---