Newbie introduction
---
Just thought I'd taken a moment and introduce myself. I'm Margaret from Northeast Ohio. I have 4 dogs:
Luigi - 6 year old Jack Russell Terrier
Josie - 5 year old border collie rescue
Desilu - 21 month old Havanese (you knew there had to be one somewhere!)
Bruce - 21 month old cairn terrier rescue

Luigi, Josie and Desilu are all competitive agility dogs. Luigi has championships in USDAA, TDAA, CPE and upper level titles in ASCA. Josie has a championship in CPE and is one leg away from her USDAA championship and is also an APDT rally-o champion. Desilu, in only 6 months of competition, has completed the first three levels of CPE, has titles in TDAA, and will start showing next month in USDAA. (Bruce is still trying to learn how to be a member of civilized society.)

I actually stumbled into the Havanese breed when I was looking for another agility dog and a friend said she was breeding her Hav. Honestly, I'd never even heard of the breed. But I fell in love and now I can't believe what a great agility dog he's turning into. (Not to mention just a lot of fun to have around the house.) My only problem is that he was raised by my terriers, so I may have the world's only go-to-ground Havanese. (Yes, he will actually go down the holes with the terriers and "worry" the rat.)
Pablo&Chuy's momma
Join Date: Jul 2007
Location: Eden, NC
Posts: 4,286
Submit Photo: 11
Photo Submissions 9 Times in 8 Posts
Margaret! First havaneseforum.com-rule = post PICTURES of your dogs and yourself (latter is optional)! Wow, 4 dogs and 3 of them are really busy getting their certificates done?! You must be superwoman!
---
Susan
Join Date: Feb 2007
Location: Near San Francisco Bay Area
Posts: 4,063
Submit Photo: 2
Photo Submissions 2 Times in 2 Posts
Margaret, Welcome to the forum. I loved hearing about your talented dogs. We'd love some photos.
---
Susan
Tori's mom
Join Date: Feb 2007
Location: Sunny SoCal
Posts: 4,988
Submit Photo: 19
Photo Submissions 10 Times in 6 Posts
Margaret! Thank you for the great introduction. I agree, from the sound of it, you are one busy lady! Just having 4 dogs would be more than enough work for me, let alone doing agility w/3 of them
There are several members here who do agility w/their havs. If you check out the "Agility updates" thread you can even see a few videos.
Again, welcome. You're gonna love this place!
Quincy's Mom-Vinnie too!
Join Date: Feb 2007
Location: Ia.
Posts: 9,923
Submit Photo: 35
Photo Submissions 17 Times in 16 Posts
Welcome to the forum Margaret and your crew!
Congrats on all the titles--how awesome!
---
Vincent-Quincy's playmate
"Behind every unstable dog is a lesson for the owner"-Cesar Millan
Kubrick & Hitchcock's Mom
Join Date: Apr 2007
Location: New York, NY
Posts: 7,774
Submit Photo: 1
Photo Submissions 33 Times in 24 Posts
Hello and
to the forum! Please make sure to post lots of pics! We love pictures around here. Congrats on all the agility wins! How exciting.
---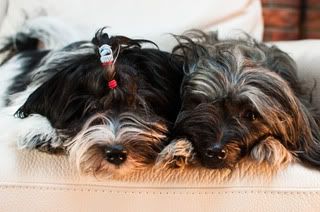 Visit
my blog

-----
Check out my
photos
-----
Photography (pets, people, weddings) -
TripleC Photography
Senior Member
Join Date: Mar 2007
Posts: 841
Submit Photo: 0
Photo Submissions 0 Times in 0 Posts
Welcome to the forum and congratulations on what all your dogs have earned. I think we do need some pictures though.
I would especially like to see one of Desilu coming up out of the ground dirty and happy.
My Mirabel loves to get dirty and is always happy running into the house covered in half the lawn. It also shows how versitile havanese can be.
Izzy, Doc, and Kai's mom
Join Date: Jan 2007
Location: Monmouth, IL
Posts: 2,349
Submit Photo: 4
Photo Submissions 30 Times in 13 Posts
Welome to the forum...it sounds like you have a busy doggy household! Congrats on all your successes and especially for taking in rescue dogs!
---
Doc
Senior Member
Join Date: Feb 2008
Posts: 2,365
Submit Photo: 0
Photo Submissions 16 Times in 12 Posts
WOW!!!
Welcome. It's great to have you and your whole crew. I'm looking forward to here more about your competitions, and of course.....to see pictures.
Jill
---
Jill - Tess & Cody's mom
Riley & Monte's mom
Join Date: Feb 2007
Location: MA
Posts: 5,579
Submit Photo: 2
Photo Submissions 16 Times in 13 Posts
Posting Rules

You may not post new threads

You may not post replies

You may not post attachments

You may not edit your posts

---

HTML code is Off

---