Senior Member
Join Date: Mar 2007
Location: Queens,NY
Posts: 598
Submit Photo: 0
Photo Submissions 0 Times in 0 Posts
We're leaving for vacation without Duncan
---
Since we've had Duncan he's been everywhere with us,but tomorrow we are leaving for vacation,and he is not coming.
He was going into a kennel,but a friend of mine happened to be off and said she would take care of him for me.Wow,did Duncan luck out or what??
I know Duncan will be in wonderful capable hands but I feel guilty leaving him and very sad.
Will he remember me when he see me in a few days??Will he eat and not starve himself?
He is going to have his crate and toys and same food and his blankie that has been kept under my pillow so he will have our scent in his crate.
I know I must sound really lame being concerned but if anyone could please tell me how their dogs were when they returned from a trip I would be very grateful.
Thanks a bunch!
Dot
---
Dot & Duncan
Senior Member
Join Date: Jan 2007
Location: Toronto, ON, Canada!
Posts: 4,155
Submit Photo: 0
Photo Submissions 16 Times in 6 Posts
Hi Dot,

I went away for a week and left Beamer with whitbmom (Helen) and Oreo. I'm not sure how much he missed me considering all the funhe must have had with Oreo.. lol..
But when we walked through the door to pick him up, he WAS VERY HAPPY!!

Ryan
---
Senior Member
Join Date: Nov 2006
Location: Massachusetts
Posts: 11,746
Submit Photo: 27
Photo Submissions 48 Times in 35 Posts
Hi Dot, Duncan will be just fine-- I am sure your friend will spoil him rotten and it will be like he is on vacation too.

And boy are you in for a great greeting on your return!!! He will be wiggling so fast he'll look like a blurrr. where dogs are concerned-- absence really does make the heart grow fonder.




---
Missy, Jasper & Cash
Lincoln and Scout's Mom
Join Date: Jun 2007
Location: San Francisco Bay Area, CA
Posts: 3,650
Submit Photo: 1
Photo Submissions 8 Times in 8 Posts
Hi Dot,

I know how you feel; I always worry about my guys too when we leave them. But as long as you feel comfortable with the situation you are leaving him in - thank goodness your friend will be taking him! - then try not to worry - he'll be happy, safe and loved. It will be stimulating and good for him to be in a new environment for a few days - think of it as a doggie field trip!
---
Jane
---
Last edited by Jane; 03-22-2008 at

10:54 AM

.
Lola's Mom
Join Date: Feb 2008
Location: San Francisco
Posts: 989
Submit Photo: 36
Photo Nominations 1 Time in 1 Post
Hi Dot -
Not to worry, Duncan will remember that you have rubbed his belly and put out that food dish and will be happy to see you doing those things again. I left Lola with my neighbors for a week last month. She loves them because they play with her all day. when I got home, they were all out. And when they came back Lola walked right by my open door, and didn't run into my arms.
But once she heard my voice and figured out what was going on, she wiggled right into my arms. Still, there was no doubt I missed her far more than she missed me...!
---
---Little Lola a.k.a. Princess Pee and Poop and her humom Anne
"Happiness is a warm puppy" Charles Schultz
Join Date: Jan 2008
Posts: 73
Submit Photo: 0
Photo Submissions 0 Times in 0 Posts
I left my little guy for a week with my brother and his family and I was feeling guilty and terrible about leaving him, but he did wonderfully. I don't think he missed me at all and he was so happy to see me when I returned. Really, I think it was much harder on me than it was on him.
Senior Member
Join Date: Apr 2007
Location: Long Island, New York
Posts: 8,941
Submit Photo: 3
Photo Submissions 41 Times in 25 Posts
Dot,

I'm sure Duncan will do fine with your friend and yes, how lucky for him that he got that invitation. I'm not sure where you're going, but if you have access to the internet you might want to encourage your friend to post here so you could check in on your baby yourself.

Have fun and look forward to a crazy and loving welcome when you return. And BTW, I'd feel exactly the same. Go have fun.
---
<b>Just Milo and me, and . . . </b>Bailey makes three . . . until Ruby said, "hey, what about me?"
Geri, Milo, Bailey and HRH Princess Ruby Tuesday
If you're thinking of getting a puppy, click here
http://www.photoshow.com/watch/YK8AH4rw
Kubrick & Hitchcock's Mom
Join Date: Apr 2007
Location: New York, NY
Posts: 7,774
Submit Photo: 1
Photo Submissions 33 Times in 24 Posts
Dot, Duncan will do just fine, don't worry about it and have fun on your vacation! I left Kubrick for 2 weeks and when I came back he was SO excited to see me! It was the best welcome ever. I'm sure Duncan will do the same for you.
---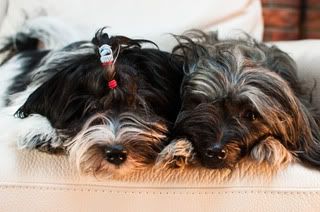 Visit
my blog

-----
Check out my
photos
-----
Photography (pets, people, weddings) -
TripleC Photography
Senior Member
Join Date: Mar 2007
Location: Queens,NY
Posts: 598
Submit Photo: 0
Photo Submissions 0 Times in 0 Posts
thanks all for the support. Hubby and I will be taking Duncan to my friends house in a few.I won't be taking my daughters with me,b/c I think the older sensitive one may cry.
They will be with us when we pick him up,b/c I'm sure that's when all the excitement will be well worth it.
Wish me luck!!
Dot
---
Dot & Duncan
Karen
Join Date: Nov 2006
Location: PA
Posts: 3,067
Submit Photo: 4
Photo Submissions 16 Times in 9 Posts
Dot, have a great trip and try not to worry about him too much. Brady stays with his breeder when we go on trips a few times a year. Although it isn't as wonderful as being at home, he has fun with the other dogs and she is very good to him. He is very lucky that your friend is able to take him and I am sure he has a blast. I have to admit that I email or call home almost every day when we are away to check on Brady. My breeder thinks I am a little nuts, but loves that I love Brady that much. The last time I picked Brady up from her house, he started squeeling because he was so excited to see me. I had never heard him make that noise before. Oh, and sometimes I do cry when I get in the car after I leave him. I will deny it if you tell anyone
---
**Karen, Mom to Brady, Dugan, and Devon
Posting Rules

You may not post new threads

You may not post replies

You may not post attachments

You may not edit your posts

---

HTML code is Off

---