Join Date: Dec 2007
Posts: 454
Submit Photo: 0
Photo Submissions 0 Times in 0 Posts
I was unprepared...
---
for how these Havs would steal my heart! I always knew we'd "get a dog for the kids," someday, but, holy moley, I am so totally in love with these living teddy bears!!!
What the heck is THAT? How was I a crazy dog lady all my life and I NEVER kenw it!! LMBO!
Look at the pic with the puppies and my oldest son -- how CUTE is that?
Senior Member
Join Date: Nov 2006
Location: Long Island, NY
Posts: 8,619
Submit Photo: 3
Photo Submissions 19 Times in 19 Posts
Precious!!!!! Once again I have to say that our Havs are cute, but the human kids on this forum are way cuter! I think we have all been caught a little offguard with the way they steal our hearts.
---
Michele
Kodi & Shelby's Mom and Julian's Grandma
Pablo&Chuy's momma
Join Date: Jul 2007
Location: Eden, NC
Posts: 4,286
Submit Photo: 11
Photo Submissions 9 Times in 8 Posts
Love 'em!!!
---
Amanda
Join Date: Nov 2006
Location: South Carolina
Posts: 9,576
Submit Photo: 2
Photo Submissions 31 Times in 22 Posts
Very cute fur and human kids!

I didn't notice before but I like the ring Duncan has around his mouth like he dipped his mouth into a cup of hot cocoa or something!
Sissygirl's Mom (Marie)
Join Date: Aug 2007
Location: Oklahoma
Posts: 2,738
Submit Photo: 5
Photo Submissions 4 Times in 3 Posts
Awe! What cuties!!!

I know what you mean about stealing our hearts. I never thought my DH would love our Sissy so much. He adores her.
---
Santa, Sissygirl
& Marie
Kubrick & Hitchcock's Mom
Join Date: Apr 2007
Location: New York, NY
Posts: 7,774
Submit Photo: 1
Photo Submissions 33 Times in 24 Posts
Oh my Duncan is such a cutie! As is your son and Bonnie, of course. Isn't it wonderful how they just creep into your heart and just lodge there?
---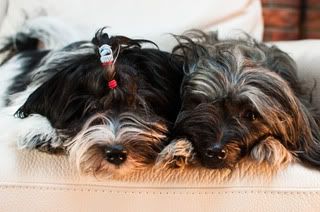 Visit
my blog

-----
Check out my
photos
-----
Photography (pets, people, weddings) -
TripleC Photography
Karen
Join Date: Nov 2006
Location: PA
Posts: 3,067
Submit Photo: 4
Photo Submissions 16 Times in 9 Posts
Great pictures! I know exactly what you mean. If anyone would have told me 2 years ago that I would become the crazy dog lady I have I would have never believed them. I really don't even like dogs so much, just havs. Well, a few other really cute fluffy breeds too. Anyway, I think DH feels the same way. He loves to tell me that Brady is the love of his life. Humm, where does that leave me? I tell him that I understand because Brady is the love of my life too
.
---
**Karen, Mom to Brady, Dugan, and Devon
Senior Member
Join Date: Mar 2008
Location: SF Bay Area
Posts: 729
Submit Photo: 13
Photo Submissions 3 Times in 2 Posts
Yup, I think I'm getting the Hav fever too!
Love the picture of your son and the puppies! Happiness is 2 warm puppies!
---
Debby & Salsa
Senior Member
Join Date: Dec 2007
Location: New Jersey
Posts: 860
Submit Photo: 0
Photo Submissions 0 Times in 0 Posts
Sometimes it's just impossible to explain the depth of my feeling for our sweet Molly.

That's part of the reason that The Forum is such an amazing place: no one has to SAY it, but everyone here KNOWS what we mean!!
---
Maureen and Molly
Bugsy's Mom
Join Date: Nov 2006
Location: San Francisco, CA
Posts: 4,341
Submit Photo: 3
Photo Submissions 6 Times in 5 Posts
Donna,

I just love the pictures, especially the one with your son holding both dogs and Duncan looking up at him adoringly...priceless!!


Debbie - I just love your new avatar, Salsa is so stinking cute!
---
-Julia
Posting Rules

You may not post new threads

You may not post replies

You may not post attachments

You may not edit your posts

---

HTML code is Off

---