Join Date: Dec 2007
Posts: 454
Submit Photo: 0
Photo Submissions 0 Times in 0 Posts
Oh my! A mat!
---
Bonnie's first mat! Found two in the past two days. They were kind of small and her coat isn't all that long so they were pretty easy to work out. But my girl is growing up fast!!! LOL.
Kubrick & Hitchcock's Mom
Join Date: Apr 2007
Location: New York, NY
Posts: 7,774
Submit Photo: 1
Photo Submissions 33 Times in 24 Posts
How old is Bonnie now? Good luck with the dematting process!
---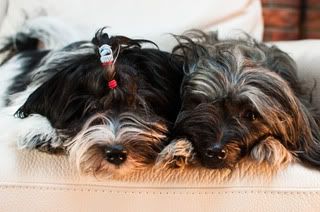 Visit
my blog

-----
Check out my
photos
-----
Photography (pets, people, weddings) -
TripleC Photography
Kimberly
Join Date: Aug 2006
Location: San Francisco Bay Area
Posts: 10,275
Submit Photo: 5
Photo Submissions 19 Times in 13 Posts
Have fun with this stage (okay, not really) and stay patient. If you can keep up on those most tender areas: behind the ears and armpits, you'll stay ahead of the game.
Senior Member
Join Date: Dec 2007
Location: New Jersey
Posts: 860
Submit Photo: 0
Photo Submissions 0 Times in 0 Posts
Ditto to what Kimberley offered!
DON'T GIVE UP!
You can defeat those buggers! It just takes constant and consistent VIGILANCE!
---
Maureen and Molly
Izzy, Doc, and Kai's mom
Join Date: Jan 2007
Location: Monmouth, IL
Posts: 2,349
Submit Photo: 4
Photo Submissions 30 Times in 13 Posts
Oh, those dreaded matts.....Doc hasn't gotten any yet, but he hates to be combed without matts! I can't imagine what it's going to be like when he actually gets some. I see Bonnie is 8 months so I might have a couple months before we have to fight that problem!
---
Doc
Join Date: Jan 2008
Posts: 132
Submit Photo: 0
Photo Submissions 0 Times in 0 Posts
Since Billy is so short now, we have been doing good...but last night I found one starting under his armpit-- luckily I got it out before it got too bad! Be happy that you noticed them early!
Posting Rules

You may not post new threads

You may not post replies

You may not post attachments

You may not edit your posts

---

HTML code is Off

---