Join Date: Dec 2007
Posts: 46
Submit Photo: 0
Photo Submissions 0 Times in 0 Posts
New look same old dog
---
Lol the other day I put the bunny hat which mirabel hates so much on biscuit and mirabel got super excited. It was almost as if she thought biscuit was an entirely new dog.
Anyone else ever have simmilar thigns happen when they change the look of a dog just a little by either clothes or grooming?
Kimberly
Join Date: Aug 2006
Location: San Francisco Bay Area
Posts: 10,275
Submit Photo: 5
Photo Submissions 19 Times in 13 Posts
ha ha! No, I haven't had that happen, but you know you need to show us pictures of Biscuit with the bunny hat!
Join Date: Dec 2007
Posts: 46
Submit Photo: 0
Photo Submissions 0 Times in 0 Posts
ha ha! ill try if I can slip around my mom and get it done XD
Kubrick & Hitchcock's Mom
Join Date: Apr 2007
Location: New York, NY
Posts: 7,774
Submit Photo: 1
Photo Submissions 33 Times in 24 Posts
LOL. I haven't noticed anything like that since I only have one dog, but I second Kimberly here: we need pictures of Biscuit in the hat!
---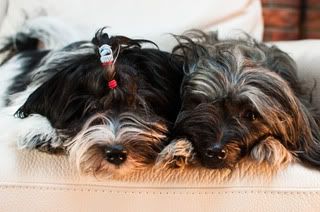 Visit
my blog

-----
Check out my
photos
-----
Photography (pets, people, weddings) -
TripleC Photography
Posting Rules

You may not post new threads

You may not post replies

You may not post attachments

You may not edit your posts

---

HTML code is Off

---