Join Date: Mar 2008
Posts: 20
Submit Photo: 0
Photo Submissions 0 Times in 0 Posts
Taz and Napoleon
---
Taz has been in our family for 6 months now. We have a 4 year old very friendly cat named Napoleon. It took them about 4 days but now they wrestle and play daily. I have a video but I don't know how to upload it yet, here are some photos. Does anyone else have a cat/Hav friendship going on? They even sleep curled up next to each other sometimes.
Join Date: Dec 2007
Posts: 46
Submit Photo: 0
Photo Submissions 0 Times in 0 Posts
Senior Member
Join Date: Apr 2007
Location: Long Island, New York
Posts: 8,941
Submit Photo: 3
Photo Submissions 41 Times in 25 Posts
That's adorable. It must be so much fun to watch.
---
<b>Just Milo and me, and . . . </b>Bailey makes three . . . until Ruby said, "hey, what about me?"
Geri, Milo, Bailey and HRH Princess Ruby Tuesday
If you're thinking of getting a puppy, click here
http://www.photoshow.com/watch/YK8AH4rw
Susan
Join Date: Feb 2007
Location: Near San Francisco Bay Area
Posts: 4,063
Submit Photo: 2
Photo Submissions 2 Times in 2 Posts
Very cute photos. Thanks for sharing them.
---
Susan
Izzy, Doc, and Kai's mom
Join Date: Jan 2007
Location: Monmouth, IL
Posts: 2,349
Submit Photo: 4
Photo Submissions 30 Times in 13 Posts
Isn't it great when two different species can get along so well?! Great pictures, BTW!
---
Doc
Karen
Join Date: Nov 2006
Location: PA
Posts: 3,067
Submit Photo: 4
Photo Submissions 16 Times in 9 Posts
That is too cute! I have two cats. I thought my oldest (10) would love Brady since she had the kind of relationship you describe with a roomates dog years back. Well, she never took to Brady. He loves the cats though. The younger one (7) will play with Brady and he is a good sport about it. It is more of a chase and play relationship though than a cuddly one.

By the way, Taz is gorgous!!
---
**Karen, Mom to Brady, Dugan, and Devon
Senior Member
Join Date: Jan 2008
Location: Cajun Country
Posts: 2,876
Submit Photo: 23
Photo Submissions 6 Times in 5 Posts
Those are great! Taz is very very cute!
---
Kim, Santos & Brew
Sissygirl's Mom (Marie)
Join Date: Aug 2007
Location: Oklahoma
Posts: 2,738
Submit Photo: 5
Photo Submissions 4 Times in 3 Posts
That is really sweet. Cute pics!
---
Santa, Sissygirl
& Marie
Luv My Biewer
Join Date: May 2007
Location: Rocklin, CA
Posts: 3,068
Submit Photo: 0
Photo Submissions 0 Times in 0 Posts
These are great pictures. Sure wish MeMe would stop terrorizing my poor cat. He does not think playing with her is fun at all.
---
Northern California
Member BBCA (Biewerbci.org)



Home of VanLeigha Jr. Handlers
Kubrick & Hitchcock's Mom
Join Date: Apr 2007
Location: New York, NY
Posts: 7,774
Submit Photo: 1
Photo Submissions 33 Times in 24 Posts
That is so cute! I don't have a cat so no special cat-dog relationship here though Kubrick loves cats and tries to play with them whenever he can.... which none of them much appreciate, LOL.
And I swear you just stole Kubrick for those pictures! Taz look SO much like him.
---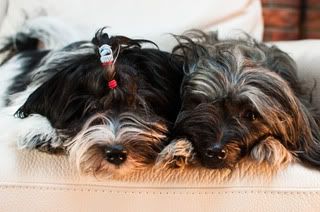 Visit
my blog

-----
Check out my
photos
-----
Photography (pets, people, weddings) -
TripleC Photography
Posting Rules

You may not post new threads

You may not post replies

You may not post attachments

You may not edit your posts

---

HTML code is Off

---