Amanda
Join Date: Nov 2006
Location: South Carolina
Posts: 9,576
Submit Photo: 2
Photo Submissions 31 Times in 22 Posts
Bounce back attitude!
---
Tonight, Dora reminded me of one of the great reasons I love her. It was suppose to be brush night, but guess who need a butt bath (everyone who was in chat last night- knows I cursed myself when saying she hasn't needed one in a long long time). So I start up right from getting home (DH wasn't home today and went to a confrence) so Dora who is thrilled to see me, gets let outside to go potty, comes in and right away to the bath! So she is looking upset at me like "go back to work!" and we blow dry which is her least favorite. I only did it about half way cause I felt bad. Then she runs around jumps on me and starts kissing me some more. She has such a bounce back attitude.

My maltese is still hidding under the couch as I write this and Dora is on the pillow next me to relaxing now!

Amanda
Kimberly
Join Date: Aug 2006
Location: San Francisco Bay Area
Posts: 10,275
Submit Photo: 5
Photo Submissions 19 Times in 13 Posts
Ha ha ha!! I love your Dora & Belle stories. Even though they are vastly different, I feel like they are both so loveable! (and I feel like I know them through you)
Mom to Ricky and Sammy
Join Date: Jan 2007
Posts: 10,319
Submit Photo: 30
Photo Submissions 21 Times in 17 Posts
I agree, Kimberly, but I think the reason I love the Belle and Dora stories so much is that Amanda is such a great story-teller! You have such a great sense of humor, Amanda.
I can totally picture your girls now.
---
Hello. My name is marj and I have MHS.
"The greatness of a nation and its moral progress can be judged by the way its animals are treated." Mahatma Gandhi
"Come to the edge, he said. They said: We are afraid. Come to the edge, he said. They came. He pushed them and they flew." -Guillaume Apollinaire"
Amanda
Join Date: Nov 2006
Location: South Carolina
Posts: 9,576
Submit Photo: 2
Photo Submissions 31 Times in 22 Posts
Awww - thanks guys, I just had one of those reminder moments of why i love these furry little ones so much. I have a good friend who is in love with Dora and she says I tell too many Belle stories and my honest response is because Belle is the monster who doesn't stop shocking me (thank goodness she is so cute). Dora is the good dog who always does what she is told and usually you don't have to tell her. She runs up and sits if she wants a treat, she kisses me first and doesn't bark if i stop petting her, she seriously knows if i am having a bad day, she thinks our guest bed is the new toy perch cause i always play kitty toy with her. If anything she is a bad dog about- she is too in love with playing tug of war and is convinced I am too!

Amanda
Senior Member
Join Date: Mar 2007
Posts: 841
Submit Photo: 0
Photo Submissions 0 Times in 0 Posts
Quick Belle, run to my house! I will protect you from the mean bath lady.
Pablo&Chuy's momma
Join Date: Jul 2007
Location: Eden, NC
Posts: 4,286
Submit Photo: 11
Photo Submissions 9 Times in 8 Posts
Amanda, I too love your Belle&Dora stories, Marj is right, you're a great story-teller, but you also have great subjects!
---
Join Date: Jun 2007
Posts: 768
Submit Photo: 0
Photo Nominations 1 Time in 1 Post
Poor Belle!
She knows what she's in for, she's no fool!
Mine hide when I start their bathwater, and then when the first one is in the tub, the other one comes over to taunt them. Then the roles get reversed later on!
Join Date: Dec 2007
Posts: 454
Submit Photo: 0
Photo Submissions 0 Times in 0 Posts
Tell your girls they weren't alone! Bonnie and Duncan had bath day today too!! LOL
I love your Belle and Dora stories too -- keep 'em up!!
Kubrick & Hitchcock's Mom
Join Date: Apr 2007
Location: New York, NY
Posts: 7,774
Submit Photo: 1
Photo Submissions 33 Times in 24 Posts
Dora seems like such a sweetheart! I love your stories Amanda, even the ones of the little Belle terror.
---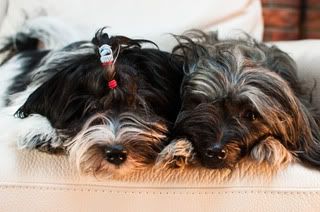 Visit
my blog

-----
Check out my
photos
-----
Photography (pets, people, weddings) -
TripleC Photography
Karen
Join Date: Sep 2007
Location: Colorado
Posts: 645
Submit Photo: 0
Photo Nominations 2 Times in 1 Post
Amanda - did you forget to shave her? I thought you had a "every two weeks" thing going.
Karen
Posting Rules

You may not post new threads

You may not post replies

You may not post attachments

You may not edit your posts

---

HTML code is Off

---