Senior Member
Join Date: Nov 2006
Location: Massachusetts
Posts: 11,746
Submit Photo: 27
Photo Submissions 48 Times in 35 Posts
HERE'S TO YOU!!!!
---
(and you know who you all are...)

It's been quite a couple of weeks here on forum. There have been scats and battles, joy and laughs, and some scares and relief. I know about that last one. But through it all, the ugly and the beautiful-- there remains this wonderful sense of fondness and community that I believe you would be very hard pressed to find anywhere else on the internet and perhaps not even in person.

When I was going through my scare with Cash a few weeks back, I was so glad this place was here. On the 2nd Night, after a day of Cash being back to his old self, when he started shaking again and just couldn't move, I didn't know what to do, I didn't want to bring him back to the horrible emergency clinic, because they seemed kind of worthless-- so I came on-line hoping someone was here to help. I pm'd Kimberly, who wrote me back with her phone number, and some basic thoughts to get me through the night. She then called me the next morning at 6am PST. Now, I have never met Kimberly, I've oo'd and ah'd at her puppies, and appreciated the information she has provided-- But I didn't expect the personal attention I got from her and I believe I am just one of the many to have had her help.

I also believe Kimberly is just one of the many unsung hero's of The Forum.
There are so many who offer so much!!! Information, laughter, support and of course PICTURES.

When I think back to little Shadow, and now Gracie and Ricky going through something unknown---When I think of the births and the new puppy owners and the Quilt-- and a home for the "puppy" Maggie--- I just get overwhelmed with affection for this place and the people who make it great.

But every good story needs some tension-- and the little spats and battles have their place too-- (besides offering sometimes juicy reading) it clears the air, some boundaries are re-established, and some new friends are made.

I just want to raise a Glass to you all!!!! My friends, my forum family, and a great source of sometimes mindless procrastination from my life... ha ha ha
************************************************** ***************

This is a picture of Cash when he had a fever or 103.8 and was lame on three legs from 2 weeks ago. We loaded it into the computer just now, forgetting it was there, and my DH asked me "why did you take that?" and I said getting all teary, "because I wasn't sure he would come home with us"

But then the 2nd shot is him a week later-- Everything is Just fine.




---
Missy, Jasper & Cash
---
Last edited by Missy; 08-11-2010 at

08:28 AM

.
Mom to Ricky and Sammy
Join Date: Jan 2007
Posts: 10,319
Submit Photo: 30
Photo Submissions 21 Times in 17 Posts
You've said it so well, Missy. I can't add a thing as I feel the same way.
When Ricky woke us up at 2 a.m. back in Nov., he was shaking, panting like crazy and wouldn't move. The first thing I did was come on here and see which members might be on. I PM'd Amanda and we went into the Chat Room where she helped me figure things out. I was worried, afraid and not sure which steps to take first. Just hashing things out with her, helped me immensely! Thanks again, Amanda.
She then started that lovely thread, sending positive thoughts and hugs to Ricky and I, knowing I needed the support.
There are many angels here and I never hesitate to bring a question or concern as I know someone here can help me out. It may be with hugs and prayers or it might be with ideas I hadn't thought of. It is a great community and I am proud of being a part of it.
O.k........ so I said "I can't add a thing" Hmmm...... as you know, I almost ALWAYS have something to add!!
---
Hello. My name is marj and I have MHS.
"The greatness of a nation and its moral progress can be judged by the way its animals are treated." Mahatma Gandhi
"Come to the edge, he said. They said: We are afraid. Come to the edge, he said. They came. He pushed them and they flew." -Guillaume Apollinaire"
Luv My Biewer
Join Date: May 2007
Location: Rocklin, CA
Posts: 3,068
Submit Photo: 0
Photo Submissions 0 Times in 0 Posts
Awww Missy - such sweet words. And OMG, I'm really happy that Cash is looking so well. He really was one sick puppy dog.
---
Northern California
Member BBCA (Biewerbci.org)



Home of VanLeigha Jr. Handlers
Senior Member
Join Date: Apr 2007
Location: Long Island, New York
Posts: 8,941
Submit Photo: 3
Photo Submissions 41 Times in 25 Posts
Missy,
I too love this place and consider you all family. I've said this over and over again. I've yet to experience anything on the internet that comes close to the real caring shared here. A while ago a friend of mine was talking about the forum for her breed group and saying how different it was. I told her she had to visit here and see the love and camaraderie exhibited at every turn.
So Missy, I'm with you and I too raise a glass to the group, even if mine contains prune juice -- for the over the hill lot. (Well maybe not, but I'm practicing).
---
<b>Just Milo and me, and . . . </b>Bailey makes three . . . until Ruby said, "hey, what about me?"
Geri, Milo, Bailey and HRH Princess Ruby Tuesday
If you're thinking of getting a puppy, click here
http://www.photoshow.com/watch/YK8AH4rw
Kimberly
Join Date: Aug 2006
Location: San Francisco Bay Area
Posts: 10,275
Submit Photo: 5
Photo Submissions 19 Times in 13 Posts
This really is a nice place and everyone has contributed something that benefits everyone else, from laughs to advice, to photos that make you smile, to lessons learned, to just sharing their Hav. Thank you to everyone!
Benji and Lizzie's Mom
Join Date: Jun 2007
Location: New Jersey
Posts: 4,086
Submit Photo: 0
Photo Submissions 6 Times in 5 Posts
Missy, very well said. I hope that we will continue to be a thriving, caring and supporting community.
---
Best, Poornima
Kubrick & Hitchcock's Mom
Join Date: Apr 2007
Location: New York, NY
Posts: 7,774
Submit Photo: 1
Photo Submissions 33 Times in 24 Posts
Missy, I couldn't agree more! Thankfully I haven't had any big problems with Kubrick, but I know that if I did you all would be there for me. Even when he was neutered and I was so scared for him, and it was a very routine procedure, you all were so nice and wished him well and comforted me. I really appreciate having the forum around to share all the ups and downs and the laughter and the tears. You are indeed all wonderful. Cheers to you!
---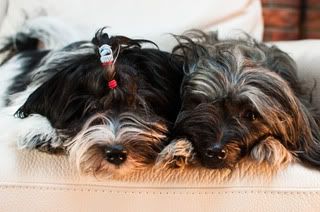 Visit
my blog

-----
Check out my
photos
-----
Photography (pets, people, weddings) -
TripleC Photography
Missy, I agree with Lina, cheers to you for a great post. I am so new to the board and I feel the same way. It sounds so corny, and I know I've said this, but I can't emphasize enough how having you all here to get me through my first day jitters has been such a huge comfort to me. You have all been so generous and welcoming.((((((((((((())))))))))))))) to all.
Pablo&Chuy's momma
Join Date: Jul 2007
Location: Eden, NC
Posts: 4,286
Submit Photo: 11
Photo Submissions 9 Times in 8 Posts
Amanda
Join Date: Nov 2006
Location: South Carolina
Posts: 9,576
Submit Photo: 2
Photo Submissions 31 Times in 22 Posts
What a good thread and great timing too. We will all have our differences from time to time but our havs bring us together through it all. If it wasn't for this forum, I would have never met Leslie who is a great friend too! I get great advice, it encourages me to take more photos, do new things with my furkids, own every grooming tool and the newest dog toys. I think my girls have to love the forum as much as me-giggling carrot, bailey's jerky, fromm's, etc. They have benefited from the forum love and advice as well.
Cheers- the forum is the bomb
(okay I just wanted to use that smiley!)
Amanda
Posting Rules

You may not post new threads

You may not post replies

You may not post attachments

You may not edit your posts

---

HTML code is Off

---