update about Racquet's care
---
Hello:

I have been off the forum for five weeks travelling Asia. I found a wonderful woman on Housecarers.com to watch Racquet while I was gone. They adored each other and she did the most remarkable job training him . He know so many new commands and is the perfect gentlemen. I am so glad that I went with my "gut feelings" and found someone else to care for him. I came home to one very well behaved and happy happy dog.
(Carole ofered to take Racquet but I thought it was best for him to stay home. I am most appreciative of her kindness)
Elayne
Izzy, Doc, and Kai's mom
Join Date: Jan 2007
Location: Monmouth, IL
Posts: 2,349
Submit Photo: 4
Photo Submissions 30 Times in 13 Posts
Wow, that's fantastic! I can't imagine finding someone to do that, let alone train your dog too!! I hope you had a great time....pictures!!
---
Doc
Stella's Mommy
Join Date: Mar 2008
Location: Minot, ND
Posts: 436
Submit Photo: 0
Photo Nominations 1 Time in 1 Post
WOW! That's fantastic!
I went on an 11 day cruise in Jan and left my puppy with the dog sitter from H*ll. I'm so happy to hear you had a much more positive experience. And to have her do some training too! I would've been pleased if mine would've just spent some time with Stella.
Racquet is a doll!
---
Lincoln and Scout's Mom
Join Date: Jun 2007
Location: San Francisco Bay Area, CA
Posts: 3,650
Submit Photo: 1
Photo Submissions 8 Times in 8 Posts
Elayne, so glad to hear everything went so well for Racquet while you were gone! Thanks for letting us know. That was very generous of Carole to offer her help too!
---
Jane
Amanda
Join Date: Nov 2006
Location: South Carolina
Posts: 9,576
Submit Photo: 2
Photo Submissions 31 Times in 22 Posts
Welcome back to the forum and do tell us about your trip!

Amanda
Kimberly
Join Date: Aug 2006
Location: San Francisco Bay Area
Posts: 10,275
Submit Photo: 5
Photo Submissions 19 Times in 13 Posts
Elayne, it sounds like you scored with finding exactly the right person. Congratulations on getting two different things accomplished - Racquet well cared for and some extra training too.
Kubrick & Hitchcock's Mom
Join Date: Apr 2007
Location: New York, NY
Posts: 7,774
Submit Photo: 1
Photo Submissions 33 Times in 24 Posts
Elayne, that's wonderful that Racquet was so well taken care of! 5 weeks in Asia sounds amazing! Did you have a good time? Welcome back.
---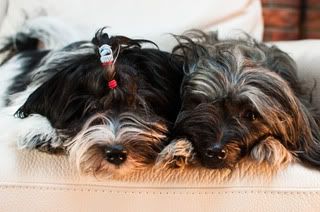 Visit
my blog

-----
Check out my
photos
-----
Photography (pets, people, weddings) -
TripleC Photography
Gryff and Jinx Mommy
Join Date: Sep 2007
Location: New Paltz, NY
Posts: 2,346
Submit Photo: 7
Photo Submissions 9 Times in 9 Posts
Wow! Great story. We are most likely going away for a week this summer. Luckily, our friend is a great sitter and Gryff loves her Rottie. I am hoping Nicole will be able to take Gryff for us again. She doesn't teach him new tricks though.
---
Tori's mom
Join Date: Feb 2007
Location: Sunny SoCal
Posts: 4,988
Submit Photo: 19
Photo Submissions 10 Times in 6 Posts
Benji and Lizzie's Mom
Join Date: Jun 2007
Location: New Jersey
Posts: 4,086
Submit Photo: 0
Photo Submissions 6 Times in 5 Posts
Elayne,
back! It was great that you got to have a nice vacation and a great caretaker for Racquet.
I looked up the website and the blogs of housesitters and their experiences are an interesting read.
Leslie, like the other sitters on the website who travel to various countries or within the same country, Elayne's sitter might consider the idea of being a "traveling sitter" for the Hav families on the forum
---
Best, Poornima
Posting Rules

You may not post new threads

You may not post replies

You may not post attachments

You may not edit your posts

---

HTML code is Off

---