Senior Member
Join Date: Mar 2007
Location: Queens,NY
Posts: 598
Submit Photo: 0
Photo Submissions 0 Times in 0 Posts
We're back from vacation.............
---
and lucky Duncan was great.He didn't eat too well but that was to be expected.He got lots of walks love and attention.
He was very happy to see us when we picked him up and all he did was sleep most the the day.I think he may have been just so happy to finally be with his family.
Now he really isn't eating too well while home with us.
Is this just a readjustment period??or can it be that he is just moving to eating once a day as opposed to twice?
He still gets treats and he is still very playful.
Hope he starts eating the way he used to,but I guess time will tell.
Thanks for listening!!
DOt
---
Dot & Duncan
Luv My Biewer
Join Date: May 2007
Location: Rocklin, CA
Posts: 3,068
Submit Photo: 0
Photo Submissions 0 Times in 0 Posts
Dot - it's probably a readjustment period. But if he's done growing he may automatically be adjusting how much he eats. I prefer feeding twice a day regardless of age (except puppies who get three times once at my house.)
---
Northern California
Member BBCA (Biewerbci.org)



Home of VanLeigha Jr. Handlers
Bugsy's Mom
Join Date: Nov 2006
Location: San Francisco, CA
Posts: 4,341
Submit Photo: 3
Photo Submissions 6 Times in 5 Posts
Welcome back Dot, I hope you had a great time on your vaction.
I am sure Duncan is just readjusting to being home again, but I wouldn't go to once a day feeding. Just offer him food and pick it up after 20 minutes. If he doesn't eat, just offer it again at next meal time. I am sure he will be fine in a day or two.
---
-Julia
Kubrick & Hitchcock's Mom
Join Date: Apr 2007
Location: New York, NY
Posts: 7,774
Submit Photo: 1
Photo Submissions 33 Times in 24 Posts
Welcome back Dot! Kubrick did the same exact thing when I got back from vacation. I learned that FH was putting down his food and leaving it (whereas I pick it up after 20 minutes) so he had to readjust but now he gobbles his food down once again. Just give it some time.
---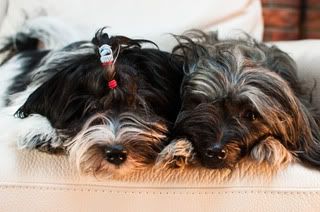 Visit
my blog

-----
Check out my
photos
-----
Photography (pets, people, weddings) -
TripleC Photography
Valentino's Mom, Vicki
Join Date: Oct 2006
Location: Dallas, Texas
Posts: 2,590
Submit Photo: 0
Photo Nominations 1 Time in 1 Post
Welcome back Dot! Glad you had a good vacation and are reunited with Duncan!
Amanda
Join Date: Nov 2006
Location: South Carolina
Posts: 9,576
Submit Photo: 2
Photo Submissions 31 Times in 22 Posts
Welcome back and give him a few days to get adjusted (and you can catch up on posts!)

Amanda
Posting Rules

You may not post new threads

You may not post replies

You may not post attachments

You may not edit your posts

---

HTML code is Off

---