Senior Member
Join Date: May 2007
Posts: 1,829
Submit Photo: 0
Photo Submissions 13 Times in 13 Posts
do our dogs know
---
my husband and i always wonder, do you think our dogs know how much we love them? if they know what fear is wouldn't they know what love is? are we putting too many human emotions in to them?
Total Havanese Groupie
Join Date: Dec 2007
Posts: 2,639
Submit Photo: 7
Photo Submissions 37 Times in 16 Posts
I listened to
this program on MPR
on Tuesday, and it was very interesting....thought you might want to check it out. Personally, I think they probably do know what love is, and their brains are far more complex then we think they are. Although, I do think we measure them through human standards which isn't exactly fair.
Senior Member
Join Date: Nov 2006
Location: Massachusetts
Posts: 11,746
Submit Photo: 27
Photo Submissions 48 Times in 35 Posts
I think they know. I mean a part of it is that we are their pack leader and they depend on us. But how do you explain Jealousy if they don't care about us... If I am cuddling Jasper, Cash is there on my lap in a flash. And all the stories of our Havs coming to comfort us when we are sick or down. This has got to be emotion. Just my two cents...




---
Missy, Jasper & Cash
Susan
Join Date: Feb 2007
Location: Near San Francisco Bay Area
Posts: 4,063
Submit Photo: 2
Photo Submissions 2 Times in 2 Posts
I think they do. If they can feel pain, fear, jealousy etc. why wouldn't they feel love. When you look at photos and videos you can see joy in so many of the faces. My DH and I marvel at the pure trust our girls show because they have never known a moment when they weren't loved. They were born into loving hands at their breeders and then they came to us and we love them more than anything.
---
Susan
Kubrick & Hitchcock's Mom
Join Date: Apr 2007
Location: New York, NY
Posts: 7,774
Submit Photo: 1
Photo Submissions 33 Times in 24 Posts
I'm not sure if they feel love in the way we humans do, but I do think they have a rudimentary sense of love. It might even be a purer love than humans are capable of since I don't think they get as caught up on little stupid things as we do.
I love my dog and my dog loves me!
---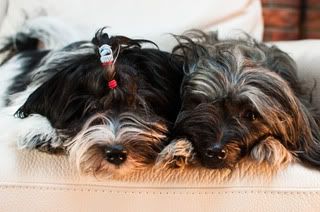 Visit
my blog

-----
Check out my
photos
-----
Photography (pets, people, weddings) -
TripleC Photography
Senior Member
Join Date: Nov 2006
Location: Massachusetts
Posts: 11,746
Submit Photo: 27
Photo Submissions 48 Times in 35 Posts
Quote:
I love my dog and my dog loves me!
awww. Beautifully, simply put.
---
Missy, Jasper & Cash
Senior Member
Join Date: Feb 2008
Posts: 2,365
Submit Photo: 0
Photo Submissions 16 Times in 12 Posts
I also believe that dogs feel a full range of emotions, more than they're frequently given credit for. It's very clear when they're scared, annoyed, enjoying themselves, why not love? And from my experience with abused dogs, I'd swear they are able to appreciate the new life they've been given, in a way that dogs who have (fortunately) only experienced love can't even imagine.
I also agree with Amy, I do think we assign those emotions human terms that may not apply. There are so many times I wish we had a more complete form of communication with our pets - I'd love to know what they're thinking (most of the time!)

Most importantly, I need to believe my dogs know how much I love them.
---
Jill - Tess & Cody's mom
I'm not sure that dogs understand love, per se, but I know that they are experts on loyalty. I believe that dogs are loyal to us becuase they trust that we, as pack leaders, will protect and provide for the pack. Isn't it sad how often we let them down?

Besides, they haven't figured out how to work the can opener yet. <VBG>
Pablo&Chuy's momma
Join Date: Jul 2007
Location: Eden, NC
Posts: 4,286
Submit Photo: 11
Photo Submissions 9 Times in 8 Posts
I think it's more instinct than love, but honestly I don't care what it's called or whether it's been scientifically proven, I love to love him and love to be loved back.
---
Senior Member
Join Date: Apr 2007
Location: Long Island, New York
Posts: 8,941
Submit Photo: 3
Photo Submissions 41 Times in 25 Posts
Aw, c'mon. It's love. I look at the look in Milo's eyes and . . . it has to be love.
Or perhaps it's a reflection of what's in my eyes.
---
<b>Just Milo and me, and . . . </b>Bailey makes three . . . until Ruby said, "hey, what about me?"
Geri, Milo, Bailey and HRH Princess Ruby Tuesday
If you're thinking of getting a puppy, click here
http://www.photoshow.com/watch/YK8AH4rw
Posting Rules

You may not post new threads

You may not post replies

You may not post attachments

You may not edit your posts

---

HTML code is Off

---