Senior Member
Join Date: Mar 2007
Location: Queens,NY
Posts: 598
Submit Photo: 0
Photo Submissions 0 Times in 0 Posts
Can anyone please tell me why Duncan is not a doggie dog??
---
He really has no interest in any other dogs!! On walks he ignores them or is frightened by them.He just rather go up to the person walking the other dog(s) and say hi to them.
Is it because he has so much interaction with his human pack and that's all he needs.
There is a Huge German Shepard behind a gate that when he barks Duncan shivers,but I keep going and ignore Duncan's behavior.
Since the weather is getting warmer,more dogs will be out,so maybe DUncan will get used to other dogs.
Am I stressing over something silly????
Dot
---
Dot & Duncan
Benji and Lizzie's Mom
Join Date: Jun 2007
Location: New Jersey
Posts: 4,086
Submit Photo: 0
Photo Submissions 6 Times in 5 Posts
Dot, you couldn't have picked the a better time to post this. Lizzie barks at any dog we come across on our morning walks. Benji has never done it and I can't figure out why she does it. She also barks at a few people but not at others. Lizzie is not afraid of other dogs, big or small.

I hold her at her collar and give her a firm "No bark" and she quiets down, but will give a low growl until the dog passes.

I have been wondering about how to control her barking on our walks.
---
Best, Poornima
Senior Member
Join Date: Feb 2007
Posts: 4,302
Submit Photo: 1
Photo Submissions 4 Times in 3 Posts
Dot, Did Duncan ever do any Puppy Kindergarten? Rufus was initially scared and hiding under chairs when we went and it took a few times before he learned how to socialize properly with other dogs and could appreciate that it could be fun. Now he loves every dog he sees and wants to start up the play!
Senior Member
Join Date: Oct 2007
Location: West Bloomfield, MI
Posts: 1,621
Submit Photo: 4
Photo Submissions 2 Times in 2 Posts
I don't have an answer for you, Dot, but wanted to let you know that not all Havanese automatically take to playing with other dogs. My Ollie plays with my chihuahua, Ruby, but he seems afraid of other dogs. (even little ones) In puppy kindergarten, he hid under a chair at first. Later he came out, and would even approach the other dogs, but if they showed too active an interest in him, he growled. I understand your frustration. I want Ollie to be able to have fun with other dogs, like he does with Ruby. I'm hoping more exposure in positive, controlled situations will help. I'm sure others will have some advice and suggestions. I'm glad you asked!
---
~Shelly~
"All knowledge, the totality of all questions and all answers is contained in the dog." - Kafka
Poornima, That is like the behavior we have been experiencing with Norah towards people. Once there in our house she wont stop barking and trying to get them until they leave. It makes having company very difficult as all the little one's friends want to pet her but I'm afraid she is going to nip their hand. She never growls except for then! I am looking forward to see the answers to this post...
I would guess that in both cases the dogs didn't get enough socialization with other dogs as puppies. My first JRT was like that as he was the first dog I ever owned. I took him every where with me, but as I'm a bit of a loner, he didn't see a lot of other people or dogs. We had to do a lot of remedial socialization when we got into obedience and then agility. (In fact, that's WHY we got into sports.) Desilu, on the other hand, has been to a dog show of one sort or another every weekend of his life since he was 8 weeks old. Plus he went to puppy kindergarten and social hours as a baby. There is no person, dog, place or thing that bothers him (except thunder and that drives me nuts).
Senior Member
Join Date: Mar 2007
Location: Queens,NY
Posts: 598
Submit Photo: 0
Photo Submissions 0 Times in 0 Posts
When we got him and used to walk him all was great. Just recently this new behavior has ocurred. Even the doggie across the street that he used to play with he is now afraid of..
I just hope he snaps out of this.Poor guy just wants to run away when he sees another dog and shape and size doesn't matter at all.
For those of you going to the playdate,you'll see 1st hand!!Maybe spending some time with other dogs is what he needs.
I really wish I could take him to a training socialization course,but with my schedule being so nuts I really don't have the time.
But it's getting warmer and we'll be spending much more time at the park,so hopefully (cross your fingers) he'll get used to other dogs really soon.
Thanks
Dot
---
Dot & Duncan
Gryff and Jinx Mommy
Join Date: Sep 2007
Location: New Paltz, NY
Posts: 2,346
Submit Photo: 7
Photo Submissions 9 Times in 9 Posts
Gryff is afraid of other dogs too. He shows an interest, but then backs away if they show an interest in him. If he can't get away, he will immediately roll over on his back. Then again, my dog is weird. However, once he's been with the same dog a few times, he likes to play with them.
---
Kubrick & Hitchcock's Mom
Join Date: Apr 2007
Location: New York, NY
Posts: 7,774
Submit Photo: 1
Photo Submissions 33 Times in 24 Posts
Dot, how old is Duncan now? It's possible that he is going through his second fear imprint stage. Here's an excerpt I found from a Puppy Development class:
Quote:
Second Fear Imprint Period (6 - 14 Months) The Second Fear Imprint Period is similar to the one that occurred during the socialization period, but, it is much less defined. It occurs as dogs enter adolescence and seems more common in males. It is often referred to as adolescent shyness. Your dog may suddenly become reluctant to approach something new or suddenly become afraid of something familiar. This behavior can be very frustrating to the owner and difficult to understand because its onset is so sudden and, seemingly, unprovoked. If you notice this behavior, it is important to avoid the two extremes in response: Don't force him to do or approach something frightening to him and don't coddle or baby him. To get through situations that make your dog fearful, be patient, kind, and understanding. Desensitize him to the object or situation by gradually introducing him to it and using food rewards and praise to entice him to confront the fearful object or situation. Do not coddle or reassure him in any way that will encourage his fearful behavior. Do not correct him either. Simply make light of it and encourage him give him food rewards as he begins to deal with his fear better. Make sure you lavishly praise his attempts! This phase will pass.
As far as a dog that has always been afraid of dogs, this is a socialization issue. Kubrick used to be terrified of dogs! I even wrote some threads back when he had this problem. Now he loves dogs, though he's wary of larger dogs. We took him to the dog park every week, sometimes twice a week. He didn't like it at all, but we would just let him wander around. He tried to hide under the seats but we pretty much left him alone, didn't pick him up or coddle him, nor did we force him to meet other dogs either. It took 3-4 weeks of him being scared of the dogs then it suddenly just clicked and he was all of a sudden the most playful dog ever. It was incredible, but it worked really well. It might take a while, but just stick with it.
Also, you need to make sure to be totally calm and happy when you meet a new dog. They really can pick up your emotions. I know that I used to be nervous seeing a dog because I was afraid for Kubrick and how he would react. I finally realized this and was able to stop this behavior. Every time I meet a dog that Kubrick is wary of (still happens with large dogs), I myself pet the dog while calmly talking to the owner. I say things like Oh you're so pretty, or what a good dog, how sweet. Kubrick will come to investigate the other dog every time. It's probably jealousy that makes him approach, but it gets him to not be afraid. It works really well, and I'm sure would work for dogs going through a second fear stage as well as dogs that are afraid of dogs, period. Although make sure to only do this with friendly dogs, of course. You don't want to traumatize your dog anymore than he already is.
---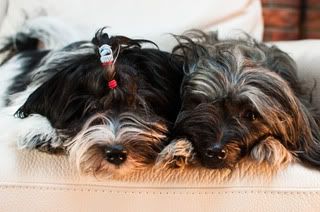 Visit
my blog

-----
Check out my
photos
-----
Photography (pets, people, weddings) -
TripleC Photography
---
Last edited by Lina; 04-03-2008 at

05:34 PM

.
Amanda
Join Date: Nov 2006
Location: South Carolina
Posts: 9,576
Submit Photo: 2
Photo Submissions 31 Times in 22 Posts
Dot,
You should meet Isabelle. She isn't a doggy dog, cause she doesn't know she is one. Everyone laughs but even at the dog park, she is sitting on the bench with people, she doesn't let dog's sniff her butt, she doesnt play with them. She is very social but she is not a doggy dog either
Amanda
Posting Rules

You may not post new threads

You may not post replies

You may not post attachments

You may not edit your posts

---

HTML code is Off

---