Junior Member
Join Date: Jan 2008
Posts: 29
Submit Photo: 0
Photo Submissions 0 Times in 0 Posts
Hi all! *waving*
---
Hi everybody! I've been lurking for a while and so enjoying this forum I figured it was time to introduce myself and my darling Dazey! I'm Shelly and my little Dazey as I'm sure you've guessed is my two year old Hav that I just love and adore! She's a parti/sable, but is mostly white, she used to be darker but has faded quite a bit, which I expected, to a point, lol. Right now we've just got ears and a back/bum spot and a bit of color, (besides stain) on her face, lol. I've been working on the tear staining, but part of that face color is her fur, lol, man I hate the tear stains though. I try and clean her eyes every day, but truthfully before this forum, it never occured to me to wash her face frequently, dummy me.
Dazey lives with two human brothers who are almost 10 and 8, a big 75lb shepard/hound/lab mix brother, they adore each other, lol, and drive me crazy romping around sometimes, a sister cat who just doesn't "get" dogs and myself and DH.
Anyway I really love this forum, I've learned so much from you all! And really, what is it with these dogs? I got her and I immediately wanted another one, lol, I still do! I thought it was just me so you can imagine how relieved I was to find out it wasn't just me being a nut and that it's quite a common phenomenom!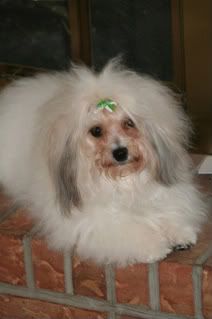 Senior Member
Join Date: Oct 2007
Location: West Bloomfield, MI
Posts: 1,621
Submit Photo: 4
Photo Submissions 2 Times in 2 Posts
Shelly and Dazey! Dazey is a cutie, she looks so soft! It's good to have you here! Good to meet another Shelly too!
---
~Shelly~
"All knowledge, the totality of all questions and all answers is contained in the dog." - Kafka
Senior Member
Join Date: Aug 2007
Location: N. Nevada
Posts: 1,665
Submit Photo: 25
Photo Submissions 18 Times in 13 Posts
and welcome. Glad you found us, and your Dazey is very cute....Must See More
---
Heather
Caché Havanese
"What Lies Behind Us And What Lies Before Us
Are Tiny Matters Compared To What Lies Within Us."
Here are some links to help educate yourself in how to fight for your rights to continue to own and love your animals. Please do not be mislead by PETA or HSUS who is PETA in suits.
Riley & Monte's mom
Join Date: Feb 2007
Location: MA
Posts: 5,579
Submit Photo: 2
Photo Submissions 16 Times in 13 Posts
Pablo&Chuy's momma
Join Date: Jul 2007
Location: Eden, NC
Posts: 4,286
Submit Photo: 11
Photo Submissions 9 Times in 8 Posts
Shelly and Dazey, now that you've de-lurked there's no holding back with pics and stories I hope!
---
Senior Member
Join Date: May 2007
Location: Indiana
Posts: 3,119
Submit Photo: 3
Photo Submissions 4 Times in 4 Posts
Welcome!!!! I am sure you will have lots of fun here...I have learned alot!!!!
---
~~Mommy"s Little Angel~~
Tori's mom
Join Date: Feb 2007
Location: Sunny SoCal
Posts: 4,988
Submit Photo: 19
Photo Submissions 10 Times in 6 Posts
Susan
Join Date: Feb 2007
Location: Near San Francisco Bay Area
Posts: 4,063
Submit Photo: 2
Photo Submissions 2 Times in 2 Posts
Welcome, Shelly and sweet Dazey.
---
Susan
Junior Member
Join Date: Jan 2008
Posts: 29
Submit Photo: 0
Photo Submissions 0 Times in 0 Posts
I love, love, love all the pictures on this forum! I wish I had some better ones of Dazey. She's not especially fond of the camera, I think it's the flash, and she doesn't usually sit still for me. She's in one of her favorite "perches" there on the fireplace hearth. Why she likes the bricks, we don't know, but she does. I'm hoping I can get some better pics of her outside, if and when our weather cooperates, ugh. She's really a fun loving little girl. Quite full of herself and a bit of a diva. I call her my little shadow, wherever I am, she is. She can also be quite ferocious, lol, I call her "ferocious beast" as she rules the roost and considering her size has a nice sized "grrrrrr". It's hilarious.

She's not always that fluffy, she had been to the groomers that morning. But, she does have more of the "cottony" type coat and boy was it a bear during the "blowing coat" stage. She's much easier to maintain now, doesn't matt near as much and is really good about letting mom "make her pretty". I just wish the eye thing would clear a bit.
Kubrick & Hitchcock's Mom
Join Date: Apr 2007
Location: New York, NY
Posts: 7,774
Submit Photo: 1
Photo Submissions 33 Times in 24 Posts
to the forum Shelly and Dazey! I'm glad you de-lurked. It's nice to see new members around.
---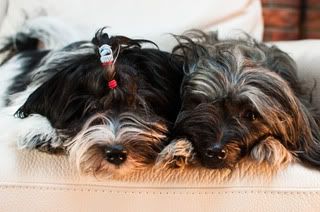 Visit
my blog

-----
Check out my
photos
-----
Photography (pets, people, weddings) -
TripleC Photography
Posting Rules

You may not post new threads

You may not post replies

You may not post attachments

You may not edit your posts

---

HTML code is Off

---