Evelyn
Join Date: Apr 2010
Location: Chicago burbs
Posts: 4,652
Submit Photo: 4
Photo Submissions 30 Times in 28 Posts
Whimsy's christmas photo
---
Been making a few Christmas cards( I will post the finished one later)but here is the picture for the inside. Whimsy just sends a few out to her 'cousins 'and to a couple of the neighbors ,her breeder and of course her Vet. LOL. I decided on a light sepia tone and I 'color popped' the bow on the antlers and put in the writing.( I love paint shop pro! )Must have taken 50 pictures tho before I got one where those darn antlers were on half-way straight. LOl! She wasn't at all happy with them on but she tried to be a good sport about it( the cheese helped) Anyone making cards?
---
Senior Member
Join Date: Feb 2013
Location: Long Island, NY
Posts: 305
Submit Photo: 0
Photo Submissions 6 Times in 5 Posts
Great shot!
---
Ron (and Colbie and Scarlett)
Senior Member
Join Date: Aug 2012
Location: North Carolina
Posts: 2,362
Submit Photo: 36
Photo Submissions 60 Times in 60 Posts
Senior Member
Join Date: Nov 2006
Location: New Jersey
Posts: 9,794
Submit Photo: 2
Photo Submissions 28 Times in 20 Posts
Love it!
---
Lily, Lexi ,Logan, Laila & Lizzie's Mom
www.HillsboroughHavanese.com
(Gigi, Lucas, Dugan, Madeline,Reo,Alvin, Lucky, Lukey, Punch, Colby & Ben-(we will always Love you!!)
Dave T
Join Date: Dec 2007
Location: Ontario Canada
Posts: 10,818
Submit Photo: 3
Photo Submissions 115 Times in 113 Posts
super .
---
Dave and Molly
Ian Dunbar was awarded the Outstanding Achievement Award from I.P.D.T.A. Here's a picture of me accepting the award on his behalf.
Member of IAABC ,International Association of Animal Behavior Consultants , Member of Pet Professional Guild
Teresita
Join Date: Mar 2010
Location: Hainesport, New Jersey
Posts: 1,534
Submit Photo: 4
Photo Submissions 10 Times in 10 Posts
Awww adorable!
---
Teresita
Ache and Yunque's mom
Cate
Join Date: Apr 2013
Location: Ontario, Canada
Posts: 144
Submit Photo: 0
Photo Nominations 1 Time in 1 Post
Oh my gosh, that is the cutest picture! Beautiful!
---
Cate
Canela, Vino & Jack's Mom
Join Date: May 2012
Location: Born and raised in Chicago; now North Pole, Alaska
Posts: 693
Submit Photo: 35
Photo Submissions 6 Times in 6 Posts
Simply Gorgeous!
---
Betty AKA Canela, Jack and Vino's Mom
In a perfect world, every dog would have a home and every home would have a dog..
Ruth (me) Chester (dog)
Join Date: May 2013
Location: St. Louis area
Posts: 887
Submit Photo: 16
Photo Submissions 8 Times in 8 Posts
Awesome shot!
---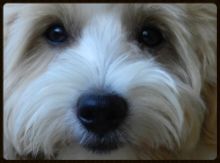 Hav to hav a Hav!!!
Ruth and Chester
(Chester's DOB - 4/04/13)
"Dogs are NOT stupid, they are smarter than you think."
Henry 2006-2018/ Kordelia
Join Date: Jun 2007
Location: NJ/NYC metro.
Posts: 4,155
Submit Photo: 11
Photo Submissions 25 Times in 25 Posts
I love Whimsy posing as a reindeer! The color effect looks wonderful.
Everyone getting this Whimsy card will love it, thank you for sharing it with us!
Posting Rules

You may not post new threads

You may not post replies

You may not post attachments

You may not edit your posts

---

HTML code is Off

---