Member
Join Date: Oct 2007
Location: Syracuse, NY
Posts: 95
Submit Photo: 0
Photo Submissions 0 Times in 0 Posts
I am nervous...
---
Today, on my way to work, I dropped Boo at the groomers. I did have some of the pics from the puupy cut thread that I liked to arm myself with. The groomer seemed to understand that I wanted him to look like a Havanese, but did explain that you cant have that look without the length, which I know I just dont want him to look like a poodle or a round headed ****z-tzu! I have been able to keep up with him and his longer hair until he started to Blow coat last month! She did say that she would try to blend in the areas that she was going to have to really short because of his mats...around his collar area and his chest. BUT I AM NERVOUS!!!! I did take a before pic this morning and will post the before/after tomorrow!! She told me that she thought that he would blow his coat seasonally, and I told her that I was under the impression that Havs didnt do that, so who is correct????

She also mentioned that the way Boos hair fell it would cord easy. She keeps thinking she wants to cord one of her own poodles...But everytime she gets the point where she can do it, she has gotten so busy grooming that she just clips him down. I am just going crazy here waiting for the time to pass so I can go get him....
---
Last edited by SnobunnieNY; 05-05-2008 at

10:49 AM

. Reason: spelling
Senior Member
Join Date: May 2007
Location: Indiana
Posts: 3,119
Submit Photo: 3
Photo Submissions 4 Times in 4 Posts
I hope all turns out how you want. I am sure he will be the same Boo though when you pick him up. Can't wait to see his new doo!!!!
---
~~Mommy"s Little Angel~~
Senior Member
Join Date: Apr 2007
Location: Long Island, New York
Posts: 8,941
Submit Photo: 3
Photo Submissions 41 Times in 25 Posts
Admittedly no expert yet, I would say she's wrong. Havs (to the best of my knowledge) blow coat once or possible twice. Imagine the torture if it was seasonal.
---
<b>Just Milo and me, and . . . </b>Bailey makes three . . . until Ruby said, "hey, what about me?"
Geri, Milo, Bailey and HRH Princess Ruby Tuesday
If you're thinking of getting a puppy, click here
http://www.photoshow.com/watch/YK8AH4rw
Hiro 23.03.2007
Join Date: Jan 2008
Location: Hengelo in the Netherlands
Posts: 491
Submit Photo: 0
Photo Submissions 25 Times in 13 Posts
Maybe you find your answer here?
http://www.akc.org/breeds/havanese/index.cfm
If you have a 10 month old male, that is about the normal time for the Blowing of the Coat...
They lose their puppy coat when their adult coat starts coming in and as it falls out it mats up
with the other hair. During this time you have to really brush them a lot.
---
Greetings from Ans and Hiro from the Netherlands
No matter how little money and how few possesions you own, having a dog makes you rich.
Hiro
Hans
Ans
---
Last edited by Ans; 05-05-2008 at

11:06 AM

.
Tori's mom
Join Date: Feb 2007
Location: Sunny SoCal
Posts: 4,988
Submit Photo: 19
Photo Submissions 10 Times in 6 Posts
Hope your groomer understands what it is you want Boo to look like. Does she groom any other Havs?

Tori is off to the groomer (Julie) tomorrow morning. I'm fortunate that Julie has several Havs she's been grooming for a few years. I know at least one of those is in full coat. Tori isn't blowing coat, yet... But, her coat picks up every little thing. She (Tori) and I are very tired of having to brush/comb 3-4 times a day. So, Julie suggested doing a close trim (shave?) on Tori's underbelly, arm pits, and hygiene area. She's also going to trim her feet/legs shorter in hopes of slowing down all the "hitchhikers"! I'm certain Julie would be the 1st one to try to talk me out of a puppy cut if I ever decide I want to go that route. She's in love w/Tori's topknot and her flowing coat.

I'll be checking back to see the pix of Boo. Good luck!
Member
Join Date: Oct 2007
Location: Syracuse, NY
Posts: 95
Submit Photo: 0
Photo Submissions 0 Times in 0 Posts
I hope that I explained what I wanted so she understood, but sometimes what you hear isnt what was said!!! From my conversation with the groomer - Boo is the only Hav she has ever done. That would explain her not knowing about the coat blowing - I cant imagine if this happened seasonally!! I am so looking forward to not having to pull ever single twig, leaf, grass, etc from his coat evertime he goes out!!! IT is like Velco!!! Boo will be a year old this month!!! So I would say this is normal time for his coat change!! I tired to keep up with the matts - I brushed him twice a day but I swear they formed overnight in his cage!!! or if you looked at him wrong!!!

There arent alot of them around upstate NY at all...Everywhere I go people ask me what he is. I even had one lady (with Shih-tzus) insist that he was a Shihtzu mix...you could see the obvious difference in her dogs and Boo, but she kept asking me what he was like I didnt know my own dog!!! People are so funny!
Senior Member
Join Date: Nov 2007
Location: Arkansas
Posts: 1,869
Submit Photo: 0
Photo Submissions 19 Times in 6 Posts
Hope all goes well!

I admit, I get annoyed when people ask if Cooper is a shih-tzu. But we went to a dog festival this weekend, and every shih-tzu mix, I swore was a hav, lol.
---
Tritia, Daisy, Cooper, and Bodie.
Kubrick & Hitchcock's Mom
Join Date: Apr 2007
Location: New York, NY
Posts: 7,774
Submit Photo: 1
Photo Submissions 33 Times in 24 Posts
I can totally understand you being nervous and I'll be hoping that Boo comes out perfect for you!
---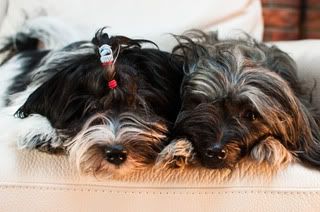 Visit
my blog

-----
Check out my
photos
-----
Photography (pets, people, weddings) -
TripleC Photography
Lola's Mom
Join Date: Feb 2008
Location: San Francisco
Posts: 989
Submit Photo: 36
Photo Nominations 1 Time in 1 Post
The one thing to remember, is that our Hav's hair grows! So, much like going to your salon, the hair is often cut shorter than you would like, because within 2 weeks it will be at the right length. I keep Lola in a puppy cut and it only lasts about 4 weeks before it gets longer and starts matting. The pictures will help, but it may be shorter than you expect. Your avatar is adorable, so I am sure Boo will be beautiful regardless. Can't wait to see the pics and if you are pleased. Finding a groomer who hets it is a treasure.
---
---Little Lola a.k.a. Princess Pee and Poop and her humom Anne
"Happiness is a warm puppy" Charles Schultz
Member
Join Date: Oct 2007
Location: Syracuse, NY
Posts: 95
Submit Photo: 0
Photo Submissions 0 Times in 0 Posts
I get to see him at 4pm - man is this day going slowly or what??? Maybe I can even get this pics up tonight!!! Ireally want him in a full coat. But it was too much! taking him to camp all summer isnt going to help matters much either...He seemed to love the lake and swimming last fall...I thik he gets into stuff just to make me have to spend time with him cleaning him up!!!!
Posting Rules

You may not post new threads

You may not post replies

You may not post attachments

You may not edit your posts

---

HTML code is Off

---