Amanda
Join Date: Nov 2006
Location: South Carolina
Posts: 9,576
Submit Photo: 2
Photo Submissions 31 Times in 22 Posts
Does Birth Order play out in dogs?
---
I was watching the news this morning and they were talking about how much birth order really does shape children. 50% of CEO's are first borns, etc. So I was wondering thoughts on how dogs play out? Isabelle is the leader of my family but she is definitely not the overacheiver at least in my mind. She is extremely smart too but she uses it to acheive what she wants to have happen but that may be a bit more breed realted. Dora is anything but the troubled middle child. Right now Dasher is the adorable baby but it will be intersting to see how things happen. Just curious if breeders see any link? Also anyone else have thoughts about their fur family?
Senior Member
Join Date: Nov 2006
Location: Massachusetts
Posts: 11,746
Submit Photo: 27
Photo Submissions 48 Times in 35 Posts
Interesting. I will be watching for what our breeders have to say. I don't know the birth order of my boys. And Jasper is just so confusing I couldn't begin to guess--- as he is an insecure Alpha who really wants to be an Omega.

I would guess Cash was a middle puppy (if it has any correlation to humans)
He is loving and calm, but always wants what the other has and always always has to have something in his mouth.




---
Missy, Jasper & Cash
Estrella
Join Date: Nov 2007
Location: SF Bay Area
Posts: 1,076
Submit Photo: 1
Photo Nominations 1 Time in 1 Post
I don't know where Carmen was in the litter.. she was rescued, but if I had to guess she was the number one cause she is a bossy little thing. Tito is second born and he is pretty laid back and ok with her doing her thing.
---
Estrella

Amanda
Join Date: Nov 2006
Location: South Carolina
Posts: 9,576
Submit Photo: 2
Photo Submissions 31 Times in 22 Posts
I wonder if maybe there is more of a link to what order we bring them to our home? Belle was first born but also first dog in my house....
Join Date: Oct 2007
Posts: 1,482
Submit Photo: 0
Photo Submissions 2 Times in 2 Posts
Amanda, what a great research study. I will get right on it and get back to you
Kubrick & Hitchcock's Mom
Join Date: Apr 2007
Location: New York, NY
Posts: 7,774
Submit Photo: 1
Photo Submissions 33 Times in 24 Posts
That's hard to tell because they don't know if the birth order study in humans is due to nature or nurture (as in are first borns already set out for success or are they made that way after birth by the way they are treated by society, their parents, etc.)... so in dogs it would be interesting to see if there is a difference in birth order and in home order (what dog was there first). I only have Kubrick, so I can't really answer, but I do think that the order at which your dogs are introduced into your home does make a difference from what I've seen in other people's dogs. Though it's also true that personalities (more alpha, less alpha) can really play a part when introducing a new dog into the pack.
---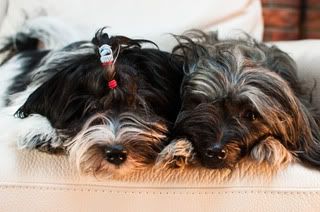 Visit
my blog

-----
Check out my
photos
-----
Photography (pets, people, weddings) -
TripleC Photography
Amanda
Join Date: Nov 2006
Location: South Carolina
Posts: 9,576
Submit Photo: 2
Photo Submissions 31 Times in 22 Posts
Lina that is what they said parents need to do on the study- spend more time with subsequent children. The first born gets at least 30% more alone time with the parents than the next child. I do try to take the dogs places on their own too
---
Last edited by ama0722; 05-05-2008 at

03:45 PM

. Reason: my parents didnt spend enough time helping me with spelling
Join Date: Feb 2008
Posts: 696
Submit Photo: 5
Photo Submissions 0 Times in 0 Posts
that's what you almost have to do when you have multiple anythings.. ya know. Dogs, kids, cats, birds, etc.... make sure they all have their OWN attention and they are ALL set up for success.
I am not sure where Kona was in his birth order either, but he was a christmas baby.... born on Christmas day... so------ maybe he's gonna be like a future cookie monster or elf
hehehe
I love this topic.. I would love to study more on it myself!
Posting Rules

You may not post new threads

You may not post replies

You may not post attachments

You may not edit your posts

---

HTML code is Off

---