Joe
Join Date: Feb 2008
Location: canada
Posts: 814
Submit Photo: 0
Photo Submissions 4 Times in 2 Posts
i figured it out...
---
what i dislike the most about mugsy haircut/trim!

i can see his ears now.

before they were hidden in his mop top and his face looked more round but now they just look like long ears. i prefer that old look.

fyi, his body hair is puffing out nicely and he doesn't looked so 'drowned' now.

joe
Lola's Mom
Join Date: Feb 2008
Location: San Francisco
Posts: 989
Submit Photo: 36
Photo Nominations 1 Time in 1 Post
Joe - we need new pics! Does Mugs still look like Eyore? When Lola got her last puppy cut, I had them trim her ears up more so her face looks more round. Which doesn't matter to you because you are never going to gut Mugsy's hair again!

We love our MUGSY!!
---
---Little Lola a.k.a. Princess Pee and Poop and her humom Anne
"Happiness is a warm puppy" Charles Schultz
Senior Member
Join Date: Nov 2006
Location: Massachusetts
Posts: 11,746
Submit Photo: 27
Photo Submissions 48 Times in 35 Posts
Joe, I agree we need new pics!!!! I always end up trimming the boys ears more when they get their puppy cuts-- actually now I am confident enough to ask my groomer to do it while I am there when I pick them up (I did it myself once and Jasper looked like he had a bobb) It is pretty easy to do yourself-- but if you do just do it in steps-- too short can be as bad as too long.




---
Missy, Jasper & Cash
-diane
Join Date: Apr 2008
Location: Oregon
Posts: 1,504
Submit Photo: 11
Photo Submissions 0 Times in 0 Posts
Joe...

Mugs has such an adorable face that I don't even register his ears!
---
-diane, Sophie and Gabriel's personal servant
Senior Member
Join Date: Apr 2008
Posts: 3,018
Submit Photo: 73
Photo Submissions 11 Times in 11 Posts
When havs turn into poodles
---
its such a deelightful thing...
they are ouncy bouncy wonderful things

where is Christopher Robin when you need him? Does he groom dogs?
Kubrick & Hitchcock's Mom
Join Date: Apr 2007
Location: New York, NY
Posts: 7,774
Submit Photo: 1
Photo Submissions 33 Times in 24 Posts
Joe, I can totally see what you're talking about with the ears. That's why Mugs looks like Eeyore! And I agree, we need some updated pictures!
---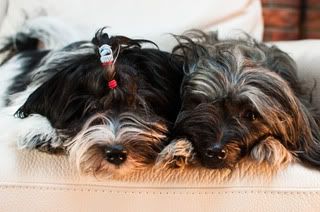 Visit
my blog

-----
Check out my
photos
-----
Photography (pets, people, weddings) -
TripleC Photography
Joe
Join Date: Feb 2008
Location: canada
Posts: 814
Submit Photo: 0
Photo Submissions 4 Times in 2 Posts
i'll try for some new pics asap.
Join Date: Feb 2008
Posts: 696
Submit Photo: 5
Photo Submissions 0 Times in 0 Posts
YAY More Pictures!!!!!!!!!!
Senior Member
Join Date: Nov 2007
Location: Arkansas
Posts: 1,869
Submit Photo: 0
Photo Submissions 19 Times in 6 Posts
Have you thought about trimming his ears?
I was shocked when they butchered Cooper that one time, and when I went to cutting it myself. I didn't know he still had such, cute "puppy ears"
I think that's why makes 'em look like a puppy..the smaller ears.
I do, however prefer the long hair on a full coat. Just not on a puppy cut.
---
Tritia, Daisy, Cooper, and Bodie.
Joe
Join Date: Feb 2008
Location: canada
Posts: 814
Submit Photo: 0
Photo Submissions 4 Times in 2 Posts
trimming his ears myself?

could be dangerous...when i was younger i had a very nice full beard and when i would try a self trim i sometimes ended up hairless.

joe
Posting Rules

You may not post new threads

You may not post replies

You may not post attachments

You may not edit your posts

---

HTML code is Off

---