Join Date: Feb 2008
Posts: 696
Submit Photo: 5
Photo Submissions 0 Times in 0 Posts
Well we did it, after much deliberation over last night!
---
We have thought alot about a friend for Kona. We just haven't found the right fit yet. Last night, due to circumstances that arose, we had to give Raina back to her owners. Hubby was very worried about me, I was actually fine and more shaken about the happenings of the day than over having to give Raina back I think. He started talking about calling the breeder for a "puppy" which is what he wanted the whole time, but when we found Raina in need of a home, I talked him into giving it a try. I was leaning more toward a "older dog" due to the potty training issues, but heck... 2 at once isn't much different. Our breeder brought over 4 little schnauzers, 3 salt and peppers and 1 all black. They are 8 weeks old.
oh.. so cute. I wasn't sold on one for sure, knowing we might have a new havanese litter available around Christmas time, but after talking alot about it with her and hubby and the kids, we thought WHILE kona is in the puppy stage, I want him to have another puppy to enjoy. Not when he's a year old, bringing a new puppy in. Something about them growing up together hit home with me. I can't tell you how INSTANTLY and almost as if he KNEW this little one from the get go he took right to this one over all the rest. Coddling him, licking him, almost begging him to come "SEE" the house and the other 3 just tried to follow him around but he wanted THIS BABY~~ The kids actually took to this one from the beginning b/c it was the "runt" or smaller than the rest. So after a very very LONGGGGGGG night of discussion and talking with the kids and such, we are the proud new owners of this sweet baby boy.
I can't think of a name, so if you all could help me that would be great. The kids have all sorts of them.... spiderman, batman, flubber, cinderella.. haha you know all the kid type names, but I just haven't gotten a good one... SO... to my extended family here........ HELP US!!!!!!!!!!!!!!
Anyone have an names for this sweetie???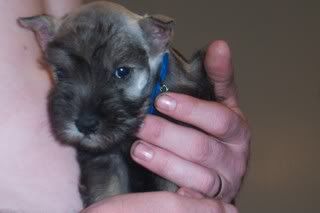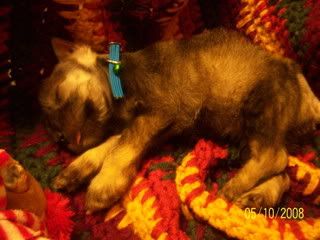 Zeus and Riley's Mom
Join Date: Mar 2008
Location: Prescott, Az
Posts: 1,105
Submit Photo: 0
Photo Submissions 6 Times in 6 Posts
OMG...he's adorable!!!! I will throw my hat into the ring for names... My best friend's fiancee had a schnauzer that he adored named: "Snickers"
Or.... how about Maui?
I can't wait to see the two of them together!
---
Jean, Riley and Zeus!
---
Last edited by JeanMarie; 05-11-2008 at

02:57 PM

. Reason: sp
Join Date: Feb 2008
Posts: 696
Submit Photo: 5
Photo Submissions 0 Times in 0 Posts
My hubby LOVES the name Maui, (keeping with the Hawaiian theme) but I think snickers is too cute. I told him that I'd see what all you all came up with... and then we'd decide tonight
LOL He said.. hurry... he's just being called puppy, and it's going to catch on! HAHAHA
I will take some pics of Kona and him when he wakes up. They are both sleeping in a clothes basket togeter...
AWWWWWWWWWWW
Mom of Brutus and Roxie
Join Date: Mar 2007
Location: Danville, CA
Posts: 2,152
Submit Photo: 0
Photo Submissions 0 Times in 0 Posts
He is cute--and I love the name Snickers!
Senior Member
Join Date: Feb 2007
Posts: 4,302
Submit Photo: 1
Photo Submissions 4 Times in 3 Posts
It looks like you found your puppy!
Join Date: Feb 2008
Posts: 696
Submit Photo: 5
Photo Submissions 0 Times in 0 Posts
Quote:
It looks like you found your puppy!
I think KONA found HIS puppy! LOL
Karen
Join Date: Nov 2006
Location: PA
Posts: 3,067
Submit Photo: 4
Photo Submissions 16 Times in 9 Posts
I am so happy to hear you found your puppy. I am not good with names, but I wanted to tell you he sure looks like a cutie. It will be great for Kona to have a buddy to grow up with!
---
**Karen, Mom to Brady, Dugan, and Devon
Senior Member
Join Date: Sep 2006
Location: SF BAY AREA
Posts: 1,044
Submit Photo: 0
Photo Submissions 2 Times in 2 Posts
My male schnauzer's name was YAHTZEE

He was a gem.....so smart... CONGRATES!!!
---
OLLIE & AUSTIN'S MOM
aka
CATHERINE
Join Date: Feb 2008
Posts: 696
Submit Photo: 5
Photo Submissions 0 Times in 0 Posts
Here is a couple more pics...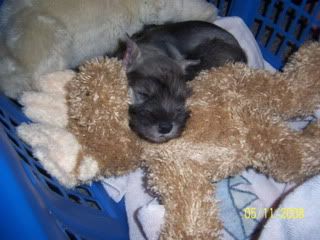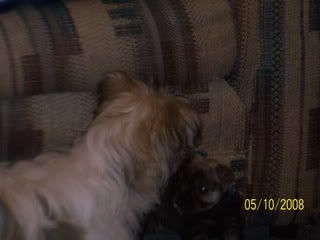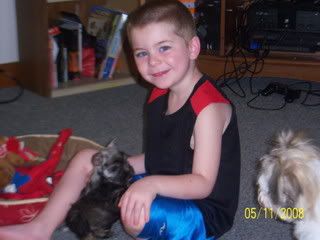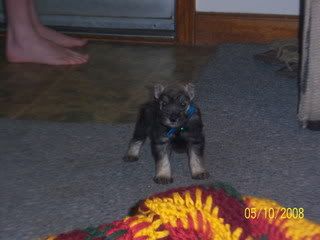 Join Date: Feb 2008
Posts: 696
Submit Photo: 5
Photo Submissions 0 Times in 0 Posts
Don't you all think he looks like a baby long neck dinosaur. I keep telling hubby he looks like Little Foot from the Land Before Time... Althought I don't want his name to be little foot
Posting Rules

You may not post new threads

You may not post replies

You may not post attachments

You may not edit your posts

---

HTML code is Off

---