Join Date: May 2008
Posts: 651
Submit Photo: 0
Photo Nominations 1 Time in 1 Post
Thinking of Getting a Hav - Advice?!!
---
I'm brand new to this site and could really use some input. I have been going back and forth on whether I'm ready for a dog. Thought I was, but I adopted a 4 year old rescue schnauzer mix that had way more problems than I was expecting, including major submissive urination and was over the top hyper, and I ended up taking her back because I knew she was too much for me. Ever since that experience, I've had cold feet, but can't seem to let go of the idea that this was supposed to be the summer of my new dog, and so I've continued the search. I had a Yorkie for 15 years, though she was a "family dog" and I had lots of help. New home, just me and my husband now, and he is not so keen on the idea, though he would go along with it. Basically, I'd be a "single mom." I work at home, but I do spend long, long hours at the computer every day, and I'm a little concerned about juggling a puppy in particular, though obviously I know that difficult stage passes. Also whether it's fair to a dog to expect it to hang out waiting for me while I'm working, which can be up to 10 hours a day, and then of course there are other daily tasks that need attention.
I really fell in love with this breed after reading about them and meeting a few puppies and adults, though reading all over these discussion boards the past couple of days has me both longing to get one ASAP, and scared out of my wits at the same time that I won't be able to handle it, or my dog will have health problems like some of the ones I've been reading about here - like liver issues. Is that common with Havs, or are they generally healthy? The breeders I've talked to I believe to be responsible and reputable, but I have read that purebreds tend to have more problems.
Any opinions? My heart longs for this, and yet it's been a number of years since I've had a dog, and I am remembering that it was really a lot of work and worry, and while having the company, love, laughs and cuddles would be great, I'm hung up on things like house training (what if I'm not successful with it, etc.), and I fear the dog might be bored (though obviously there would be play and walk breaks), since this is a very quiet house without much activity. I keep getting close, and then panicking about whether I can handle it, since it would be awful if I ended up regretting it. More than likely I'd fall in love and find a way to make it all work, problems would be worth it all in the end, but I can't help wondering what the trade off will be, for both me and the dog.
Really torn and would love some advice from experienced Hav and pet people!
Thanks.
Senior Member
Join Date: May 2007
Location: Indiana
Posts: 3,119
Submit Photo: 3
Photo Submissions 4 Times in 4 Posts
Welcome and let me tell ya you came to the right place for help. I will tell you about my situation. I am married and have no children. I am a stay at home house wife. I grew up with dogs all my life. When I graduated from college my hubby said that I could then get a dog. So I went and rescued a cocker spaniel. Her name is Ginger. About a year later I wanted a small lap dog. Hubby and I looked through some toy breed books and came across the Havanese. The search was on. I was looking on the computer and learning all kinds of things. I found some breeders and went and met with them. I loved loved the havanese and was ready for one. I went to pick one out and got cold feet. I do not know what happened but I chickened out. I thought about Giinger and wondered what she would think and was afraid of the potty training issues. Well a little later found a great breeder right by me and feel in love with her and her dogs. I picked out my Jillee and was able to visit her every week till she came home. Hubby and I went and picked her up and well lets just say all the worries went put the window. I will say though that my hubby was very supportive of the idea and was on board as well which helped. A year later I have another havanese and her name is Betzie. They are alot of fun and it is scary at first but it all comes together. You have to make sure this is what you really really what and hubby is on board as well. I am sure you will get alot of helpful advice from others here. This place is the best...but one thing though I do not think there will be someone on here saying not to get one...they are addicting!!!!!
---
~~Mommy"s Little Angel~~
Suzy and Cazzie
Join Date: Nov 2007
Location: Up North & Down South
Posts: 796
Submit Photo: 0
Photo Nominations 1 Time in 1 Post
Welcome to the forum. It's a great thing to ask questions before getting a Hav.
Havs are wonderful little dogs, very loving, friendly, sturdy. They DO need alot of attention and love in return. They can be mischivious and stubborn. I had no trouble potty training my Cazzie, but it was summertime and I was able to take him outside. That said, I have recently gotten home from the hospital and Cazzie decided to forget his housetraining! He is much better now that I am getting back on my feet, but there was something in his little brain that made him respond to an unsettling time in his life by peeing where he shouldn't! So, a dog owner has to be prepared to clean up messes from time to time. Havs love to shred paper, you may have heard. Cazzie loves to eat books. I even caught him taking one out of the bookshelf! You have to be willing to spend time grooming him even in a puppy cut. You have to be willing to take him/her out at three in the morning should nature demand it. You have to be willing to receive lots of kisses and cuddles! They are truly Velcro dogs, they love you with all of their hearts which will break if they are left alone and neglected. Best of luck to you in your decision!
Suzy
---
Sweet Chelsie Coton
Join Date: May 2008
Posts: 651
Submit Photo: 0
Photo Nominations 1 Time in 1 Post
Casper, wow, 4 dogs! You are really hooked, apparently! I think I'm still stuck in that part you mentioned about determining whether this is what I really, really, really want... right now I'm definitely sure I want all the wonderful parts of the experience, but not sure about the other parts, namely the necessary sacrifices of time, money, furniture and floors (lol!), etc. I actually think it's possible I'm having some sort of a mid-life crisis where I'm just so frustrated and bored with my day to day life (grateful I can work at home, but hate what I'm doing to make a living), and I might be trying to "fix what's broken" with the diversion and company of a dog, rather than taking whatever minimal extra time I can scrape together and putting my attention toward working on a career change, or at least adding some other spiritual and physical pursuit that will make me happier and healthier, overall. Like I've been wanting to take a Yoga class forever and can't seem to make it happen, and I've got a languishing sideline jewelry business that was starting to get successful, but fell to the back burner when we bought this house 4 years ago and needs a lot more attention to get it going again. I also really miss my creative life, and I'm pretty sure that will be on indefinite hold at least through the puppy and adolescent years. Yet I loved my yorkie so much I thought my heart would break from it, little every day joys like watching her little butt and tail from behind on walks, so cute you could die from the cuteness...that determined little bundle of personality, you know what I mean. It's the best, and yet I'm still so scared about jumping in again that it's keepin' me up at night.
Chico and Cali
Join Date: Jul 2007
Posts: 1,373
Submit Photo: 8
Photo Submissions 2 Times in 2 Posts
Welcome Petaluna!
You will get great advice here.
Given your situation, I think you'd do well with just the right Havenese, matched by a good breeder. I think the match is the key. And of course the breeder who health tests and is there to give you advice and support.
We got Chico first, and when he was 3, we got our second dog Cali, who just turned a year. We asked for kind of laid back dogs, because we didn't feel like we could deal with a high energy dog.
We also didn't bring the dogs home until after 10 weeks. They were both pad trained and crate trained by their breeders. Except for the constant peeing of our little girl, housebreaking wasn't very hard. We followed the instructions.
I should say I did, because I was home a lot. My husband's main job was loving them, petting them, and as he used to say,"earning the dog food"lol.
He isn't good with discipline at all.
Since you are home a lot, you'll be able to supervise the little puppy.
You can get the right set-up to facilitate things for you. Check puppy-training threads on this forum. You'll get lots of ideas.
You can take breaks from working and play with your puppy, and take him outside to potty.
I say, go for it. These delightful Havs are the best, and are well worth any work that you put into training. They are so fun and loving.
---
Nan
Chico, Cali, and Finnegan
Luv My Biewer
Join Date: May 2007
Location: Rocklin, CA
Posts: 3,068
Submit Photo: 0
Photo Submissions 0 Times in 0 Posts
A Havanese will be happy to have you all day - even if you are working at the computer. You could also consider an older dog from a breeder who is looking to re-home one of their champions. This way you wouldn't have to work as hard at potty training. Just make sure the breeder you work with has done the important health tests. You can read about these on the Havanese Club of America website.
---
Northern California
Member BBCA (Biewerbci.org)



Home of VanLeigha Jr. Handlers
Kubrick & Hitchcock's Mom
Join Date: Apr 2007
Location: New York, NY
Posts: 7,774
Submit Photo: 1
Photo Submissions 33 Times in 24 Posts
I agree with Lisa that perhaps an older dog would be best for you, especially if you are worried about house training and about giving a puppy much needed attention - and trust me, they need a LOT of attention at a young age, even now at a year Kubrick will beg me for attention if I have ignored him for what he feels is too long, which can be anywhere from 15 minutes to an hour depending on how tired he is.
If you get an older dog from a good breeder who does all the health testing, like Lisa said, you can make sure to get a more laid back type who will be happy sitting at your feet while you type and yet will also be happy going for walks and playing when it's time for that.
Good luck!
---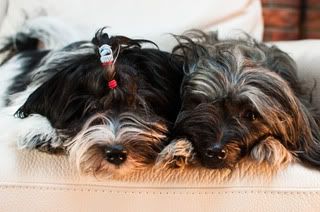 Visit
my blog

-----
Check out my
photos
-----
Photography (pets, people, weddings) -
TripleC Photography
Join Date: May 2008
Posts: 651
Submit Photo: 0
Photo Nominations 1 Time in 1 Post
Luv2, the pups I've been looking at are 3 and 4 months, but it's funny, I was attracted to the livelier ones that seemed more interested in me, even though I would prefer a more laid back adult. I met a couple of really mellow puppies, which I thought was a bit odd for pups, and they actually ran the other way or were very uninterested in me when I picked them up, so I had a hard time warming up to those. The mom of those 2 was more cautious and mellow, whereas the mom of the livelier ones seemed more lively, herself. What a hard choice, picking the right dog. As to puppy training, it would be my only other job for sure, and while I know my husband wouldn't help much in that area, I'd have to ask him to help out in other ways like with shopping and laundry, which hopefully he'd be willing to do. He's given lip service to being on board with it, but I know how it will REALLY go when there are accidents to clean up, puppy is crying at 3 in the morning, etc. Actually, the middle of the night thing and the potty training thing are probably my 2 biggest worries, aside from the dog having a major health problem that might be very expensive and heartbreaking to boot. I don't get near enough sleep as it is, I'm not a good napper and I can't go back to sleep once I'm woken too early, so I imagine I'd be a basket case until the puppy started sleeping through the night. I almost had a chance at a very sweet 2 year old, but the breeder decided to take her off the market for awhile while they had her knee reevaluated, and she may or may not be available after they got some more opinions on that. She was a doll, but rolled on her back a lot - submissive? I didn't see her peeing when she did that, but wasn't sure if she might become a more fearful dog later in life if she was doing a lot of submissive displaying now. She loved me, but for some reason wanted nothing to do with my husband, though I imagine that would change over time.
Benji and Lizzie's Mom
Join Date: Jun 2007
Location: New Jersey
Posts: 4,086
Submit Photo: 0
Photo Submissions 6 Times in 5 Posts
Welcome to the forum!

We had considered getting a retired dog before we got Benji, our first puppy. One thing I was concerned about was separation anxiety. I feel that the dogs that live with breeders tend to have a number of dogs around them and don't necessarily have experience to stay by themselves for a few hours. I work outside of home 4 hours for 3 days a week and it might have been an issue in such a situation. The other issue was if the dog could handle boarding / kennels if it had never been exposed to such environment. I think the breeder's input and support would be crucial to settle an older pet in a new home.

I am sure you will get very good advice and input from the breeders here as well as the forum member who have adopted older dogs.

Selecting a reputable, experienced breeder who does health testing is the key for getting a healthy, well adjusted, and well-trained puppy that matches your lifestyle. Having an appropriate set up at your home for the puppy and communication with your breeder would make it easier. I would highly recommend the book, "The Havanese" by Diane Klumb to get to know the breed.

Wish you all the best!
---
Best, Poornima
Join Date: May 2008
Posts: 651
Submit Photo: 0
Photo Nominations 1 Time in 1 Post
thanks, Poornima. I was just wondering if I should contact the breeders of the 2 year old again, just in case she becomes available, but I just told them a couple weeks ago that I was going to hold off for awhile, till maybe next year, and so they may think I'm too much of a flip flopper and couldn't blame them. I think I mentioned something to that effect about separation anxiety and whether she could handle being the only dog, coming from a life with a lot of other canines around, and they said she'd probably love all the extra attention she'd get without other dogs vying for it, but no idea what would happen if I had to leave her alone for a few hours. That would certainly be a big change for her. There is so much to think about. I thought somehow I'd just "know" when it was the right dog, right time, but maybe that's not how it works. Seems like your experience as a Hav owner can be like night and day depending on which particular dog you choose.
Posting Rules

You may not post new threads

You may not post replies

You may not post attachments

You may not edit your posts

---

HTML code is Off

---