Joe
Join Date: Feb 2008
Location: canada
Posts: 814
Submit Photo: 0
Photo Submissions 4 Times in 2 Posts
very disappointing...a tiny rant
---
it was maybe 2 weeks or so ago that i sent an email to hri about my application to adopt.
i asked if i should have heard something from the foster home by now.

i was polite, not demanding or negative in any way.
it was a simple question referring to process.

i was told that i would hear back in a day.

well, 2 weeks later and i'm still waiting for some sort of response.

not trying to bad mouth anyone...but i have given up on the idea of working with these folks.

i will likely move on to the canadian hav rescue.

joe
---
greetings from mugsy & me
flickr
Quincy's Mom-Vinnie too!
Join Date: Feb 2007
Location: Ia.
Posts: 9,923
Submit Photo: 35
Photo Submissions 17 Times in 16 Posts
Joe,
Being out of country could have some bearing on it too. I'm not sure.....but I'm so sorry this didn't work out for you. I know you would given this guy a fabulous home...
---
Vincent-Quincy's playmate
"Behind every unstable dog is a lesson for the owner"-Cesar Millan
Senior Member
Join Date: Nov 2006
Location: California
Posts: 2,082
Submit Photo: 3
Photo Submissions 3 Times in 3 Posts
Joe, I am a state contact for HRI here in California. Typically, an applicant won't hear from the foster home unless they are being considered to adopt. A state contact may or may not respond to all applications they receive. When an application is submitted it is routed by the state the applicant lives in, since you don't live in the US I wonder if they received it or not.
Kathy
Quote:
it was maybe 2 weeks or so ago that i sent an email to hri about my application to adopt.
i asked if i should have heard something from the foster home by now.

i was polite, not demanding or negative in any way.
it was a simple question referring to process.

i was told that i would hear back in a day.

well, 2 weeks later and i'm still waiting for some sort of response.

not trying to bad mouth anyone...but i have given up on the idea of working with these folks.

i will likely move on to the canadian hav rescue.

joe
---
Kathy
www.bellahavanese.com
Riley & Monte's mom
Join Date: Feb 2007
Location: MA
Posts: 5,579
Submit Photo: 2
Photo Submissions 16 Times in 13 Posts
Kubrick & Hitchcock's Mom
Join Date: Apr 2007
Location: New York, NY
Posts: 7,774
Submit Photo: 1
Photo Submissions 33 Times in 24 Posts
Joe, I'm sorry you haven't heard back from HRI. I can totally understand you being frustrated and needing to vent, I would be too! I can understand them not considering you because you are in Canada but they could at least have the decency to e-mail you and let you know that when they said they would.
---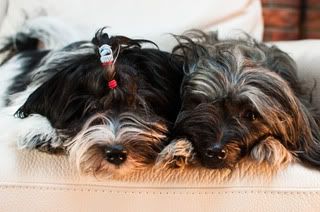 Visit
my blog

-----
Check out my
photos
-----
Photography (pets, people, weddings) -
TripleC Photography
Senior Member
Join Date: Apr 2008
Location: St Louis MO
Posts: 898
Submit Photo: 14
Photo Submissions 5 Times in 5 Posts
Lina:

I think Joe has been in contact with someone from HRI. And as Kathy stated he would not hear from a foster home but from the state contact of the area.

And I am sure that being in Canada and wanting to adopt from the US has some bearing on the situation-since he does not live in the US the process of getting his application to the State Contact may not have happened.

Pat
Pablo&Chuy's momma
Join Date: Jul 2007
Location: Eden, NC
Posts: 4,286
Submit Photo: 11
Photo Submissions 9 Times in 8 Posts
Joe, sorry to read about your frustration. If I remember it correctly, someone from HRI had contacted you to let you know they DID indeed receive your application. And I think you kept asking on a regular bases about 'your case'. If they think Canada is not really doable for them, they maybe could have told you that a lot earlier? But I don't know how these things work. Hope you'll find the perfect match soon.
---
Joe
Join Date: Feb 2008
Location: canada
Posts: 814
Submit Photo: 0
Photo Submissions 4 Times in 2 Posts
my application was received and that was confirmed by email.
i have had several email 'conversations' regarding the process of adoption with an hri representative.
up until now it had been fine.
this last email i sent to them was answered with an email saying they would check with the foster home and get back to me 'tomorrow'.
that last part never happened. that is the source of my disappointment.

i can understand not being acceptable because of distance (tho i did say that i would pay for air shipping) but it would be nice to know if that is the case.

maybe this post is not appropriate in the first place but i did want to vent abit and this seemed the best place for that.

joe
---
greetings from mugsy & me
flickr
Senior Member
Join Date: Nov 2006
Location: California
Posts: 2,082
Submit Photo: 3
Photo Submissions 3 Times in 3 Posts
I understand Joe about needing to vent. I wouldn't give up though, sometimes, especially in rescue, things don't happen the way we would prefer. Please remember too, these are all volunteers that also have a lot on their plates at times. I am sure you will hear from someone soon. Thank you for caring.
---
Kathy
www.bellahavanese.com
Luv My Biewer
Join Date: May 2007
Location: Rocklin, CA
Posts: 3,068
Submit Photo: 0
Photo Submissions 0 Times in 0 Posts
Awww Joe, I know how anxious you are for a playmate for Mugsy. I know that the right dog is out there for you...don't give up. But being patient is for the birds....
---
Northern California
Member BBCA (Biewerbci.org)



Home of VanLeigha Jr. Handlers
Posting Rules

You may not post new threads

You may not post replies

You may not post attachments

You may not edit your posts

---

HTML code is Off

---