Total Havanese Groupie
Join Date: Dec 2007
Posts: 2,639
Submit Photo: 7
Photo Submissions 37 Times in 16 Posts
A Really Long Really Sad Post. How Would You Have Handled This?
---
Well, tonight I met my husband at a good friend's house where the DH had been helping shingle a roof. Our good friend has five kids, and lives in a busy development where there are tons of families with kids who all hang out together. I brought my two bumpkins and of course, couldn't leave home without my "baby" Posh.
We haven't seen our friends since we added Posh to our family. They were ver excited to meet her. The wife of our friend told me that their neighbor had just added a cute non-shedding little white puppy to their household that looked similar to Posh. Havanese are not common in this area at all, and I really assumed it was probably some sort of Morkichonpoosheparddoodle. I will admit I can be, okay am, a snob.
Anywho, our friends' house is basically "kid central" for all the neighbors, and the "have a new puppy" kids came over to play. Meanwhile, as soon as they saw Posh they asked me what kind of dog she was. When I told them she was a Havanese one boy said, "Our puppy is too. They're really rare."
Well, I was definitely excited for Posh to meet their pup. The little boy went home and brought him over, and sure enough he was a cute little cream Havanese boy. Posh had a blast playing with him. He is about four months old and super soft, but full of matting on his back legs and hips. He seemed pretty healthy, but had very pink eyes (not staining). Is this normal for some of the white dogs not to get all of their pigment at 5 months old? I think I remember something about this with those of you who have white or cream dogs.
After my initial shock and excitement that Posh was actually playing with a local Havanese, I began wondering where the family got him. I was crossing my fingers that they got this little one from a reputable breeder. So, I asked the boy. "Did you have travel a long time to get your puppy?"
"No. We got him at Amaze N Farmyard."
My heart fell into the pits of my stomach. Amaze N Farmyard is an obvious puppy broker/pet store/"farm" and no reputable/responsible breeder would allow their pups to be placed here. Here is a
link.
They have mostly "designer" breeds here which we all know is a big pile of ****. My mom thinks she may have purchased my grandfather a dachshund from this "farm" and that puppy died within two days of being at my grandpa's. This was a long time ago, my grandfather is now deceased, but I'm pretty sure the place hasn't "improved" and that they would still sell sick puppies to people who don't know any better.
Eventually the boy's mother came over and she was just so amazed to meet Posh and see an adult Havanese "in the flesh." She asked me about her coat, and if I brushed her a lot, as they never brush their puppy. I told her I brushed Posh usually every day, especially when she was losing her puppy coat or she'd get terrible mats. The lady at this time showed me all of her pup's matting. I had my greyhound comb and showed her how to take out the mats. I was as gentle as possible, and the poor guy still cried. I gave him a little kiss and told the woman she might want to think about giving him a shorter cut if she doesn't want to comb him out or deal with him "blowing coat" which I also explained to her.
Before the mother came over, I was using the neighbor kids as agility obstacles, lining them up to be jumps, using hula hoops, lining kiddos up as weave poles. The boys were loving this and wanted me to show their mom. So Posh did a little "show" and this woman's comments were. "I had read they used to be circus dogs. When we got home I came home and started doing research, the guy at the farm talked us into getting him so I didn't even know how to pronounce 'Havanese'." She went on to ask me if Posh was fully trained by six months, and I told her that she still has accidents but that it comes with the territory of having a small dog and that usually the accidents were because of my lackadaisical behavior. At this time she told me she had first crated the dog, at 8 weeks old, for 8 hours while she worked as a teacher everyday, and he only had one accident. I know many of you work 8 hours or more, but I also know you don't crate your dog for this long...I told her I was glad she was home for the summer, and that maybe she could gate off an area for him during the day when she goes back to school, or get an exercise pen, or something. She thought this might be a good idea anyway, as now he is able to do stairs and investigate more.
After this women left I looked at my friend and said, "Please promise me you will never buy a puppy from Amaze N Farmyard." I went on to explain why as nicely and calmly as I could because at this time I was heartbroken. My friend just looked at me like I was some crazy person. These are friends that went to college with my husband, so, I "inherited" them and sometimes it's very difficult for me to connect with especially the wife.
This is the second time I have met someone and have had mutual friends with that has procured a puppy from this crap-hole. Each time I literally bit my tongue not to go off and "educate" them. I try to give them training suggestions, because both of these people bought a puppy for their very young children on a whim, and usually this leads to bad news for everyone. When the woman made the "circus dog" comment. I said that yes this breed is very intelligent, but her tricks are also a result of over thirty weeks of dog school. I encouraged her to take the pup to some sort of local classes.
So I guess I'll end this novel of a post by just asking you to send that little pup good vibes for a happy life. I'm going to mail my copy of "The Havanese" to my friend, hoping she will give it to her neighbor, who did actually seem to think I might be a resource for her. I will also give this family my contact information. I have a troubling feeling that this pup might end up as a "problem" for the family.
I guess this is my greatest fear with the future of this breed. That more "breeders" with absolutely no scruples will keep seeing Havanese as big buck tickets and these amazing dogs will end up more and more with people who are getting a dog on a whim and filling up the shelters, even here in "middle of the backwoods central Minnesota."
Samson & Delilah's Mom
Join Date: Jan 2007
Location: Nova Scotia, Canada
Posts: 2,683
Submit Photo: 3
Photo Submissions 17 Times in 15 Posts
Good for you Amy to try and educate these people. I know how you feel, sometimes you just want to scream at people who buy pups from pet stores and puppy mills. But now that they have the pup, I hope they take some of your advice and the pup lives a long and happy life.
---
"Hav" a Great Day,
Debbie & Sam & Delilah
www.lossombrahavanese.com
"Be who you are and say what you feel, because those who mind don't matter and those who matter don't mind." - Dr. Suess.
Kimberly
Join Date: Aug 2006
Location: San Francisco Bay Area
Posts: 10,275
Submit Photo: 5
Photo Submissions 19 Times in 13 Posts
Amy, I think you did a great job. As I read your post, I didn't intentionally compare the two of you, but it is also obvious that the dogs are getting completely different levels of care too. You did so much research up front and have continued to care for your dog so well and invest time and energy into Posh that goes way beyond most dog owners. She sounded very ignorant (uninformed) of even some of the most basic care, including how to groom the coat regularly. Puppy mills and backyard breeders will always find buyers like that neighbor, unfortunately. You came to her aid in helping her puppy, even though she didn't realize she could probably use the help. I think you deserve a big pat on the back for that.

Your voice of concern to your friends was nice. Now it is up to them to heed the advice or not. Sounds a lot like parenting! LOL
Kubrick & Hitchcock's Mom
Join Date: Apr 2007
Location: New York, NY
Posts: 7,774
Submit Photo: 1
Photo Submissions 33 Times in 24 Posts
Amy, that is really sad that Havs are making their way into your pet stores! I can't say that I'm surprised, though, as it was only a matter of time. I applaud you for taking the time and effort to educate and help your friends' neighbor and I hope you will make a positive impact on that pup's life.
---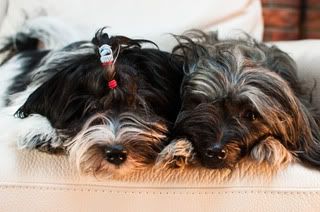 Visit
my blog

-----
Check out my
photos
-----
Photography (pets, people, weddings) -
TripleC Photography
Senior Member
Join Date: Apr 2008
Location: NYC
Posts: 700
Submit Photo: 0
Photo Submissions 0 Times in 0 Posts
Bravo!
I know it's heartbreaking...I've always been an animal person, usually getting pets from shelters, but Alan's allergic to most dogs and very allergic to cats. It's very hard to understand how people can be so ignorant about getting a pet and caring for it
It sounds like you did the best thing you could do in that kind of situation.
---
Michelle (pic of Alan and Guapo)
_______________________________________________
"When you feel lousy, puppy therapy is indicated" - Sara Paretsky
Benji and Lizzie's Mom
Join Date: Jun 2007
Location: New Jersey
Posts: 4,086
Submit Photo: 0
Photo Submissions 6 Times in 5 Posts
Amy, I commend you for taking the opportunity to educate the new puppy owner as well as your friend. Everytime I think of puppy mills and people buying from them, it breaks my heart. We send tons of good wishes to the little guy. Good luck!
---
Best, Poornima
Total Havanese Groupie
Join Date: Dec 2007
Posts: 2,639
Submit Photo: 7
Photo Submissions 37 Times in 16 Posts
Thanks everyone for such nice words. Kimberly what you wrote means a lot to me. I know, unfortunately, that there are a lot of people in this area that are pretty clueless when it comes to be a responsible pet owner. I'm trying my best to cancel out their Karma.
Estrella
Join Date: Nov 2007
Location: SF Bay Area
Posts: 1,076
Submit Photo: 1
Photo Nominations 1 Time in 1 Post
Amy you handled that situation very well and you made it a positive and educational experience for the new puppy owner and your friend. I hate hearing about puppy mills and puppy stores/brokers, it breaks my heart. I am sending lots of good vibes to the little puppy and I hope it works out.
---
Estrella

Senior Member
Join Date: Jan 2007
Location: Toronto, ON, Canada!
Posts: 4,155
Submit Photo: 0
Photo Submissions 16 Times in 6 Posts
Amy, There are lots of clueless people everywhere in regards to buying pets from pet stores and/or puppy brokers..

Havanese dogs have already made their way into pet stores in Toronto. A large chain of stores called 'PJ's Pet Center' now carry havanese on the regular.. They range from 1500-2000. They make claims that they are from champion dogs yada yada yada, but do not go into detail. Obviously that is BS...

I've seen people go into this store for just a look, and have seen them walk out of the store minutes later with a puppy.. talk about buying on a whim.. lol

Ryan
---
Kimberly
Join Date: Aug 2006
Location: San Francisco Bay Area
Posts: 10,275
Submit Photo: 5
Photo Submissions 19 Times in 13 Posts
As I was thinking about this more, I see this carried over into many areas of buying. You can't truly compare our dogs to clothing, but in this case, I think it is comparable. I know a lot of people that get frustrated and enraged when they hear about people buying low quality clothing, especially when they are made by certain manufacturers that utilize slave labor or inhumane working conditions. Do people still buy them? Yes. Could they do much better? Absolutely.

If they had more information, would they still make the same choice?
Posting Rules

You may not post new threads

You may not post replies

You may not post attachments

You may not edit your posts

---

HTML code is Off

---