Senior Member
Join Date: May 2007
Location: Indiana
Posts: 3,119
Submit Photo: 3
Photo Submissions 4 Times in 4 Posts
I got the job!!
---
Hey there guys!!! Just wanted to let you all know that I did get the job. It is part time receptionist. I am really looking forward to this new chapter in my life. I have not had a job in a long long time. This could not have happened at a better time. I get to save up some money for National...which I am not sure is good or bad!!!! The only thing I am not thrilled about is that I have to be there at 6:45
in the morning....I am not a morning person at all...we shall see. I only work until 11:00...not bad at all! I can take care of my girls and then take a nap if I need to. Some of the perks are that I get 50% off of services. This is where I take my girls to get groomed. This will help out alot. I cana take them with me they get groomed and I am at work!!!! It should work out well for me. I will keep you all posted on how things go!!!!
---
~~Mommy"s Little Angel~~
Kubrick & Hitchcock's Mom
Join Date: Apr 2007
Location: New York, NY
Posts: 7,774
Submit Photo: 1
Photo Submissions 33 Times in 24 Posts
Megan, that's great! Congrats on the new job.
---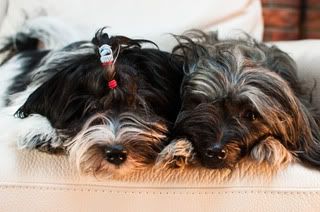 Visit
my blog

-----
Check out my
photos
-----
Photography (pets, people, weddings) -
TripleC Photography
Benji and Lizzie's Mom
Join Date: Jun 2007
Location: New Jersey
Posts: 4,086
Submit Photo: 0
Photo Submissions 6 Times in 5 Posts
Congratulations Megan! Wish you all the best in your new job.
---
Best, Poornima
Senior Member
Join Date: May 2007
Location: Indiana
Posts: 3,119
Submit Photo: 3
Photo Submissions 4 Times in 4 Posts
Why is there a red hand with thumbs down for this thread??? Not sure what I did!
---
~~Mommy"s Little Angel~~
Senior Member
Join Date: Nov 2007
Location: Arkansas
Posts: 1,869
Submit Photo: 0
Photo Submissions 19 Times in 6 Posts
Sounds perfect, congrats!
---
Tritia, Daisy, Cooper, and Bodie.
Amanda
Join Date: Nov 2006
Location: South Carolina
Posts: 9,576
Submit Photo: 2
Photo Submissions 31 Times in 22 Posts
Meg- a few years and we will watch you on groomer has it!
Quincy's Mom-Vinnie too!
Join Date: Feb 2007
Location: Ia.
Posts: 9,923
Submit Photo: 35
Photo Submissions 17 Times in 16 Posts
Congrats Meg!
I saw the thumbs down too and thought oh,no--she hates the job!
---
Vincent-Quincy's playmate
"Behind every unstable dog is a lesson for the owner"-Cesar Millan
Sooo Smart
Join Date: Mar 2008
Location: Georgia
Posts: 3,551
Submit Photo: 9
Photo Submissions 22 Times in 12 Posts
Great. This sounds like a job I could like....except the 6:45 part.
I'm sure you will be use to that in no time -- and love the grooming part. Good luck!!
---
Cicero trained Dale & Ronnie
Chico and Cali
Join Date: Jul 2007
Posts: 1,373
Submit Photo: 8
Photo Submissions 2 Times in 2 Posts
Megan, good luck on the new job.
Those perks sound great.
---
Nan
Chico, Cali, and Finnegan
Senior Member
Join Date: Apr 2007
Location: Long Island, New York
Posts: 8,941
Submit Photo: 3
Photo Submissions 41 Times in 25 Posts
It sounds like the perfect job. I give you credit for the 6:45 though.
If it were my job, the only way they'd get me there at that hour is if I were sleep walking. Good luck with it.
---
<b>Just Milo and me, and . . . </b>Bailey makes three . . . until Ruby said, "hey, what about me?"
Geri, Milo, Bailey and HRH Princess Ruby Tuesday
If you're thinking of getting a puppy, click here
http://www.photoshow.com/watch/YK8AH4rw
Posting Rules

You may not post new threads

You may not post replies

You may not post attachments

You may not edit your posts

---

HTML code is Off

---