Nickie is one
---
Nickie is celebrating his first birthday!
Nickie at 11 weeks:
Nickie7mar13a.jpg
Nickie at one year. Unfortunately his ear hair is still growing back from being shaved 3 months ago. It is taking forever.
Nickieageonea.jpg
And here's Nickie with his ears not showing, but he'll only keep the hood on for about 15 seconds.
rain22nov13.jpg
Dave T
Join Date: Dec 2007
Location: Ontario Canada
Posts: 10,772
Submit Photo: 3
Photo Submissions 112 Times in 110 Posts
happy birthday darling. , many more .
---
Dave and Molly
Ian Dunbar was awarded the Outstanding Achievement Award from I.P.D.T.A. Here's a picture of me accepting the award on his behalf.
Member of IAABC ,International Association of Animal Behavior Consultants , Member of Pet Professional Guild
Metrowest, MA
Join Date: Jun 2009
Location: Massachusetts
Posts: 23,685
Submit Photo: 6
Photo Submissions 299 Times in 297 Posts
Evelyn
Join Date: Apr 2010
Location: Chicago burbs
Posts: 4,652
Submit Photo: 4
Photo Submissions 30 Times in 28 Posts
Happy Birthday. What a cutie! Love the hood
---
Senior Member
Join Date: Aug 2012
Location: Cape Cod, MA
Posts: 2,550
Submit Photo: 9
Photo Submissions 19 Times in 19 Posts
Happy birthday Nickie. You are one cute puppy! The pictures are great, but I especially like the one with his chin resting on the ring of the stool.
---

Mary (miss you, Bailey-1996-2011 and Tyler-1997-2015)
Ginger's Happy Owners
Join Date: Dec 2013
Location: SoCal
Posts: 344
Submit Photo: 0
Photo Submissions 4 Times in 4 Posts
Canela, Vino & Jack's Mom
Join Date: May 2012
Location: Born and raised in Chicago; now North Pole, Alaska
Posts: 693
Submit Photo: 35
Photo Submissions 6 Times in 6 Posts
Happy Birthday Nickie! Love the silver color.
---
Betty AKA Canela, Jack and Vino's Mom
In a perfect world, every dog would have a home and every home would have a dog..
Cate
Join Date: Apr 2013
Location: Ontario, Canada
Posts: 144
Submit Photo: 0
Photo Nominations 1 Time in 1 Post
Happy Birthday Nickie! He's so cute!
---
Cate
Ruth (me) Chester (dog)
Join Date: May 2013
Location: St. Louis area
Posts: 887
Submit Photo: 16
Photo Submissions 8 Times in 8 Posts
Happy 1st Birthday Nickie!
---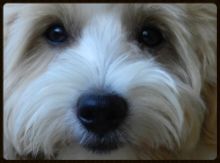 Hav to hav a Hav!!!
Ruth and Chester
(Chester's DOB - 4/04/13)
"Dogs are NOT stupid, they are smarter than you think."
Senior Member
Join Date: Aug 2012
Location: North Carolina
Posts: 2,362
Submit Photo: 36
Photo Submissions 60 Times in 60 Posts
Posting Rules

You may not post new threads

You may not post replies

You may not post attachments

You may not edit your posts

---

HTML code is Off

---