Senior Member
Join Date: Apr 2008
Location: NYC
Posts: 700
Submit Photo: 0
Photo Submissions 0 Times in 0 Posts
WELCOME MAMBO!!!
---
I know Mambo and his mom are out there...they are in our puppy class on the Upper East side. I just wanted to send them an official Havanese Forum welcome! Guapo can't wait to play with Mambo again next week!
---
Michelle (pic of Alan and Guapo)
_______________________________________________
"When you feel lousy, puppy therapy is indicated" - Sara Paretsky
Senior Member
Join Date: Nov 2006
Location: New Jersey
Posts: 9,794
Submit Photo: 2
Photo Submissions 28 Times in 20 Posts
Wow - another new hav in the area - Welcome!!

Michele, can you convince her to come to the playdate???
---
Lily, Lexi ,Logan, Laila & Lizzie's Mom
www.HillsboroughHavanese.com
(Gigi, Lucas, Dugan, Madeline,Reo,Alvin, Lucky, Lukey, Punch, Colby & Ben-(we will always Love you!!)
Kubrick & Hitchcock's Mom
Join Date: Apr 2007
Location: New York, NY
Posts: 7,774
Submit Photo: 1
Photo Submissions 33 Times in 24 Posts
Michele, you've been hiding another Hav! Maybe Mambo can join us on a play date sometime.
---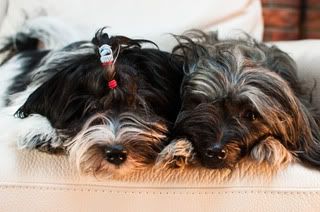 Visit
my blog

-----
Check out my
photos
-----
Photography (pets, people, weddings) -
TripleC Photography
Senior Member
Join Date: Apr 2008
Location: NYC
Posts: 700
Submit Photo: 0
Photo Submissions 0 Times in 0 Posts
Laurie, I mentioned it to her in class this week. I know she doesn't log on very often, but I'm hoping she will.

Lina, Mambo is finally warming up to other dogs (this week was our 3rd class). He and Guapo wanted to play the WHOLE time so I think we could have a fun little playdate with the 3 of them. Mambo is much bigger than Guapo already!
---
Michelle (pic of Alan and Guapo)
_______________________________________________
"When you feel lousy, puppy therapy is indicated" - Sara Paretsky
Posting Rules

You may not post new threads

You may not post replies

You may not post attachments

You may not edit your posts

---

HTML code is Off

---