Join Date: Jul 2008
Posts: 67
Submit Photo: 1
Photo Nominations 1 Time in 1 Post
Solid Gold
---
Hi guys I just switched My dogs to the solid gold bison & salmon in the pink bag, but the vet says that I should have Gracie on a puppy food seeing as how she is only 9weeks old, Do you guys think I should switch her to a puppy food or add something to what I am already feeding? Help!!
Here's the basic review on Solid Gold Wee Bits:
Description: 380 kcal/cup
Ingredients:
Bison | Salmon Meal | Millet | Brown Rice | Cracked Pearled Barley | Rice Bran | Canola Oil | Tomato Pomace | Flaxseed | Natural Flavor | Salmon Oil (source of DHA) | Choline Chloride | Taurine | Dried Chicory Root | Parsley Flakes | Pumpkin Meal | Almond Oil | Sesame Oil | Yucca Schidigera Extract | Thyme | Blueberries | Cranberries | Carrots | Broccoli | Vitamin E Supplement | Iron Proteinate | Zinc Proteinate | Copper Proteinate | Ferrous Sulfate | Zinc Sulfate | Copper Sulfate | Potassium Iodide | Thiamine Mononitrate | Manganese Proteinate | Manganous Oxide | Ascorbic Acid | Vitamin A Supplement | Biotin | Calcium Panthothenate | Manganese Sulfate | Sodium Selenite | Pyridoxine Hydrochloride | Vitamin B12 Supplement | Riboflavin Supplement | Vitamin D3 Supplement | Folic Acid |
Guaranteed Analysis:
Crude Protein min 28%
Crude Fat min 18%
Moisture max 10%
Crude Fiber max 4%
---
Last edited by arampino; 07-28-2008 at

09:02 AM

.
Luv My Biewer
Join Date: May 2007
Location: Rocklin, CA
Posts: 3,068
Submit Photo: 0
Photo Submissions 0 Times in 0 Posts
I know many people don't feed puppy food anymore. I've got my nearly 3-year old Maltese on Wee Bits and he seems to be doing very well. I think there are plenty of calories - the only "BS" story that I've heard about puppy food is the DHA type additives that are for brain development. I don't know if they are necessary however.
---
Northern California
Member BBCA (Biewerbci.org)



Home of VanLeigha Jr. Handlers
The 3 Amigos
Join Date: Nov 2007
Location: Toronto, Ontario
Posts: 2,108
Submit Photo: 10
Photo Submissions 7 Times in 5 Posts
From thier FAQ

I have a small breed puppy but I do not see a small breed puppy food. What should I feed him/her?
We recommend feeding small breed puppies the Just a WEE BIT formula. It is specifically formulated for smaller breeds which have a higher calorie requirement per pound of body weight than larger dogs and the nutrient profile closely matches that of the Hundchen Flocken puppy formula. Thus, it is suitable for puppies and adults alike.
Join Date: Jul 2008
Posts: 67
Submit Photo: 1
Photo Nominations 1 Time in 1 Post
I know I read that on thier site , but the vet like really jumped my case & said that the dog was missing out on important nutrients. Of course I brought the bag with me & he never even asked to see the ingriedients list. Should I just find a new Vet?
The 3 Amigos
Join Date: Nov 2007
Location: Toronto, Ontario
Posts: 2,108
Submit Photo: 10
Photo Submissions 7 Times in 5 Posts
Well let me guess, did your vet recommend the brand they carry inhouse? That crappy Hills?
If you vet was like that, I'd personally not feel good and would probably look for another. What you may want to do is go to
www.dogfoodanalysis.com
. Print out the review for the hills products the vet recommends and then the one for what you are feeding. See what they say... lol
All the Hill foods get like a one or two star rating. Bottom of the heap.
Join Date: Jul 2008
Posts: 67
Submit Photo: 1
Photo Nominations 1 Time in 1 Post
No he didn't suggest thier brand, he just suggested that I look into getting her on a puppy food & that's all he said.
Kubrick & Hitchcock's Mom
Join Date: Apr 2007
Location: New York, NY
Posts: 7,774
Submit Photo: 1
Photo Submissions 33 Times in 24 Posts
Ashley, many vets don't like to go with new ideas... he probably has been stuck on using puppy food on puppies for years and just doesn't want to change. Kubrick hasn't been on puppy food since he was 4 months old and if I had known when he was younger that I could feed non-puppy food, I would have. I wouldn't necessarily change vets because of this unless you feel very uncomfortable with the way he handled the situation. My vet has told me several times not to give bully sticks and give raw hides instead but after doing lots of my own research I chose to got the other way (no rawhides, giving bully sticks) and I just nod at him. Everyone has their own opinions. As long as you are doing your research and really understand why you don't agree with your vet and/or are deciding to do something different, then I think it's fine.
---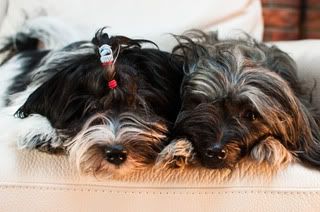 Visit
my blog

-----
Check out my
photos
-----
Photography (pets, people, weddings) -
TripleC Photography
Posting Rules

You may not post new threads

You may not post replies

You may not post attachments

You may not edit your posts

---

HTML code is Off

---