Join Date: Aug 2008
Posts: 3
Submit Photo: 0
Photo Submissions 0 Times in 0 Posts
Introduction + a couple questions
---
Hello everyone,
I'm brand new to the forum and just wanted to introduce myself to you all. My name is Jenny and I'm originally from Miami, FL but currently live in NYC with my husband and our sweet girl Paola (aka Punchy), an English Bulldog. We've been living in the city now for about 1 1/2 years now and have had a blast!
Although I don't have a Havanese yet to call my own, I am absolutely crazy for one! It's just a matter of getting the timing right.
I'd love to hear about you and your pups. Also, are any of you apartment dwellers? How has it been for you having a Havanese in an apartment? House breaking, etc? I've done my share of research so far and the consensus is that they do well in apartments.
I also have a question which may seem silly, but I'm hoping one of you would know: is it possible to follow a dog's Championship? E.g. the points the dog has gotten, and to confirm whether in fact it is a champion? Also, what's the difference between the title CH and Amer CH?
Thanks and looking forward to hearing from you/meeting you!
Jenny
Total Havanese Groupie
Join Date: Dec 2007
Posts: 2,639
Submit Photo: 7
Photo Submissions 37 Times in 16 Posts
Jenny, I think you can get a ton of info from Lina, Kubrick's mom. She lives in an apartment with an amazing havanese in NYC.

Welcome to the forum and the exciting yet addicting world of the havanese!
Kimberly
Join Date: Aug 2006
Location: San Francisco Bay Area
Posts: 10,275
Submit Photo: 5
Photo Submissions 19 Times in 13 Posts
You can get a championship in different countries, but most of us just use the generic title of "CH" for a U.S. championship. If a person's dog is going to be viewed internationally (advertised or online) or if they show any of their other dogs internationally, they may distinquish between an Amer CH and any other championship.

Yes, you can follow points/championship status online. The status isn't instant and may be several weeks behind, but it is available on AKC's web site. (It isn't easy to find, so I can come back and show you specifically how to locate that if you would like the info.)

Most of all, welcome!
Senior Member
Join Date: Jan 2007
Location: Toronto, ON, Canada!
Posts: 4,155
Submit Photo: 0
Photo Submissions 16 Times in 6 Posts
Welcome to the forum!

Ryan
---
Kubrick & Hitchcock's Mom
Join Date: Apr 2007
Location: New York, NY
Posts: 7,774
Submit Photo: 1
Photo Submissions 33 Times in 24 Posts
Hi Jenny and
to the forum! Like Amy mentioned, I do live in NYC (Upper East Side... you?) and live in a high rise one-bedroom apartment. Kubrick does really well here. It took him a while to get used to the city noise but now he is fearless!
As far as house breaking, I have to admit I never did it. I did, however, potty train him. Kubrick is 100% reliable on pee pads and has been since he was 4.5 months. When we go outside we make sure that he goes too, but I am really lazy and can't take him down that often, so we decided to go with pee pads and outside and we're really glad we did. I'm sure you can housebreak your dog in an apartment, but it will be a lot harder, especially if you work... I think potty training is enough for apartments, but it's all up to you and how much time you have to give the dog as he grows older. You have to remember that Havs are smaller than bulldogs and have smaller bladders so they need to go more often, especially when they're puppies. Kubrick does well in the apartment as far as size goes. He runs around like a maniac when he has extra energy and we make sure to tire him out by going on long walks on the weekends and playing hard with him at night.
Anyway, I hope you can get a Hav soon and when you do maybe we can get together for a play date!
---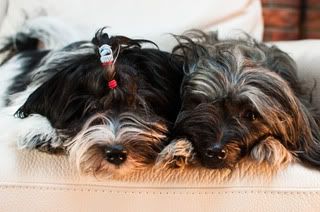 Visit
my blog

-----
Check out my
photos
-----
Photography (pets, people, weddings) -
TripleC Photography
Luv My Biewer
Join Date: May 2007
Location: Rocklin, CA
Posts: 3,068
Submit Photo: 0
Photo Submissions 0 Times in 0 Posts
Hi - Welcome to the forum Jenny. I had a townhouse when I got my first two dogs and luckily had two large balconies that they could use if I couldn't get them out fast enough for potty and poo. Not the best solution but at least they weren't going indoors. If you don't have balconies, you'll just have to plan on walking them twice a day and using pee pads or if you can afford it, those indoor grass potties. They've got real grass and the elimination waste (liquid) seeps down to a special place. Also, consider getting an exercise pen to contain the pup in an area so that they don't have free rein and then you can use it to block off the front door so they can't dash out. If you invest in the ones that have a door opening you won't trip trying to climb over it.
Please make sure that you get your Havanese from a breeder that health tests - if you have questions, there are lots of threads you can search on "health testing" some of the experienced members can answer them for you.
Another place to look up dog show results is
www.infodog.com
. It's really neat. You have to be a member to track a dog's individual results, but if you're really serious you could join for $5.95 a month until you find your pup.
Good luck and we love pictures.
---
Northern California
Member BBCA (Biewerbci.org)



Home of VanLeigha Jr. Handlers
Join Date: Aug 2008
Posts: 3
Submit Photo: 0
Photo Submissions 0 Times in 0 Posts
Hi Everyone,
Thanks for the warm welcome -- it's great to be on here! I was lurking for a couple weeks now but I'm glad to have introduced myself.
Kimberly thanks for answering my question. I tried to look info like that up on the akc website, but in my opinion, it's not a very user-friendly site (or is it just me?) LOL. Anyway, if you ever come across the link, please do send it my way. Thanks!
Lina, I love your little Kubrick -- he's such a cutie, and looks like a total character! I live (and work) in the financial district. The method you've taught him makes sense, especially living in the city. You're totally right about Paola (my bulldog): she can hold it for a looong time! I don't expect our (hopefully) soon-to-be little Hav to do the same, so perhaps I'll have to train him like you trained Kubrick. I'm just hoping it won't mess up Paola's training, as she never goes in the apartment. LOL. I guess I'll cross that bridge when I get there. We will definitely have to set up a play date one day!
Have a great Saturday everyone.
Kimberly
Join Date: Aug 2006
Location: San Francisco Bay Area
Posts: 10,275
Submit Photo: 5
Photo Submissions 19 Times in 13 Posts
I agree with you completely - the AKC web site is not very user friendly. I have had to find my way around over time and remembering where to locate info. I'm on my way out the door, but will be back this evening to show you how to find the info. There is a free search that will give you the number of points and majors, but if you pay $8 (I think), you can purchase a complete listing with dates & judges & show info where the points were obtained. I'll try to post both methods for you this evening.
Sooo Smart
Join Date: Mar 2008
Location: Georgia
Posts: 3,551
Submit Photo: 9
Photo Submissions 22 Times in 12 Posts
Welcome. I think you will love this forum....and a Havanese. They are both addictive and you can get all your questions answered here. Lots of nice people that are willing to help. Be sure to post pictures when you find your new furbaby.
---
Cicero trained Dale & Ronnie
Senior Member
Join Date: Apr 2007
Location: Long Island, New York
Posts: 8,941
Submit Photo: 3
Photo Submissions 41 Times in 25 Posts
Welcome to the group. You will love the havanese breed. They're adorable little characters and a great source of entertainment. As for the potty training negatively affecting your other dog, I wouldn't worry about it. I have two older girls and neither of them has had one incident in the year I've had Milo and he gives them plenty of opportunity.
---
<b>Just Milo and me, and . . . </b>Bailey makes three . . . until Ruby said, "hey, what about me?"
Geri, Milo, Bailey and HRH Princess Ruby Tuesday
If you're thinking of getting a puppy, click here
http://www.photoshow.com/watch/YK8AH4rw
Posting Rules

You may not post new threads

You may not post replies

You may not post attachments

You may not edit your posts

---

HTML code is Off

---