Join Date: Aug 2008
Posts: 231
Submit Photo: 8
Photo Nominations 2 Times in 1 Post
I need some help here
---
Okay so I have been doing lots and lots of research on the Havanese...and I know I HAVE TO HAVE one. I have looked and looked and even talked to hundreds of people...and even visited.

So many people say the male is such a better dog. I have never had a male dog inside my house. I am SCARED to death of him marking. The other question is this....do males really make the better pet companion? This may really sound stupid...but I have been talking with a breeder who has both a male and female about 5 weeks old and they are both so CUTE that I cannot decide which way to go and by george I can't afford both of them. Both the male and female have about the same personality...visited them yesterday

Thanks ahead of time for any suggestions....

I do have an inside female chihuahua.

Thanks, Tammy

Tammy
Kubrick & Hitchcock's Mom
Join Date: Apr 2007
Location: New York, NY
Posts: 7,774
Submit Photo: 1
Photo Submissions 33 Times in 24 Posts
I won't go over whether a male or female makes a better pet as people will say whatever it is they feel based on what they have. I will say that based on my experience with Kubrick, I don't have ANY problems with marking. Actually Kubrick has never ever EVER marked anything in his life. He doesn't lift his leg to pee and never has. He tried to once and I pretty much told him no and he's never done it again. He is 15 months old and still squats to pee and has never marked anything, even outside. He was neutered at 6 months.

Also, he is a love bug and very easy to train. Most of the Hav females are dominant, so I know quite a few that do mark... that is NOT to say that no male marks, only to say that you can get either sex that will... I don't think that marking behavior is a good reason to get or not get a female/male.
---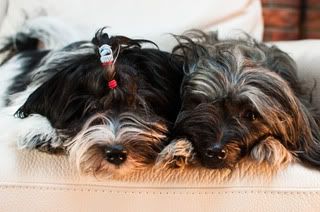 Visit
my blog

-----
Check out my
photos
-----
Photography (pets, people, weddings) -
TripleC Photography
Luv My Biewer
Join Date: May 2007
Location: Rocklin, CA
Posts: 3,068
Submit Photo: 0
Photo Submissions 0 Times in 0 Posts
In general, males tend to be more affectionate than females and since you've already got a female Chi why not go with a male? I really would be more concerned with housebreaking than whether or not a male marks. You can always use a belly band. And Lina's right, females can mark too. But the most important thing is to work with the breeder who health tests and can watch the puppy's temperament and help you decide which is best for your family. Also, a meeting between the pup and your Chi before you bring the puppy home might also help you make a decision. Just make sure your Chi is clean and the feet are sanitized before visiting. And not before the puppies have had their shots at 9 weeks. Some breeders may nix the idea, but it's the best when adding to a household that already has a dog. But Havanese puppies are very adaptable, so I wouldn't worry too much if you can't do a meet and greet before you bring your puppy home.
---
Northern California
Member BBCA (Biewerbci.org)



Home of VanLeigha Jr. Handlers
Estrella
Join Date: Nov 2007
Location: SF Bay Area
Posts: 1,076
Submit Photo: 1
Photo Nominations 1 Time in 1 Post
I have an intact boy and a rescued female. The male is WAY more affectionate towards me than the female, but she is in love with my husband. I think it just depends on the hav's personality, but generally the males are "in love" with you and the females love you.

The hardest part is just housebreaking, you can train a male not to mark. Tito wont mark in the house, but he does make me nervous at other peoples houses if they have dogs. Thats when that belly band comes in handy. He is pretty good overall, so I wouldnt really factor marking as a big concern.

I would focus on finding a great breeder who does all the health testing and will BE THERE for you for anything that comes up.
---
Estrella

Kimberly
Join Date: Aug 2006
Location: San Francisco Bay Area
Posts: 10,275
Submit Photo: 5
Photo Submissions 19 Times in 13 Posts
Each dog has an individual personality, but in general, yes, the males do tend to be more affectionate and loyal.
I had one male that lifted his leg ONE time, but he was also intact and we had a bitch in heat. He was an adult and had no business lifting his leg and when he heard me yell at him, he never did it again. (I rarely ever advocate negative reinforcement, but in the case of marking I was putting a stop to that immediately!)
I agree with Carolina, Lisa & Estrella's above observations, but I just have to emphasize one point that Estrella made again because it is so important:
Quote:
I would focus on finding a great breeder who does all the health testing and will BE THERE for you for anything that comes up.
---
Last edited by Havtahava; 08-10-2008 at

04:17 PM

.
Pepper's mom
Join Date: May 2007
Location: Southern CA
Posts: 1,329
Submit Photo: 0
Photo Submissions 6 Times in 5 Posts
Your female Chi might get along better with a male Hav than another female, but that's something only you can answer for sure.

Personally I prefer males. They ARE more affectionate overall than the females, and they also tend to be more clownish in their antics. At least in my experience.

With good potty training, social training and being neutered, a male dog shouldn't have a problem with indoor marking.
---
Wanda & Pepper
Join Date: Aug 2008
Posts: 231
Submit Photo: 8
Photo Nominations 2 Times in 1 Post
Oh WOW! Thanks a million! I fell in love with the male but had concerns....I think ya'll have helped me out a lot. You have all eased my mind...

Tammy
Joe
Join Date: Feb 2008
Location: canada
Posts: 814
Submit Photo: 0
Photo Submissions 4 Times in 2 Posts
mugsy is my first male dog, every dog before has been a female and they were great, but mugsy is special.
---
greetings from mugsy & me
flickr
Total Havanese Groupie
Join Date: Dec 2007
Posts: 2,639
Submit Photo: 7
Photo Submissions 37 Times in 16 Posts
I have to say that I had never owned a male dog before I got my great dane. I really didn't have a preference for male vs. female, but my husband had all of your concerns and also the whole red excitable penis freaked him out.
In the six years that he graced this planet, and he was neutered at about five or six months (can't remember), I can honestly say that I never saw any excitable penis nor did he ever mark inside my house or anyone else's house. He was a very loving dog who bonded in a way I had never bonded with my female dogs, I would have to say that it wasn't more of a bond, but it was a different bond and I'm happy I was given that experience.
With Posh, I have had the embarrassment that goes along with a "dominant bitch" as my agility trainer lovingly described her. I've read in a couple of sources that havanese are a matriarchal breed and that many times the females do just as much mounting and marking as the boys. I have experienced Posh marking her territory in the tunnels at the agility class, not cool, and at my in-laws house to show the totally passive cavalier who was boss. I have also stopped Posh from her "humping escapades" as she tried to hump every dog that came over to our house.
Meanwhile, I don't know how a dog could be more loving than my Posh girl is. Honestly, I didn't care what sex of dog I got, I just knew she was the right one for me the moment I set eyes on her. I could feel it in my heart, and at that time she was the breeder's show puppy so I had to dismiss the idea. Obviously, everything worked out.
My final advice, open your heart and your mind and the right dog will find you. (I'm assuming that this right dog will come from a responsible ethical breeder who is working diligently with health tested dogs to better the breed
!...or will be a rescue
! )
Senior Member
Join Date: Nov 2006
Location: Long Island, NY
Posts: 8,619
Submit Photo: 3
Photo Submissions 19 Times in 19 Posts
Well, I have one of each and they are both very affectionate. I really don't see mich of a difference.
---
Michele
Kodi & Shelby's Mom and Julian's Grandma
Posting Rules

You may not post new threads

You may not post replies

You may not post attachments

You may not edit your posts

---

HTML code is Off

---