Peanut is coming on Friday...
---
I can't believe it's already here. He'll be a couple days shy of nine weeks. Here's his six-week-old pic again until I get some new ones.
The kids and I went and picked up a few grooming supplies, food rec'd by the breeder, and some toys and we're heading out to get the playpen. Anything else I need right now that I'm not thinking of?
People have been saying "Are you crazy??" when they find out we're getting a puppy this week. Kind of unnerving, lol.
My daughter has been reading up on grooming and housebreaking and my grandmother has said she'll come by to help babysit while I work(home office) and the kids are at school...so i think we're pretty prepared...
thanks for listening
Senior Member
Join Date: Apr 2008
Location: NYC
Posts: 700
Submit Photo: 0
Photo Submissions 0 Times in 0 Posts
YAY!!! Congrats! Can't wait to see all the pics once you get him home!
---
Michelle (pic of Alan and Guapo)
_______________________________________________
"When you feel lousy, puppy therapy is indicated" - Sara Paretsky
Lola's Mom
Join Date: Feb 2008
Location: San Francisco
Posts: 989
Submit Photo: 36
Photo Nominations 1 Time in 1 Post
So exciting! What a dollbaby.

Do you have a crate for Peanut? Also, you might want to get a water bottle, probably not the dog size, but the biggest small animal size for a puppy. Pee-pads, Nature's Miracle or other deodorizing cleaner, small wipes for small areas - like pre-moistened eye wipes, or Natural Bath wipes.

Have you seen the threads with the puppy ex-pen/crate/pee-pad set ups? Just make sure you have everything in there!
---
---Little Lola a.k.a. Princess Pee and Poop and her humom Anne
"Happiness is a warm puppy" Charles Schultz
Senior Member
Join Date: Apr 2007
Location: Long Island, New York
Posts: 8,941
Submit Photo: 3
Photo Submissions 41 Times in 25 Posts
I'm so excited for you. Can't believe the time has gone so fast . . . at least for me.
Tak lots of pictures when Peanut comes home. I'll be anxiously waiting.
---
<b>Just Milo and me, and . . . </b>Bailey makes three . . . until Ruby said, "hey, what about me?"
Geri, Milo, Bailey and HRH Princess Ruby Tuesday
If you're thinking of getting a puppy, click here
http://www.photoshow.com/watch/YK8AH4rw
Senior Member
Join Date: Nov 2006
Location: New Jersey
Posts: 9,794
Submit Photo: 2
Photo Submissions 28 Times in 20 Posts
PEANUT IS COMING HOME!!!!
I am so excited for you!!
---
Lily, Lexi ,Logan, Laila & Lizzie's Mom
www.HillsboroughHavanese.com
(Gigi, Lucas, Dugan, Madeline,Reo,Alvin, Lucky, Lukey, Punch, Colby & Ben-(we will always Love you!!)
Kubrick & Hitchcock's Mom
Join Date: Apr 2007
Location: New York, NY
Posts: 7,774
Submit Photo: 1
Photo Submissions 33 Times in 24 Posts
How exciting! Can't wait to meet Peanut through pictures!!!!
---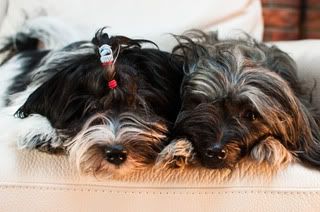 Visit
my blog

-----
Check out my
photos
-----
Photography (pets, people, weddings) -
TripleC Photography
Henry 2006-2018/ Kordelia
Join Date: Jun 2007
Location: NJ/NYC metro.
Posts: 4,155
Submit Photo: 11
Photo Submissions 25 Times in 25 Posts
Peanut is beautiful !
ohhh, the waiting ! I went to the pet shop or shopped on-line everyday while waiting for Henry! I even bought a gift for his Mommy!

All those folks are jealous by the way, they all really want a puppy . . .they are thinking IWAP.

kisses to Peanut ahead of time!
Senior Member
Join Date: Jan 2008
Location: Cajun Country
Posts: 2,876
Submit Photo: 23
Photo Submissions 6 Times in 5 Posts
Awwww, he's so cute! Can't wait to see homecoming pics.
---
Kim, Santos & Brew
Joe
Join Date: Feb 2008
Location: canada
Posts: 814
Submit Photo: 0
Photo Submissions 4 Times in 2 Posts
collar, leash, harness?

good luck!
---
greetings from mugsy & me
flickr
We ran out and got a few more things and what a suprise to see all the nice responses
Oh, yeah, we got a collar and leash. is a harness better? the breeder said to have some pee pads for when we pick him up at the airport so we do have a package of those. but I'll get those wipes. thanks for that tip
I am opting to do the pack and play instead of the x-pen and then we'll upgrade him to our mudroom ( 6X8 room) when I know that I can trust our girl chloe with him. do you think that's a good plan?
I'll definitely post lots of pics. thanks again!!!
Posting Rules

You may not post new threads

You may not post replies

You may not post attachments

You may not edit your posts

---

HTML code is Off

---