Junior Member
Join Date: Mar 2008
Location: Michigan
Posts: 871
Submit Photo: 5
Photo Submissions 7 Times in 4 Posts
Freedom!!
---
Well, it's not a great picture.
And, no one around my neighborhood was all that impressed.
But I figured another hav mom (or dad) would understand.

Roxie finished her 3rd and last training session for the Invisible Fence on Thursday and today she had her first RLH in her very own yard!! It was such fun to watch and I think I was as proud as I was watching my kids ride their bikes with no training wheels the first time. She has done soooo well (I may be biased but she is so smart)! I didn't enjoy the training on Thursday watching her get one real "zap" but she hasn't even tried to go through the boundry since.

(This was taken with my point-and-shoot and is actually her playing fetch. i couldn't catch her RLH'ing... too fast! When I get a little more confident that she's not going to bolt I'll drag the big camera out and try for one of those feet flying, ears flapping shots!)
---
~Ann and Roxie
Kimberly
Join Date: Aug 2006
Location: San Francisco Bay Area
Posts: 10,275
Submit Photo: 5
Photo Submissions 19 Times in 13 Posts
Congratulations! I'd love to see RLH photos, but the assurance of her safety is so much more important.

I rarely ever encourage invisible fencing, but it sounds like you are being incredibly wise about the whole thing and not leaving her unattended, so kudos to you!

It sounds like it is working well for you already, Ann!
Senior Member
Join Date: Oct 2007
Location: West Bloomfield, MI
Posts: 1,621
Submit Photo: 4
Photo Submissions 2 Times in 2 Posts
Oh Ann,
Roxy is so going to love being able to be off leash. Yay!!!! It's so good to see her run like this right in her very own back yard! She's one smart cookie to have figured out the invisible fence so fast. You GO Roxy-girl!
---
~Shelly~
"All knowledge, the totality of all questions and all answers is contained in the dog." - Kafka
Kubrick & Hitchcock's Mom
Join Date: Apr 2007
Location: New York, NY
Posts: 7,774
Submit Photo: 1
Photo Submissions 33 Times in 24 Posts
Ann, Roxy really looks very happy in her picture. Glad you were able to get the fencing issue figured out!
---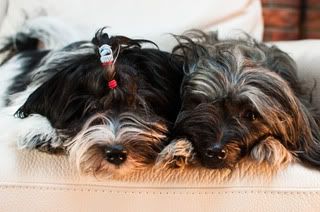 Visit
my blog

-----
Check out my
photos
-----
Photography (pets, people, weddings) -
TripleC Photography
Quincy's Mom-Vinnie too!
Join Date: Feb 2007
Location: Ia.
Posts: 9,923
Submit Photo: 35
Photo Submissions 17 Times in 16 Posts
Way to go Ann! I'm happy you got something that will work for you in your situation. We thought about trying it,but I changed my mind because of Vinnie. Vinnie I think,has the potential to risk the shock to get out in times when there is something he must herd on the other side. He actually has broken several cables/clasps made for dogs twice his weight. He is extremely strong and I couldn't risk him getting injured. I think it'd be fabulous though if not for Vinnie.
---
Vincent-Quincy's playmate
"Behind every unstable dog is a lesson for the owner"-Cesar Millan
Senior Member
Join Date: Feb 2008
Posts: 2,365
Submit Photo: 0
Photo Submissions 16 Times in 12 Posts
Yeah Roxie! Freedom to RLH!!!!

Congratulations Ann! I'm very excited for you and Roxie (and the kids!) that you made the effort to install a fencing even with your neighborhood restrictions. Roxie is going to love you even more for it.

I know you'll have to watch her closely but she's a smart dog - she may try to push her boundaries at least once more, but she'll figure it out.
---
Jill - Tess & Cody's mom
Senior Member
Join Date: Jan 2008
Location: Westfield, Massachusetts
Posts: 224
Submit Photo: 2
Photo Submissions 0 Times in 0 Posts
Hi Ann..Thanks for the update on your training with Roxy on the invisible fence. I have it for my three Havs and they love the freedom it provides. They are smart pups..one correcton and they got it!! They are never left unattended and we carry a big stick because of outdoor critters that come by like foxes and coyotes. Our property did not lend itself to fencing and this worked perfectly..not for everyone!! The ability to have the freedom of running in a large yard without boundaries and I have the security of all the exits covered makes me feel a little better when the doorbell rings..now they just say HI at the door and do not even attempt to run out!! Thanks for the great picture..I never remember to take my camera out..what fun to catch a picture while they are in FLIGHT!! Trish
Junior Member
Join Date: Mar 2008
Location: Michigan
Posts: 871
Submit Photo: 5
Photo Submissions 7 Times in 4 Posts
Let me just add, as a caveat (to people searching the forum for info on invisible fencing and havs).... although I am so far really happy with the decision to go with the Invisible Fence,I am not leaving her out unattended because the fence keeps her in, not other things out. And I can see where you could easily give in to the temptation to do so seeing how easily she has seemed to grasp her boundaries. Of course, so far she doesn't WANT to stay out without me (or dad or brothers). Guess that's one advantage of being a velcro dog!
---
~Ann and Roxie
Suzy and Cazzie
Join Date: Nov 2007
Location: Up North & Down South
Posts: 796
Submit Photo: 0
Photo Nominations 1 Time in 1 Post
Hi Ann,
Happy to see Roxie running "free." With all her energy, she's not one to be kept house-bound. Glad the fence is working for you.
Sue
---
Sweet Chelsie Coton
Posting Rules

You may not post new threads

You may not post replies

You may not post attachments

You may not edit your posts

---

HTML code is Off

---