Katie
Join Date: Sep 2006
Location: Rocklin, CA
Posts: 2,217
Submit Photo: 1
Photo Submissions 18 Times in 14 Posts
Scared for my Mouse
---
I have some news about Miss Mouse today on her 6mo birthday~
She has to have ulnar surgery on her bowed leg.
I am so sad and so scared. I took her to the vet the week before the Nationals because she has been limping every day for a few weeks. We did x-rays and a full check up. The x-rays showed that her growth plates are still open, but her bone is very bowed and her joints are out of whack in both her wrist and her shoulder. The vet feels that this is injury related (meaning at some time since she was born, or even during birth her leg was injured) and she doesn't feel this is CD or heriditary. The vet said surgery was her best bet, as it will hopefully allow her joints to fall back into place and not cause her so much pain. We are bringing in an orthopedic surgeon from another vet practice to do the surgery. Even after the surgery, Mouse will always have a bowed leg, and will probably always have a limp, but hopefully the surgery will help her be pain free and help ward off arthritis as she gets older.
Up to this point I was not fully convinced that surgery was necessary. I just thought
so what
if she had a bowed leg and a little limp. I was hoping she could still live a long full healthy life with a crooked leg and a limp. I talked to a few people at the Nationals that have had the same surgery done on their dogs. They helped me see that there is a benefit to doing the surgery. And since I have been home, I can see that she is getting worse and worse and limping more and more. She is holding up her leg now when she stops running or is resting. I now know the surgery
needs
to be done.
It's scheduled for the 12th of Sept. It's going to be a long couple weeks for me leading up to the surgery. And recovery is very long (up to 8 weeks) and very slow. I am so scared for my baby girl~
I know they say God doesn't give you more than you can handle. But I just wonder sometimes why God chose
me
to handle so much...
---
Katie
www.MopTopHavanese.com
Paws.....and reflect on what life has given you~
---
Last edited by MopTop Havanese; 08-11-2010 at

01:03 AM

.
| | |
| --- | --- |
| The Following User Nominates MopTop Havanese Great Photo: | |
Sissygirl's Mom (Marie)
Join Date: Aug 2007
Location: Oklahoma
Posts: 2,738
Submit Photo: 5
Photo Submissions 4 Times in 3 Posts
Oh Katie,
That face is just precious! So sorry you are having to go through this - hang in there.
I hope after surgery she will be running and playing and all will be good.
---
Santa, Sissygirl
& Marie
Samson & Delilah's Mom
Join Date: Jan 2007
Location: Nova Scotia, Canada
Posts: 2,683
Submit Photo: 3
Photo Submissions 17 Times in 15 Posts
Poor little Mouse.
Waiting is always the worse thing. Hugs to you both.
---
"Hav" a Great Day,
Debbie & Sam & Delilah
www.lossombrahavanese.com
"Be who you are and say what you feel, because those who mind don't matter and those who matter don't mind." - Dr. Suess.
Senior Member
Join Date: Apr 2007
Location: SF area
Posts: 6,425
Submit Photo: 63
Photo Submissions 62 Times in 48 Posts
Katie and Mouse so sorry to hear the news.
---
Sally,((Oliver)) Comet and Pennie too!
The best things in life are not things!
Senior Member
Join Date: Apr 2007
Location: SF area
Posts: 6,425
Submit Photo: 63
Photo Submissions 62 Times in 48 Posts
3's a charm-all 3 of us posting at the same time.....hopefully we will be your lucky charm
---
Sally,((Oliver)) Comet and Pennie too!
The best things in life are not things!
Amanda
Join Date: Nov 2006
Location: South Carolina
Posts: 9,576
Submit Photo: 2
Photo Submissions 31 Times in 22 Posts
Katie,
I am glad you were able to finally connect with some in a similar situation at National. Hopefully you can lean on them for support during the next few weeks and find the best possible outcome for that precious face. I have heard it is brutal to get through recovery and especially with an energetic puppy! I would definitely get a stock of bully sticks for that little girl.

Hugs and belly rubs,
Amanda
Senior Member
Join Date: Nov 2006
Location: Massachusetts
Posts: 11,746
Submit Photo: 27
Photo Submissions 48 Times in 35 Posts
Oh Katie, my thoughts and prayers are with you and mouse. I just know it will all be ok. But boy are you getting your Havanese nursing skills down. HUGS.




---
Missy, Jasper & Cash
Stella's Mommy
Join Date: Mar 2008
Location: Minot, ND
Posts: 436
Submit Photo: 0
Photo Nominations 1 Time in 1 Post
Oh, poor little thing. She's so sweet! I'll keep you both in my prayers.
---
Kubrick & Hitchcock's Mom
Join Date: Apr 2007
Location: New York, NY
Posts: 7,774
Submit Photo: 1
Photo Submissions 33 Times in 24 Posts
Oh Katie, I am so sorry to hear about beautiful little Mouse! I hope that the surgery is successful and the recovery goes well. September 12th is my wedding day, so I hope my happiness and good luck will carry over to your little girl... I will definitely remember to think of her during the day.
---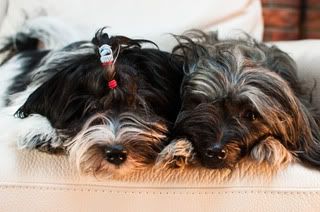 Visit
my blog

-----
Check out my
photos
-----
Photography (pets, people, weddings) -
TripleC Photography
Total Havanese Groupie
Join Date: Dec 2007
Posts: 2,639
Submit Photo: 7
Photo Submissions 37 Times in 16 Posts
Oh sweet little Mouse. You know how I feel about her (and you for that matter) Katie. It was also so crazy how Posh connected to her instantly out of all the dogs. You KNOW I will be thinking and praying for you and Mouse and sending every little bit of good vibe your way. I so wish I was closer to give you breaks and Mouse belly rubs and kisses. Please keep us posted through this.
A million hugs and kisses for you and Mouse.
Posting Rules

You may not post new threads

You may not post replies

You may not post attachments

You may not edit your posts

---

HTML code is Off

---