Evelyn
Join Date: Apr 2010
Location: Chicago burbs
Posts: 4,652
Submit Photo: 4
Photo Submissions 30 Times in 28 Posts
tight places :)
---
Whimsy will cram herself next to my husband to take a snooze even if it is a tight fit. I can't imagine it being comfortable, but clearly it must be. DH always hates to get up from the chair and wake her. She owns him!
I'm sure Whimsy isn't the only one who crams into places to sleep! LOL
---
Senior Member
Join Date: Mar 2012
Location: Seattle, WA
Posts: 2,216
Submit Photo: 7
Photo Submissions 49 Times in 49 Posts
What a great photo of your husband and Whimsy!
-Jeanne-
Senior Member
Join Date: Aug 2012
Location: Cape Cod, MA
Posts: 2,550
Submit Photo: 9
Photo Submissions 19 Times in 19 Posts
Very nice photo of the proud Dad and his little girl. Love it!
---

Mary (miss you, Bailey-1996-2011 and Tyler-1997-2015)
Senior Member
Join Date: Feb 2011
Location: Fort St. John, BC
Posts: 2,113
Submit Photo: 2
Photo Submissions 10 Times in 10 Posts
LOL So sweet!
---
Tracy and Brody
A dog is the only thing on earth that loves you more than you love yourself.
- Josh Billings
Henry 2006-2018/ Kordelia
Join Date: Jun 2007
Location: NJ/NYC metro.
Posts: 4,140
Submit Photo: 11
Photo Submissions 24 Times in 24 Posts
How does she squeeze herself in there?
How cute!
Evelyn
Join Date: Apr 2010
Location: Chicago burbs
Posts: 4,652
Submit Photo: 4
Photo Submissions 30 Times in 28 Posts
I think there is about 5 inches between the arm of the chair and my husbands behind LOL She is really smashed in! Whimsy isn't that small..she's 13 lbs.
---
Senior Member
Join Date: Feb 2012
Location: Long Island
Posts: 822
Submit Photo: 2
Photo Submissions 8 Times in 8 Posts
Beautiful! Worthy of framing!
---
RITA
Dave T
Join Date: Dec 2007
Location: Ontario Canada
Posts: 10,772
Submit Photo: 3
Photo Submissions 112 Times in 110 Posts
adorable, what we don't do for our Havs
---
Dave and Molly
Ian Dunbar was awarded the Outstanding Achievement Award from I.P.D.T.A. Here's a picture of me accepting the award on his behalf.
Member of IAABC ,International Association of Animal Behavior Consultants , Member of Pet Professional Guild
Senior Member
Join Date: Oct 2010
Location: West Linn Oregon
Posts: 4,845
Submit Photo: 21
Photo Submissions 40 Times in 40 Posts
I wouldn't want to wake a sleeping Whimsy either.
Zoey sleeps in the curl of my legs and Maddie sleeps by my face.
---
Maddie at 5mo old
Ruth (me) Chester (dog)
Join Date: May 2013
Location: St. Louis area
Posts: 887
Submit Photo: 16
Photo Submissions 8 Times in 8 Posts
That is so funny! Can't beleive she actually fits n there
---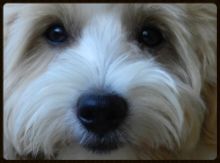 Hav to hav a Hav!!!
Ruth and Chester
(Chester's DOB - 4/04/13)
"Dogs are NOT stupid, they are smarter than you think."
Posting Rules

You may not post new threads

You may not post replies

You may not post attachments

You may not edit your posts

---

HTML code is Off

---