Snowday!
---
We're having a big winter storm today, high winds, 30-40cm of snowfall expected! The dogs love snow. They were at the window looking out just begging to go out and play. I put on their muttluks and winter coats and took them to a sports field down the road and let them run and run! They had so much fun. They have both completely collapsed of exhaustion and are asleep in front of the fire! Here are some photos from this morning! I love days like this!
And here is a video of Gemma going a little crazy in the snow!
https://www.facebook.com/photo.php?v...00530625021004
| | |
| --- | --- |
| The Following User Nominates Tuss Great Photo: | |
Canela, Vino & Jack's Mom
Join Date: May 2012
Location: Born and raised in Chicago; now North Pole, Alaska
Posts: 693
Submit Photo: 35
Photo Submissions 6 Times in 6 Posts
haha Gemma smelling the flowers before she heads out.

Love the Video - Gemma having a blast in the snow!
---
Betty AKA Canela, Jack and Vino's Mom
In a perfect world, every dog would have a home and every home would have a dog..
Evelyn
Join Date: Apr 2010
Location: Chicago burbs
Posts: 4,652
Submit Photo: 4
Photo Submissions 30 Times in 28 Posts
great pictures and video! Wow !!I hope her face defrosted in front of the fire! LOL
---
Ruth (me) Chester (dog)
Join Date: May 2013
Location: St. Louis area
Posts: 887
Submit Photo: 16
Photo Submissions 8 Times in 8 Posts
I love the pictures!
Chester loves the snow too
---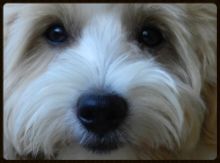 Hav to hav a Hav!!!
Ruth and Chester
(Chester's DOB - 4/04/13)
"Dogs are NOT stupid, they are smarter than you think."
Senior Member
Join Date: Feb 2012
Location: Long Island
Posts: 822
Submit Photo: 2
Photo Submissions 8 Times in 8 Posts
Loved the pictures and the video! It's nice to know the muttluks stay on that well.
---
RITA
Senior Member
Join Date: Feb 2013
Location: Long Island, NY
Posts: 305
Submit Photo: 0
Photo Submissions 6 Times in 5 Posts
I love the picture of her frosty face
---
Ron (and Colbie and Scarlett)
Metrowest, MA
Join Date: Jun 2009
Location: Massachusetts
Posts: 23,696
Submit Photo: 6
Photo Submissions 300 Times in 298 Posts
Cute!!! What size Muttluks did you get? With this early start and the really cold weather we're having, I think I might need to get some for Kodi!
I'm not sure what size they are; i cut the tags off. I found them on sale at winners (same as TJ Max in USA). I think you you go to muttluks website there is a way to size them; you trace the pads of their feet on a piece of paper and measure the pad.

They do make the fur mat around the feet and you have to take some time combing them out after they dry off. it's a bit of a tradeoff, but better them having they with cold feet and snowballs. it was really really cold here yesterday with all that snow!
Posting Rules

You may not post new threads

You may not post replies

You may not post attachments

You may not edit your posts

---

HTML code is Off

---