Jacqueline
Join Date: Mar 2010
Location: Oakland, CA
Posts: 1,090
Submit Photo: 6
Photo Submissions 13 Times in 13 Posts
Unusual Tricks
---
Hey all,

So Ollie finally learned 'play dead', and I'm looking for additional tricks to teach him. Just a recap for those who don't know I am a speech therapist in a public elementary school and Ollie is a certified therapy dog via TDI, and I use him to teach and help kids generalize language and phonological skills.

If your pup has an unusual trick please post up, a video would be nice too!

I caught Ollie howling as someone he loved passed by the front window, I would really love to put a hand signal on that! but I've only heard him howl once. and it was a pretty awesome howl. my big girl Kara howls, so I think he learned it from her.

I want to teach him to sneeze on command, but he rarely sneezes and the other one I want him to learn is to cover his eyes.

Well, on more I'd love to but a hand signal on him wiping his face on the floor, when he's cleaning his beard, so so cute!

Here's a list of tricks he can do already:

down, sit, stay

leave it

roll over

bow, play dead

shake (left and right paw matching yours)

kiss (where you point to)

ally oop (paws on), and off

jump (up and 360)

fetch

bark on command, growl on command

math (counting by tapping the paw on my hand)

wave hello

high 10, high five

down all the way (chin to the ground)

on your side

spin (either direction)

dance (on the hind legs)

imitate (you bark he barks, you growl he growls)

descrete trials (can discrminate words and pictures with his nose)


any cool tricks are appreciated!
Ginger's Happy Owners
Join Date: Dec 2013
Location: SoCal
Posts: 344
Submit Photo: 0
Photo Submissions 4 Times in 4 Posts
Senior Member
Join Date: Oct 2010
Location: West Linn Oregon
Posts: 4,845
Submit Photo: 21
Photo Submissions 40 Times in 40 Posts
Someone had a video of their Havanese closing cupboards.. And I saw another where the Havanese had about 20 different stuffed animals and knew one from the other.I also want to see a video.I think I would love to teach mine some tricks my big challenge would be to teach them together.
---
Maddie at 5mo old
Dave T
Join Date: Dec 2007
Location: Ontario Canada
Posts: 10,773
Submit Photo: 3
Photo Submissions 112 Times in 110 Posts
here's one I want to try


---
Dave and Molly
Ian Dunbar was awarded the Outstanding Achievement Award from I.P.D.T.A. Here's a picture of me accepting the award on his behalf.
Member of IAABC ,International Association of Animal Behavior Consultants , Member of Pet Professional Guild
Senior Member
Join Date: Dec 2013
Posts: 119
Submit Photo: 0
Photo Submissions 0 Times in 0 Posts
That is impressive. I was looking on line at dogs doing tricks and one I thought was cute was a Havanese that would "say his prayers" the owner would put his arm out and the dog would put both paws on his arm and tuck his head in between his paws with his eyes down.

My sons lab does a trick that goes along with sit and shake the next command is "bump" if you put your fist out he will bump it with his nose. I love doing that one with him.
Senior Member
Join Date: Aug 2013
Location: NC
Posts: 396
Submit Photo: 10
Photo Submissions 6 Times in 6 Posts
I bought the book 101 Dog Tricks by Kyra Sundance and it has some good ones in it.

Play dead is one I'm working on. Finally got roll over. I may have to interrupt this trick training to train Ludo to stop barking!
---
Traci & Ludo
*~*~*~*~**~*~*~*~*~*~*
The dog becomes your dream come true, the very thing you wanted.
- Maurice Sendack
Jacqueline
Join Date: Mar 2010
Location: Oakland, CA
Posts: 1,090
Submit Photo: 6
Photo Submissions 13 Times in 13 Posts
wow Dave that's one bad ass doggy limp.
Jacqueline
Join Date: Mar 2010
Location: Oakland, CA
Posts: 1,090
Submit Photo: 6
Photo Submissions 13 Times in 13 Posts
ok, so I have :

1) sneeze on command

2) cover eyes with paws

3) limp

any others?
Canela, Vino & Jack's Mom
Join Date: May 2012
Location: Born and raised in Chicago; now North Pole, Alaska
Posts: 693
Submit Photo: 35
Photo Submissions 6 Times in 6 Posts
What about an old-school "hide and seek 3-cup with ball or treat" trick?


---
Betty AKA Canela, Jack and Vino's Mom
In a perfect world, every dog would have a home and every home would have a dog..
Ruth (me) Chester (dog)
Join Date: May 2013
Location: St. Louis area
Posts: 887
Submit Photo: 16
Photo Submissions 8 Times in 8 Posts
What about beg? One time i saw a video when somebody asked the dog to play a note on the piano and the dog pressed the right note! I was blown away!
---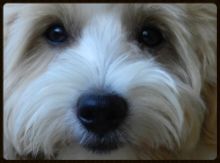 Hav to hav a Hav!!!
Ruth and Chester
(Chester's DOB - 4/04/13)
"Dogs are NOT stupid, they are smarter than you think."
Posting Rules

You may not post new threads

You may not post replies

You may not post attachments

You may not edit your posts

---

HTML code is Off

---