Join Date: Sep 2008
Posts: 510
Submit Photo: 2
Photo Submissions 4 Times in 3 Posts
Saydee's Brother Rocco!
---
I have very exciting news! Saydee has a brother named Rocco and Rocco's mom found us on the Havanese Forum!

Michelle contacted me a little while ago because she noticed Saydee's pics looked very much like Rocco! We exchanged info about our breeder and the pups parents and discovered our sweet furbabies are littermates. Not only that, they practically look like TWINS!!!! Check it out
ROCCO: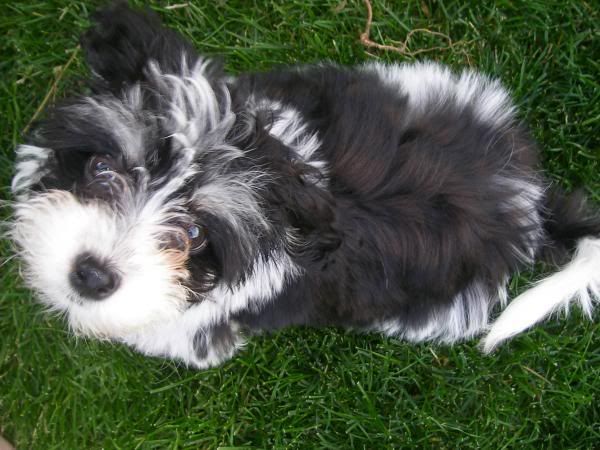 SAYDEE:
ROCCO:
SAYDEE:
Needless to say I'm so happy Michelle emailed me! It's really fun to compare notes good and bad (they both ended up with Giardia confirming my suspicion that it came from the breeder). We only wish we lived closer so our little "twins" could reunite!
---
Last edited by SaydeeMomma; 10-02-2008 at

07:07 PM

.
Junior Member
Join Date: Mar 2008
Location: Michigan
Posts: 871
Submit Photo: 5
Photo Submissions 7 Times in 4 Posts
Oh my gosh... they do look a lot alike! Adorable!
---
~Ann and Roxie
Kubrick & Hitchcock's Mom
Join Date: Apr 2007
Location: New York, NY
Posts: 7,774
Submit Photo: 1
Photo Submissions 33 Times in 24 Posts
What an adorable brother-sister pair!
---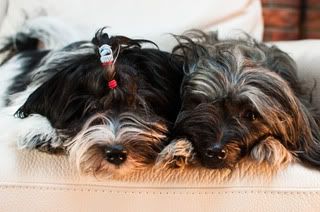 Visit
my blog

-----
Check out my
photos
-----
Photography (pets, people, weddings) -
TripleC Photography
Senior Member
Join Date: Nov 2006
Location: Massachusetts
Posts: 11,746
Submit Photo: 27
Photo Submissions 48 Times in 35 Posts
how fun!!!




---
Missy, Jasper & Cash
Total Havanese Groupie
Join Date: Dec 2007
Posts: 2,639
Submit Photo: 7
Photo Submissions 37 Times in 16 Posts
That is soo cool! Six degrees of havanation.
Mom to Ricky and Sammy
Join Date: Jan 2007
Posts: 10,319
Submit Photo: 30
Photo Submissions 21 Times in 17 Posts
Way too stinkin' cute for your own good, ladies. Time to give them up so you can have a break from those faces and those EYES!! Just PM me your addresses and I'll be right over to take them off your hands.
and yes...... VERY cool that you found each other! I keep hoping I'll meet more Havs in my neck of the woods, but they are few and far between.
---
Hello. My name is marj and I have MHS.
"The greatness of a nation and its moral progress can be judged by the way its animals are treated." Mahatma Gandhi
"Come to the edge, he said. They said: We are afraid. Come to the edge, he said. They came. He pushed them and they flew." -Guillaume Apollinaire"
Sooo Smart
Join Date: Mar 2008
Location: Georgia
Posts: 3,551
Submit Photo: 9
Photo Submissions 22 Times in 12 Posts
That's so cool that you found each other. They do look so very much alike....both adorable.
---
Cicero trained Dale & Ronnie
Join Date: Jul 2008
Posts: 30
Submit Photo: 0
Photo Nominations 1 Time in 1 Post
It is funny how as they are getting older, Saydee definitely is looking more like a girl and Rocco more like a boy. In their "younger" pictures I really would have had a hard time telling them apart (if it wasn't for Rocco's Brows). Saydee's facial features just look finer, what a princess!!
Senior Member
Join Date: May 2007
Location: West Bloomfield, MI
Posts: 963
Submit Photo: 0
Photo Nominations 1 Time in 1 Post
Marj I'm coming with you. What adorable kids you two have.
Benji and Lizzie's Mom
Join Date: Jun 2007
Location: New Jersey
Posts: 4,086
Submit Photo: 0
Photo Submissions 6 Times in 5 Posts
Aww, they are so cute. Hope they get to meet each other and you have new friends to share the joy!
---
Best, Poornima
Posting Rules

You may not post new threads

You may not post replies

You may not post attachments

You may not edit your posts

---

HTML code is Off

---