1st time dog park - in shock!
---
I decided that Toby hasn't been getting enough play time (w/ dogs) and so I decided to give the dogpark a go although I've heard some stories about fights and stupid owners.

So we were having a fantastic time and I'm thinking I should take him there regularly. He made friends with this long haired Jack Russell and they were doing great. Sadly the trip did not end so well.

The JRT was very excited (typical right) and another man (B) had brought his toy poodle that was not at all socialized and super fearful. So, the JRT chased it a bit, trying to get it to play and it yipped, tail tucked in and ran. The owner (B) picked it up and and carried it for nearly an hour.

Meanwhile another guy (C) w/ his daughter brought in their 2 Shi Tzu's and kept at least one on leash and then when other dogs tried to sniff and say hello, he took them waaaay on the other side of the park. Clearly he doesn't understand socialization either. He wandered back toward the other side around when the toy poodle was down on the ground again. Toby was laying down pooped and so the JRT started to try to play w/ the toy poodle (owner B's dog) again. The Shi Tzu owner (C) starts yelling call off your dog and like 5 seconds later kicks the JRT with the heavy boots he's wearing!
The JRT looked like he was okay, though he may have some internal injury, but I can't believe he did that!! The toy P's owner (B) hadn't said a word, the JRT wasn't biting or being aggressive at all. I didn't think it was this guy's (C's) place at all to interfere and then to do so by kicking a dog?!
I'm horrified! Now I'm nervous about going back if this is how people behave. If Toby's in the middle of playing, I'm not sure I could call him back quickly enough for some psycho not to kick him!

Is it just me or was this guy not totally wrong?
---
Last edited by siggie; 10-03-2008 at

01:26 PM

.
Susan
Join Date: Feb 2007
Location: Near San Francisco Bay Area
Posts: 4,063
Submit Photo: 2
Photo Submissions 2 Times in 2 Posts
He was totally wrong and should be banned forever from the dog park. I hope the JRT is okay. What a horrible story.
---
Susan
Join Date: Sep 2008
Posts: 510
Submit Photo: 2
Photo Submissions 4 Times in 3 Posts
OMG! I'm sorry. That's terrible. It's unfortunate that at a dog park meant specifically for dog socializing, this guy wouldn't let his little fearful dog do just that. AND he punished a dog that was just being friendly. No wonder the poodle is nervous. I'd be afraid to go back, too.
Senior Member
Join Date: Nov 2006
Location: New Jersey
Posts: 9,794
Submit Photo: 2
Photo Submissions 28 Times in 20 Posts
That really is a horrible story!! What did the owner of JRT do and say? I think I would have called the police, or security.
Your best solution is to do what I did
- get 2 Havs - then they always have someone to play with.
---
Lily, Lexi ,Logan, Laila & Lizzie's Mom
www.HillsboroughHavanese.com
(Gigi, Lucas, Dugan, Madeline,Reo,Alvin, Lucky, Lukey, Punch, Colby & Ben-(we will always Love you!!)
Laurie, he was very angry. He was an older man and as sweet as can be. He was going to leave when I got there and had stayed so Toby would have a dog to play with. He was so upset he was shaking. The kicker left within a few minutes after I got on his case and so did someone in the big dog area who was near the fence and saw it. The other witness told him there's no reason ever to kick a dog. I told him he could have really hurt the JRT and he wasn't even being aggressive and the poodle wasn't in any danger. Also said, "you weren't here earlier when they were running around in a similar way and had no right to interfere." He sort of mumbled that he didn't mean to kick him and he only stuck out his leg to create some space between them. Sadly his 10ish yo daughter was there to witness daddy's terrible behavior.

The JRT's owner said that he'd be hearing from him if the dog was hurt, but he was just so upset he didn't say much except for repeating "you don't ever kick my dog" and "we come here all the time." I told him that I saw the car the guy drove away in and noted the dogs' names. The car was too far to read the plate. It might be enough to find him if it turns out the JRT was hurt.

I wish I could get another Hav, but it'll have to wait until I'm finished w/ school and out of this teeny apartment.
---
Last edited by siggie; 10-03-2008 at

01:34 PM

.
Amanda
Join Date: Nov 2006
Location: South Carolina
Posts: 9,576
Submit Photo: 2
Photo Submissions 31 Times in 22 Posts
I HATE when people bring dogs in a dog park on leash, who are scared, etc. Leslie and I were at a dog park and we kept our dogs close when a lady with a pitbull carrying a baby with the dog on a prong collar and the thing was absolutely wild and out of control. Luckly she didn't bring it in!

The only time I have had an issue at a dog park was the one guy who had his dog on leash and it grabbed Belle as we were walking by. Luckily she had so much coat, she went flying. I just hate when people don't read or understand the rules!
Kubrick & Hitchcock's Mom
Join Date: Apr 2007
Location: New York, NY
Posts: 7,774
Submit Photo: 1
Photo Submissions 33 Times in 24 Posts
I wouldn't let this one guy keep you from going to the dog park, but I would definitely turn him in. If anyone did that at my dog park, they would have been run out of there... and I'm not really joking. We are very protective of our park here because in the city that's pretty much the only place dogs have to run around outside as none of us have backyards. There should be a number at the park that says who runs it and if there is not, you can probably find out online. I would put that number on your cell phone and call if you ever see the guy again and report him. He should never ever ever have done that and should be banned from the park for that. Things like this make me so mad! I wish I could have given this guy a piece of my mind!
---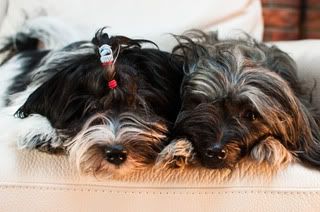 Visit
my blog

-----
Check out my
photos
-----
Photography (pets, people, weddings) -
TripleC Photography
Senior Member
Join Date: Apr 2007
Location: SF area
Posts: 6,425
Submit Photo: 63
Photo Submissions 62 Times in 48 Posts
Oliver and I had a similar situation at a dog park when he was a puppy. Oliver was the injured puppy chased by a bigger dog. The owner just laughed and said "Don't worry he just likes to chase little white dogs. He won't hurt a flea!"
---
Sally,((Oliver)) Comet and Pennie too!
The best things in life are not things!
Laura
Join Date: Jul 2008
Location: Redmond, WA
Posts: 185
Submit Photo: 0
Photo Submissions 2 Times in 2 Posts
I take my little guy to our local dog park often and have seen a wide variety of behavior, from people and dogs. It can be a great experience for them, but they need our constant vigilance. There are way too many people who don't have a clue about dog body language, can't tell who started what, or know what they should do. Occassionally you'll find people, like the one you saw, who's response is totally inappropriate.

Here's a shot at the rules I go by:
1. Have your head on a swivel - always have your dog in sight and know which dogs are coming toward it and try to read their intent. Dogs that are staring, look very stiff, have head and tail very high, or come straight at your dog, are all looking pretty aggressive. Move between them or head off in a different direction.

2. Immediately leave trouble spots if the dogs or people appear rude or unfriendly, before it blows up into something. No need to say anything, just grap your pup and move out. There's a rule of thumb that a person can't learn anything while they're angry. I think that really applies at the dog park. I've watched sane calm people try to reason with an angry clueless owner who's dog screwed up and it just looks to me like they want to fight themselves.

3. Train your little guy to stay near you and/or check in with you constantly. My first trip was on leash, my next were off with treats in my pocket and lots of practice on great recalls, and rewards for every single 'check in'. I still reinforce it after dozens of visits.

4. I never go on the week-end. That's when there has been the highest incidents of dog problems in our local off leash park. This makes sense to me. Dogs that come during the week are likely to be getting out more often, have a better chance to practice interactions. The extra folks that come on the week-end add to the numbers and have less time with their dogs. Some of those dogs are pretty overenthusiastic from being home alone all week and/or not getting to come very often. Add in these less knowledgable people and dogs and the odds of incidents just goes up.

5. I go pretty early in the morning. It's quieter, fewer dogs, less complicated to manage. Also the professional dog walkers tend to come in after 11am (after picking up all the dogs). They have good skills and usually a good pack, but very often they have a new dog or two, have to keep one on leash, are distracted, etc. and I prefer to avoid that.


Last thoughts - there are great people at the dog park! Many are extremely knoweldgeable. There are lots of great dogs that have super social skills and will give your dog great play and dog interactions. I love going, I just do it very carefully. Enjoy!
Mom to Ricky and Sammy
Join Date: Jan 2007
Posts: 10,319
Submit Photo: 30
Photo Submissions 21 Times in 17 Posts
Laurie wrote:
"Your best solution is to do what I did - get 2 Havs - then they always have someone to play with."
LOL That's my girl! Ever the enabler!
Ani, I'm sorry to hear about that incident with the JR. That man was way out of line and I feel so badly for the JT's owner. Love your rules, Laura. I dont' often go to our dog park because it totally sucks, but when I do, I also go by those rules.
---
Hello. My name is marj and I have MHS.
"The greatness of a nation and its moral progress can be judged by the way its animals are treated." Mahatma Gandhi
"Come to the edge, he said. They said: We are afraid. Come to the edge, he said. They came. He pushed them and they flew." -Guillaume Apollinaire"
Posting Rules

You may not post new threads

You may not post replies

You may not post attachments

You may not edit your posts

---

HTML code is Off

---