Senior Member
Join Date: Nov 2007
Location: Arkansas
Posts: 1,869
Submit Photo: 0
Photo Submissions 19 Times in 6 Posts
The groomer lost him!!
---
I just got back from searching for 2 hours for Cooper.

We took him this morning to a new groomer. She was out in a little town next to ours. Very much "the country". I've heard great things about her for over a yr, and had exhausted every other option around. She does just a few dogs on the weekends, out at her house.
We took him at 8:00, and planned to get him after soccer..around 12:00. Because I was at a game, and my phone was in my pocket I didn't get her TEN calls. When we got in the car, I saw I had all these missed calls and frantic voice mails. I guess she decided because it was a nice day to do her grooming out on her deck. She took Cooper and two other dogs out, and went back for her supplies. She didn't notice her husband had left the gate to their closed off deck open. Or something like that. Least, that's the story I got. He was 1 of 3 dogs there today and she thought she'd let the two not being groomed play while she was working on the other. (she asked me ahead a time, and I thought it sounded like a great idea).
Well, Cooper and a shih tzu bolted. She said her dh, daughter and a friend looked for about 20 mins before calling me. They found the shih tzu with in minutes. But, no sign of Cooper.

He's NEVER been in an environment like that before. If he took off into the woods, which they think he did. It's acres and acres in all directions before he'd run into people.
He has no tags, because she'd taken his collar off. He has a micro-chip, but that means nothing. Hick town, doesn't even have a animal shelter. Our town is the next one over, and our police station picks up strays and puts them ALL in one kennel. They don't have a scanner. Of course, I know all the cops so I've already talked to them and notified them if anyone calls..to of course let me know.

I can't believe this.
---
Tritia, Daisy, Cooper, and Bodie.
Scout
Join Date: Jan 2007
Location: Milwaukee, WI
Posts: 334
Submit Photo: 1
Photo Submissions 0 Times in 0 Posts
How terrible! Praying that Cooper makes it back safely to you.
---
Diane
Mom to Scout (Havanese) and Roxy (Golden Retriever), three kids, and assorted other animals
Karen
Join Date: Nov 2006
Location: PA
Posts: 3,067
Submit Photo: 4
Photo Submissions 16 Times in 9 Posts
I am saying a prayer that you find him safe and sound quickly!!
---
**Karen, Mom to Brady, Dugan, and Devon
Join Date: May 2008
Posts: 130
Submit Photo: 0
Photo Nominations 1 Time in 1 Post
OMG! I'm sorry you're having such a terrible day. I'll be praying that you find Cooper soon and that he is ok out there on his own! My thoughts are with you!
Kubrick & Hitchcock's Mom
Join Date: Apr 2007
Location: New York, NY
Posts: 7,774
Submit Photo: 1
Photo Submissions 33 Times in 24 Posts
I hope you find him soon!
---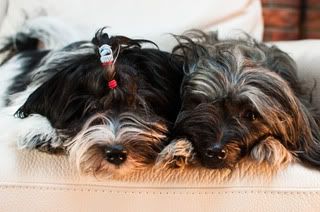 Visit
my blog

-----
Check out my
photos
-----
Photography (pets, people, weddings) -
TripleC Photography
Senior Member
Join Date: Apr 2007
Location: Long Island, New York
Posts: 8,941
Submit Photo: 3
Photo Submissions 41 Times in 25 Posts
OMG, you've got to be kidding. I cannot believe this, although one of my dogs years ago was "lost" when he was staying at the vet's during my move. Thank God they found him but they never let him stay there again (like I would have chosen to).

Please let us know how he is when you find him.
---
<b>Just Milo and me, and . . . </b>Bailey makes three . . . until Ruby said, "hey, what about me?"
Geri, Milo, Bailey and HRH Princess Ruby Tuesday
If you're thinking of getting a puppy, click here
http://www.photoshow.com/watch/YK8AH4rw
Riley & Monte's mom
Join Date: Feb 2007
Location: MA
Posts: 5,579
Submit Photo: 2
Photo Submissions 16 Times in 13 Posts
Brush Anyone??
Join Date: May 2007
Location: Indiana
Posts: 983
Submit Photo: 0
Photo Submissions 7 Times in 5 Posts
Oh how awful. Praying for a happy outcome.

BIG [[[[[[[[[[[[[[[[[[[HUGS]]]]]]]]]]]]]]]]]]]]
---
Winston's Mom, Trish
(and Taylor Too! )
Join Date: Apr 2007
Location: Dallas
Posts: 1,243
Submit Photo: 1
Photo Submissions 3 Times in 3 Posts
omg how scary! I hope he comes around and someone finds him! That poor lil thing! please keep us informed of any turn outs... would he have ran far?? Capote never goes far he just runs around and marks things..maybe if he heard you yelling?? I hope you find him before tonight!
---
Mindy
How incredible irresponsible of her! When taking care of other people's pets, children, property, etc we need to be more careful than we might be w/ our own. She should have checked the gates before putting the dogs in a situation like that were they'd be lost and w/o identification if they got out. UGH!

I hope Cooper gets home safe and sound!
Posting Rules

You may not post new threads

You may not post replies

You may not post attachments

You may not edit your posts

---

HTML code is Off

---