Castro's Momma
Join Date: Jul 2008
Location: Earth
Posts: 260
Submit Photo: 4
Photo Submissions 0 Times in 0 Posts
Tissue Paper Explosion
---
We normally take Castro with us when we run around on weekends - whether it be window shopping, walking around the city, visiting friends or having brunch.

Castro seemed so pooped and tired on Monday, that we decided to leave him in the living room since I wanted to check out a movie, anyway. Well, we sneaked in from downstairs a few hours later and found this....

We've left him home alone before and this is the first time he's done anything like this; The hubby reprimanded him (I was way too amused to do anything...)

but boy, was he happy to see us - - Almost made it worth the mess...
Kubrick & Hitchcock's Mom
Join Date: Apr 2007
Location: New York, NY
Posts: 7,774
Submit Photo: 1
Photo Submissions 33 Times in 24 Posts
Oh my goodness! What a mess!!! How can such a cute thing make such a HUGE mess? LOL.
---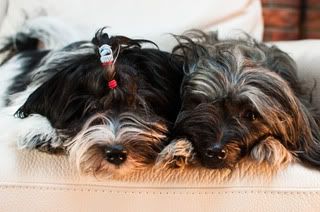 Visit
my blog

-----
Check out my
photos
-----
Photography (pets, people, weddings) -
TripleC Photography
Zeus and Riley's Mom
Join Date: Mar 2008
Location: Prescott, Az
Posts: 1,105
Submit Photo: 0
Photo Submissions 6 Times in 6 Posts
Hah!!! Little stinker.... But you can't help but laugh!
---
Jean, Riley and Zeus!
Sooo Smart
Join Date: Mar 2008
Location: Georgia
Posts: 3,551
Submit Photo: 9
Photo Submissions 22 Times in 12 Posts
Bless his heart...he had to entertain himself somehow. Pictures like this are the reason Cicero go into his crate when we have to leave him a while.
Poor boy has no fun !!
---
Cicero trained Dale & Ronnie
Karen
Join Date: Sep 2007
Location: Colorado
Posts: 645
Submit Photo: 0
Photo Nominations 2 Times in 1 Post
Love that picture of him tearing into the roll - showing it whose boss around there. You know the important things in life!!
---
Karen
and Murphy & Gracie too!
Join Date: May 2008
Location: Cumming, GA
Posts: 6,989
Submit Photo: 5
Photo Submissions 22 Times in 21 Posts
LOL! Scooter got into my wrapping box while I was in the shower one morning. Luckily he only got a package of tissue paper but boy, what a mess! Made me laugh though. The box is tightly closed now but he still goes over to that side of the bed all the time because he knows it's under there.
---
Ann-Scooter, Murphy, & Gracie's Mom
Senior Member
Join Date: Nov 2006
Location: Massachusetts
Posts: 11,746
Submit Photo: 27
Photo Submissions 48 Times in 35 Posts
great picture...look at that innocent face. I am sure someone else must have done it.

oops caught in the act.




---
Missy, Jasper & Cash
---
Last edited by Missy; 10-16-2008 at

04:26 PM

.
Senior Member
Join Date: Mar 2008
Location: Central Nebraska
Posts: 719
Submit Photo: 0
Photo Nominations 1 Time in 1 Post
Wait a second...how'd you get a picture of Miley??
Only kidding, but this looks EXACTLY like something Miley would do!!
Why oh why do they have that urge to shred??
---
Renee, Miley, & Copper too!
"Until one has loved an animal, part of their soul remains unawakened."
Senior Member
Join Date: May 2007
Location: Indiana
Posts: 3,119
Submit Photo: 3
Photo Submissions 4 Times in 4 Posts
Betzie is our little shredder here in this house. Jillee was never into it. I can't wait to see how Betzie is this christmas. This will be her first christmas. She will be a year old on Jan 9th. WOW where did the time go!!!
---
~~Mommy"s Little Angel~~
Mom to Ricky and Sammy
Join Date: Jan 2007
Posts: 10,319
Submit Photo: 30
Photo Submissions 21 Times in 17 Posts
Oh dear. How old is Castro? I can't help but laugh and good thing you thought of taking a photo before cleaning it all up! LOL




---
Hello. My name is marj and I have MHS.
"The greatness of a nation and its moral progress can be judged by the way its animals are treated." Mahatma Gandhi
"Come to the edge, he said. They said: We are afraid. Come to the edge, he said. They came. He pushed them and they flew." -Guillaume Apollinaire"
Posting Rules

You may not post new threads

You may not post replies

You may not post attachments

You may not edit your posts

---

HTML code is Off

---