Senior Member
Join Date: May 2007
Location: Indiana
Posts: 3,119
Submit Photo: 3
Photo Submissions 4 Times in 4 Posts
Steaming Mad!!!
---
I am so over Jillee and Betzie eating POOP
. It makes me sooo mad at them. I was yelling at them and trying to grab them. I put Betzie in the house only for her to sneak out through little opening of the door before it shut. Jillee goes away from it then when I go to the scrooper makes a mad dash at it. I stepped in it as well. I am soooo over this...did I mention that yet. These are the times when I think what did I get myself into. I love them but at times they really try my patience. Right now they are in there crates. Betzie is barking at me and Jillee is just laying there. She knows what she did. Oh now I will go and get them out. Sorry for the long post!!
---
~~Mommy"s Little Angel~~
Senior Member
Join Date: Nov 2006
Location: New Jersey
Posts: 9,794
Submit Photo: 2
Photo Submissions 28 Times in 20 Posts
Sorry - I dont have any words of wisdom to share, cause mine dont do that - thank god!!!!! but I feel for you!! There is a thread somewhere that tells you what to feed them to stop it!! How is Miss Betzie doing after his stich removal??
---
Lily, Lexi ,Logan, Laila & Lizzie's Mom
www.HillsboroughHavanese.com
(Gigi, Lucas, Dugan, Madeline,Reo,Alvin, Lucky, Lukey, Punch, Colby & Ben-(we will always Love you!!)
Senior Member
Join Date: Feb 2007
Posts: 4,302
Submit Photo: 1
Photo Submissions 4 Times in 3 Posts
I KNOW the feeling! Just when I thought we were getting through this, Shamouti started up again! He actually pooed on the edge of the porch today and then turned around and was eating it.
I don't get mad anymore....it really just makes everything worse. Try not to get frustrated and take it a step at a time. I walked him inside, brushed his teeth, shampooed his mouth (the outside, not the inside LOL) and mentally started over. Next time we go out to potty he'll have to be on a leash, so I can pull him away from it. It's a never ending battle it seems! Just when I though it was over, here we go again!
Scrub 'em up and love 'em up! You KNOW you wanna!
Senior Member
Join Date: Sep 2006
Location: Kentucky
Posts: 2,166
Submit Photo: 5
Photo Submissions 8 Times in 4 Posts
Megan, Nigel was really bad about this and then Simon started. They were getting 3/4 cup of food a day and I increased it to one cup and it really made a difference. I think they were just hungry. I can't imagine being that hungry, but then again I'm not a dog and dogs do gross things. I also don't free feed, they get 1/2 cup in the am and pm. Hopefully it keeps their bellies full.
---
Peace, Love & Havanese
Senior Member
Join Date: Jan 2008
Location: Cajun Country
Posts: 2,876
Submit Photo: 23
Photo Submissions 6 Times in 5 Posts
Ugh...that is so frustrating. Cricket doesn't eat dog poop, but man does she love cat crunchies.
---
Kim, Santos & Brew
Join Date: May 2008
Posts: 130
Submit Photo: 0
Photo Nominations 1 Time in 1 Post
We just got back from a walk, and my Poodle ate ANOTHER dogs poop! It was not hard, and I couldn't get him to drop it before he swallowed it all!
I usually dig things out of his mouth if he wont drop it, but I wasn't about to dig poop out of his mouth with nothing to clean my hands with. I was trying to get some of my poop bags out of my pocket in time to use that over my hand but it was too late.
Kubrick & Hitchcock's Mom
Join Date: Apr 2007
Location: New York, NY
Posts: 7,774
Submit Photo: 1
Photo Submissions 33 Times in 24 Posts
Meghan have you tried adding things like pineapple chunks or juice or maybe meat tenderizer to their food? Many people have been successful with that. With Kubrick I am just very firm and he knows that his poop is MINE and not HIS. I know that sounds weird, but making claim over his poop really did work with him.
---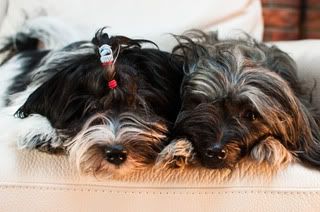 Visit
my blog

-----
Check out my
photos
-----
Photography (pets, people, weddings) -
TripleC Photography
Senior Member
Join Date: May 2007
Location: Indiana
Posts: 3,119
Submit Photo: 3
Photo Submissions 4 Times in 4 Posts
It is only my labs and my cocker's poo they love to eat.....and only fresh....you know the best kind
I have tried alot of things meat tenderizer,pumkin,tobasco..who knows. I only feed them in the morning and in the evening. They have done that since we have had them. I am getting ready to give Jillee a bathe....I still love her to pieces and I always will...no matter what. I better go she is barking at me....Oh she does not know that it is bathe time though....she will soon!!!
---
~~Mommy"s Little Angel~~
Senior Member
Join Date: Feb 2008
Location: North Carolina
Posts: 730
Submit Photo: 0
Photo Submissions 6 Times in 5 Posts
I can sympathize- Cocotini is also a poop eater. Yuck!!! I once caught her trying to eat it as it was coming out of Mindy's "behind"!! I had to laugh at that one because Mindy was trying to get away from her and Cocotini was practically glued to her butt. Too funny. I try to be vigilant, but if she disappears and is very quiet- I know what she is up to. She knows she is not supposed to do it so she gets sneaky. I know with her it is not a hunger issue as she will leave her food sometimes (and it may be chicken or something else she likes alot) and turn around and try to eat poop. All I do at this point is tell her "no" and wash her mouth and brush her teeth and hope she will eventually outgrow it. I've tried some of the remedies suggested, changed her food (which seemed to help for awhile), and now I don't know what else to do, so if you come up with something that works-please let me know!! Jocelyn
---
Jocelyn, Mindy, Cocotini, and Candy
Truffles (1992-2009) We miss you!!
Senior Member
Join Date: May 2007
Location: Indiana
Posts: 3,119
Submit Photo: 3
Photo Submissions 4 Times in 4 Posts
Well we are all done with her bath and teethe brushing. She is soo much easier to bathe without all that hair. I like her cut down short. Betzie will be getting her bath this weekend as well. She needs one. She had her staples removed and she is all better now.
---
~~Mommy"s Little Angel~~
Posting Rules

You may not post new threads

You may not post replies

You may not post attachments

You may not edit your posts

---

HTML code is Off

---